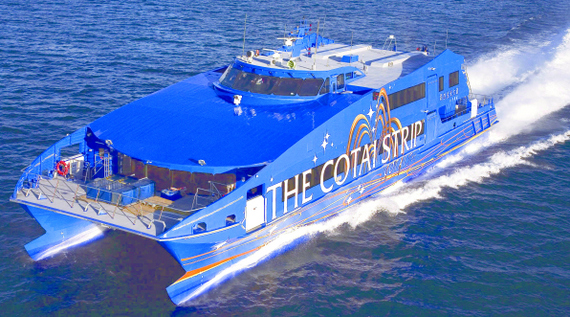 A Good Bet: Chu Kong High-Speed Ferry tied up with Cotai Ferry in 2012 to shuttle passengers to and from gambling mecca Macau. Photo: Chu Kong Shipping

Guoco: CHU KONG SHIPPING a 'Buy'

Guoco Capital said it is maintaining its "Buy" recommendation on Chu Kong Shipping (HK: 560) due to strong recent sales performance.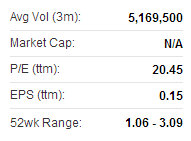 CKS recently 3.07 hkd"Recent trends made a positive breakout during mid-May with exceptional turnover," Guoco said.

The research house has a 3.40 hkd target price on Chu Kong Shipping, a provider of port logistics, shipping, cargo handling and passenger ferry service in South China, Hong Kong and Macau (recent share price: 2.78).

"Chu Kong's MACD (Moving Average Convergence/Divergence) made a positive breakout, signaling that the consolidation (phase) is coming to an end," Guoco added.

The research house has a cut loss of 2.45 hkd on Chu Kong, with the consensus 2013 PE at 13.9 times and the consensus target price at 2.20 hkd.


---

Bocom: CONTAINER SHIPPING still 'Market Perform'

Bocom International said it is keeping its "Market Perform" recommendation on Hong Kong-listed container shipping firms.



Source: BocomLast week, share prices of HK-listed container shipping companies underperformed the market index, wiping out some of the outperformance over the past month.

"As we have said, with the interim results announcements drawing near, downward revisions of earnings outlooks for the container shipping companies may create some short-term pressure on share prices," Bocom said.

The research house said it expects an operating environment improvement from 2H13 onwards.

"We believe the market should not be too surprised by the recent retrenchment of freight rates on the Asia-Europe tradelane after a hefty recent increase.

"Meanwhile, more container shipping companies are joining the ranks to implement the Peak Season Surcharge on the Transpacific tradelane."

---
See also:

CHU KONG SHIPPING: HK-Macau Routes Help Boost Revenue 9.4%