CHU KONG SHIPPING Enterprises (Group) Company Ltd (HK: 560) saw its FY2013 bottom line surge nearly 41% to 191 million hkd thanks mainly to strong freight and passenger transport performance.

Revenue rose 6.9% to 1.62 billion hkd.

The board of directors proposed a final dividend of 5.5 HK cents per ordinary share, resulting in an annual dividend of 7.5 HK cents, a year-on-year growth of 66.7%. The payout ratio is 35.4%.

Freight business contributed a profit of 97.43 million hkd, up 27.3% from 2012 levels, while the cargo transportation and warehousing business increased 9.6% to 86.75 million.

But it was Chu Kong's passenger transportation segment that grew the fastest (56.2%) and contributed the most (116 million hkd in profit).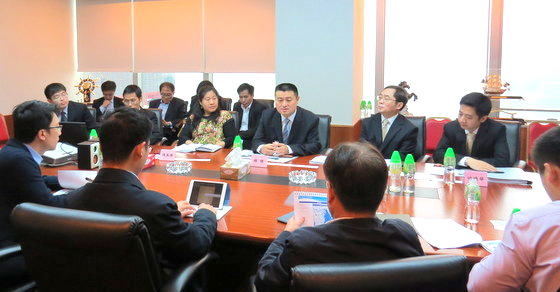 Chu Kong Shipping Executive Director and Deputy GM Mr. Cheng Jie, (center, in blue tie), presents the firm's 2013 results to investors high above Hong Kong's Victoria Harbor.
Photo: Aries Consulting
The economic recovery last year measured by global port container throughput lacked sufficient momentum, management said, and growth of port throughput in China and Southeast Asia showed signs of weakness.

According to a report published by Shanghai International Shipping Institute, global container throughput in 2013 went up by only 3% year-on-year to 641,000,000 TEU, marking three consecutive years of slower growth.

"In 2013, container throughput of sizeable ports in China only increased by 6.8%, representing a drop of 1.1 percentage points as compared with the previous year, with growth narrowing for three consecutive years.

"Weak growth in foreign trade throughput was the main factor with an annual growth rate of 3.9% -- far below the increase of 13.9% in domestic trade," said Chu Kong Managing Director Mr. Xiong Gebing.

Chu Kong Shipping, which provides comprehensive terminal logistics and passenger transportation services in Guangdong Province, Hong Kong and Macau, did benefit from the growing economic development and momentum between Guangdong and Hong Kong despite the slow recovery of global port container throughput volume.

"Our active facilitation of professional operations, expansion of passenger transportation and cargo businesses as well as structural adjustments and strengthening cost controls helped us achieve business growth and an increase in profit."

On the freight business side, Chu Kong continued to promote professionalized operations and brought into full play the function of its "Consolidated CKTL" (Chu Kong Terminal Logistics) platform.

At the same time, it strengthened segmental marketing management, with cargo transportation volume achieving growth for four successive years. Container transportation volume and break bulk cargo transportation volume recorded increases of 3.1% and 24.5%, respectively.

"By benefiting from the substantial increase in infrastructure materials demand in Hong Kong, break bulk cargo transportation volume increased significantly," Mr. Xiong added.

Passenger Transportation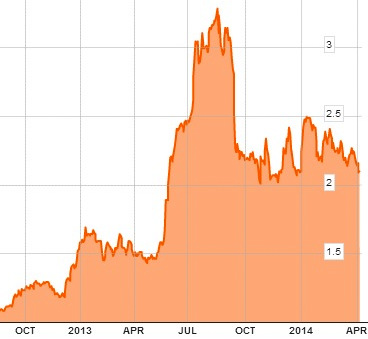 Chu Kong Shipping (stock price HK$2.06, market cap HK$1.9 billion), has a trailing P/E of 9.8x and dividend yield of 3.6%. Chart: Bloomberg
Thanks to Chu Kong's actively exploring airport and Hong Kong-Macau routes, the passenger transportation business has become a strong overall growth driver, with airport routes in particular seeing strong performance.

Speaking at Chu Kong's corporate conference room in downtown Hong Kong, Chu Kong Executive Director and Deputy General Manager Mr. Cheng Jie said: "Advertising on these routes is a good growth area for us, and our increasing cooperation with hotels is also looking promising.
"Passenger transportation is one of our fastest growing segments and will continue to be so."

Mr. Cheng also said that given Chu Kong's diverse range of products and services -- from cargo handling and port logistics to passenger transport and on-board advertising -- the firm didn't have to deal with seasonality issues.

"We haven't seen any peak or non-peak cycles in our operations over yearly periods."

In 2013, the total number of passengers for agency services rose 4.5% to 6,494,000 while passengers for terminal services were up 6.2% at 7,346,000.

Management believes the success of the Individual Visit Scheme (IVS) in Guangdong, Hong Kong and Macau led to a further growth in the passenger transportation business.

Looking ahead, management had several strategies to help spur further growth including seeking new waterway projects and expanding advertising revenue as well as emphasizing investment in its Nansha Logistics Park / Hong Kong / Macau, and seeking out new network opportunities in Southeast Asia.

CKPT also actively expanded new routes in 2013 and reopened the route from Fangchenggang City in Guangxi Province to Ha Long Bay in Vietnam.

CKPT and a direct-purchase company in Hong Kong also launched the "Ganghuigou" (港匯購) project, which leverages on a customer-based platform to conduct consignment-purchase business on board, which helped extend the Group's passenger transportation industry chain and targeted retaining return-trip customers with the consignment-purchase business.

Currently, various ship owners have participated in the "Ganghuigou" project.

Chu Kong also plans to maintain steady growth along existing routes, targeting 4-5 new routes to be opened in 2014.


For more information on the 2013 results, see the company's announcement on the HKEx website.

See also:

Hani Securities Keeps 'Buy' Call On CHU KONG SHIPPING