COURAGE MARINE eyeing bigger property push

Amid a struggling dry bulk cargo sector, Courage Marine (HK: 1145) is set to diversify into the property investment business.

The Hong Kong and Singapore-listed firm recently convened an extraordinary general meeting to seek shareholder approval for the proposed diversification into the property investment business, acquisition of real estate and property development projects when opportunities arise.



It also proposed to invest in real estate and other property development projects in other ways including specializing in residential, business, warehouse and complex projects in the region.


Courage Marine explained that opportunities for such investments arise in the course of transporting goods such as sand, cement and gravel which are raw materials for the building and construction industry, as it had built up a network of customers or contacts who are active players in such industries.

The Group is often approached with offers or opportunities for investments or joint ventures in real estate or property developments or projects by such parties.
 
Courage Marine

 provides vessel chartering services to charterers. It owns and operates a number of dry bulk vessels, including Capesize, Panamax and Supermax vessels. Courage Marine mainly deploys its vessels in the waters around the Greater China region as well as Indonesia, Singapore, Korea, Japan, Vietnam, Cambodia, the Philippines and Russia. Courage Marine generally transports dry bulk commodities including coal, sea sand and bauxite as well as iron ore and minerals.
---
DETEAM appoints new CEO

DeTeam Co Ltd (HK: 65) said that Mr. Zhang Chao Liang has resigned from his office as CEO, an executive director and an authorized representative.



Mr. Zhang Fusheng has been appointed as the new CEO, an executive director and an authorized representative of the firm with effect from the end of last month.


DeTeam is engaged in the manufacture and sale of plastic woven bags, paper bags and plastic barrels, along with the trading and distribution of coal. Subsidiaries include Changchun Yicheng Packaging, Inner Mongolia Yuan Yuan Energy, Jinyuanli Underground Mining and Jilin Province De Feng Commodity Economics and Trade Co Ltd.
---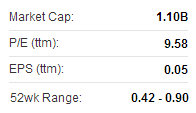 Shengli recently: 0.445 hkdSHENGLI PIPE FY profit slips 33%, trading resumes

Shengli Oil & Gas Pipe Holdings Ltd (HK: 1080) said that its FY2012 net profit fell 33.1% year-on-year to 62.78 million yuan.

A final dividend of 0.672 yuan was declared.

Shengli Pipe's Hong Kong-listed shares resumed trading on July 8 after having been suspended since March due to a delayed annual report release.

Shengli Pipe is principally engaged in designing, manufacturing, value-added processing and servicing of spiral submerged arc welded pipes, or SSAW pipes that are used to transport crude oil, refined petroleum products and natural gas.


---
See also:

YANGZIJIANG, JES, COURAGE MARINE: Upside On Dry Bulk Bounce?

DETEAM Banking On Green Push For Profits