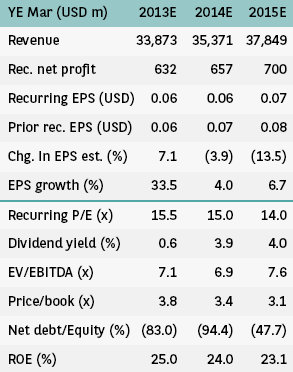 Source: BNPBNP: LENOVO kept 'Buy'

BNP Paribas said it is maintaining its "Buy" recommendation on Lenovo Group (HK: 992) while lowering the target price to 8.4 hkd from 9.7 (recent share price 7.38).

"Despite global PC market headwinds, Lenovo delivered better-than-expected January-March results," said BNP.

Profitability improved across the region, and its OPM reached 2.2% in the quarter (vs 1.4% in FY4Q12 and 2.6% in FY3Q13).

Net profit reached 127 million usd (-38% q-o-q, up 90% y-o-y), beating BNP's estimates.

Solid execution despite slow PC market

Lenovo has shown strong execution in the slowing PC industry, with a 15.5% global market share, the research house said.

"Despite a seasonal decline in Mobile Internet & Digital Home Business Group (MIDH) sales (down 30% q-q) and more exposure to lower price smartphones, its profitability has continued to improve.

"We are positive on Lenovo's mobile device outlook and expect a c15% sales contribution in FY14."

BNP added that it expects Lenovo to become the global No 1 PC brand and to continue to gain smartphone market share.
---

Merrill Lynch: Smartphones, tablets new drivers for LENOVO

Merrill Lynch said it is keeping its "Buy" call on Lenovo Group (HK: 992), saying China's top PC play will see smartphones and tablets becoming its main earnings driver going forward.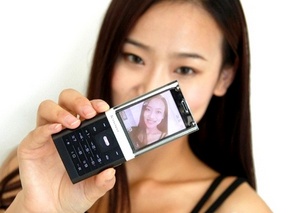 Merrill Lynch said smartphones will be key drivers going forward for Lenovo. Source: cnmoLenovo's target price is maintained at 9.0 hkd (recent share price 7.38).

January-March gross/OP margins came in better than expectations at 12.3/2.2%, led by improving margins of MIDH business and EMEA/US operations.

"Main reasons for the increasing margin are the improving OP margin and growth in non-China market," Merrill Lynch said.

EMEA shipments were up 11% y-o-y and OP margin 2.3%, vs 0.9% a year ago, while North America shipments rose 10% y-o-y and OP margin 3.6%, vs 3.1% a year ago.

Smartphones and tablets new drivers

Management is bullish on growth in non-PC business and targets smartphone and tablet shipments at 50 million (30 mln in FY13) and 10 million (2 mln in FY13) units for FY2014, respectively.

"Lenovo has delivered profitability on smartphone business for two straight quarters and turned more aggressive on the non-China market.

"We think the stock is particularly attractive after an 18% price correction since March on concerns of PC weakness," the research house added.

---

China Yinsheng: HILONG Kept 'Buy'

China Yinsheng Securities said it is maintaining its "Buy" call and 4.0 hkd target price on Hilong Holding (HK: 1623).

Hilong is recently trading at around 3.7 hkd.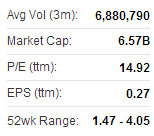 Hilong recently 3.7 hkd"Intensive drilling activities and pipeline replacement demand have shored up coating business for Hilong.

"The company's oilfield service business has recorded strong growth over the past few years despite a late start-up," Yinsheng said.

Hilong has signed oil and gas drilling contracts with internationally renowned enterprises, creating synergy with its drill pipes and coating business.

"The company has successfully transformed itself into a provider of oil and gas equipment with continuous recovery in performance.

"The stock is trading at 10x P/E with room for revaluation," the research house added.

---