Main reference: Story in Sinafinance

WARREN BUFFETT'S recent buys into US-based oil equipment and growing consensus that the largely untapped shale oil business in the US is about to take off are shining the light on potential beneficiaries.

Some A-share oilfield equipment suppliers are likely to see more upside than others.

The reason for optimism from a "Buffett Effect" is that the Nebraska-based billionaire investor has essentially ambushed related sector plays.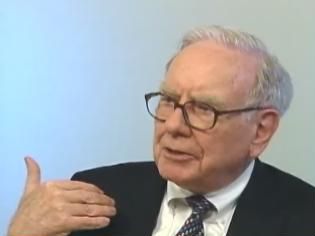 Warren Buffett. Photo: IMDDuring the heat of the Wall Street meltdown in 2008, Warren Buffett's Berkshire Hathaway Inc invested three billion usd in US blue chip icon General Electric (GE).

And earlier this week, GE said it would pay some 3.3 billion usd to acquire Lufkin Industries Inc (NASDAQ: LUFK) -- a provider of artificial lift technologies for the oil and gas sector and a maker of industrial gears.

Lufkin's US-listed shares soared nearly 38% on Monday on the GE buyout news.

"The Oracle of Omaha" also has investment ties with oil and natural gas play Royale Energy (NASDAQ: ROYL) which surged nearly 50% last week.

Add all these developments to the fact that the energy-hungry US economy, starved for an alternative to expensive petroleum imports, added new pneumatic shale oil drilling apparatus last month at a rate not seen in nearly one-and-a-half years.

With the huge proven reserves in the prairie provinces of Canada and the upper Midwest of the US, analysts expect the energy extraction sector in the region to enter an unprecedented boom.

Royale Energy and Lufkin's recent share price surges were responsible for a significant portion of the heavy-lifting duty for the recent uptrend in the US capital markets.

Buffett also was actively boosting his stake in the second and third quarters last year in energy plays including Texas-based National Oilwell Varco and Phillips Petroleum 66, both of which have growing roles in the US energy sector.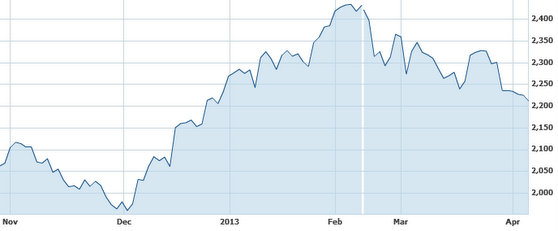 China shares have been struggling to get back on track. Source: Yahoo Finance

This has put several A share-listed energy equipment suppliers in the spotlight.

Shandong Molong Petroleum Machinery (SZA: 002490) has already seen robust order book activity for shale oil business in the US market.

The Shenzhen-listed firm is a domestic powerhouse in drilling equipment, especially oil jacket tubes.

Kingdream (SZA: 000852) is the world's No.3 play in oilfield drillhead and drillbore manufacturing and is tops in Asia, with its products expected to be in high demand amid the expected shale oil boom in North America.

Management says its orders from US drillers have seen continuous increases and it is very bullish on market potential.

Jereh (SZA: 002353) is also a major competitor in the drilling equipment sector and touts itself as China's most technologically advanced bore maker.

These three Chinese firms in particular are considered to be at the forefront of the likely boom in domestic US carbohydron extraction.

---
See also:

Eight Takes On A-Shares