Main reference: Story in Sinafinance

CHINA'S ANNUAL legislative gathering in Beijing is underway and the new leadership is looking to make its mark.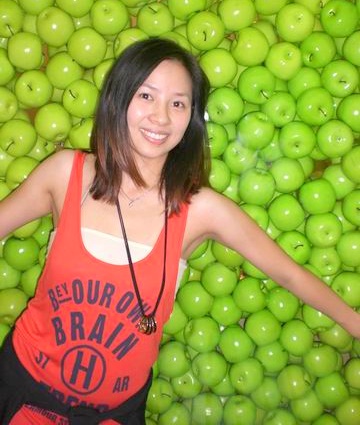 China is hoping to bring more consumer confidence to its foodstuffs sector. Nextinsight file photoThe National People's Congress recently kicked off in the nation's capital, bringing together delegates from across the country and allowing the newly established leadership of incoming Chinese President Xi Jinping and Premier Li Keqiang to start making policy of their own.

One item high on the agenda is the chronic headache of food safety in the world's most populous country.

Still ongoing is the scandal involving excessive amounts of dibutyl phthalate (DBP) -- a chemical used to soften plastic products -- in baiju, a potent clear liquor often called China's national drink.

A-share listed Hunan-based spirits play Jiugui Liquor Co was one of the hardest hit listed distillers, with its shares taking a beating since the story broke late last year.

And who could forget the firestorm of a few years ago when thousands of toddlers were taken ill by a widespread melamine contamination of milk formula?

Another more sinister scandal is the occasional bust by authorities of Chinese factories engaged in the manufacture of synthetic chicken eggs.

Naturally, the new national leadership in China wants to begin their assumed decade long run in power with legislation and speeches expressing a tough line on those who would introduce unsafe products into the country's food supply.

And that is exactly what is transpiring in Beijing in the preliminary speeches with positive effects already being felt in the marketplace.

In terms of stock performance, the early benefiters of China's tougher policy on food cheats are an assortment of A-share listed firms specializing in food safety and inspection testing equipment.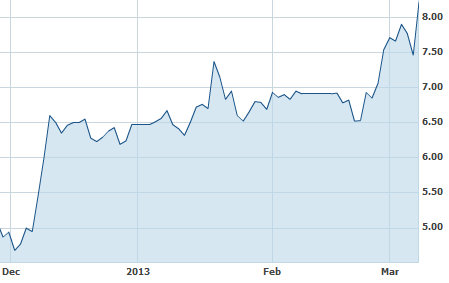 Daheng New Epoch Technology (SHA: 600288), a Beijing-based maker of product monitoring devices, has been one of the biggest beneficiaries lately from the tougher talk from the top on China's food safety. Source: Yahoo

In fact, last week three listcos engaged in the inspection and purity testing apparatus business saw their A-shares hit their daily 10% upside trading limit.

Daheng New Epoch Technology (SHA: 600288), a Beijing-based maker of product monitoring devices, has been one of the biggest beneficiaries lately from the tougher talk from the top on China's food safety.

Since word began getting out that the incoming administration was likely to be much tougher on food safety and security in China, Daheng's shares have surged over 75% since December of last year and are currently trading at around 8.21 yuan.

China's incoming leader has a strong history of ties to agriculture, and says a visit to an Iowa farm in his youth was a formative experience in his life.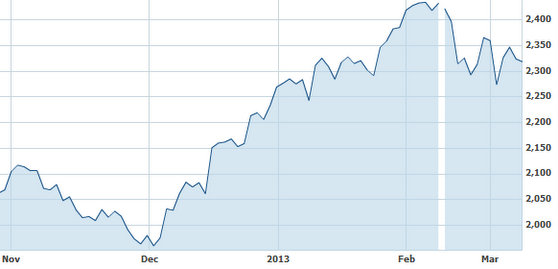 China shares' recent performance Source: Yahoo

Mr. Xi is also on record as saying during a USDA-sponsored event in the US: "China always attaches great importance to national food security and gives top priority to developing agriculture."

Now that he is the most powerful man in China, Xi is in a position to put actions behind his words, and food safety monitoring equipment makers are set to ride the latest surge in demand.

Two other firms recently achieved their daily upside limits on expectations of more food safety initiatives to come out of the National People's Congress.

Tatwah Smartech (SZA: 002512) specialized in smart card contactless ID systems key to tracking food shipments and ensuring a smooth-running cold storage and logistics regime.

Dalian Refrigeration Co Ltd (SZA: 000530) saw its shares heat up as a major manufacturer of industrial refrigeration equipment.

Other recent beneficiaries of the renewed focus on food safety have been Phenix Optical Co Ltd (SHA: 600071), Jiangsu Skyray Instrument Co Ltd (SZA: 300165), Shenzhen Yuanwanggu Info Tech Co Ltd (SZA: 002161) and Centre Testing International Corp (CTI) (SZA: 300012).

CTI is China's leading product testing, inspection, certification, and consulting firm, providing comprehensive services for virtually all consumer products.


---
See also:

ZHONGXIN FRUIT And JUICE: Resumes Trading Today After White-Knight Rescue