Bocom: Hong Kong Retail Sales Surprise on Upside

BOCOM INTERNATIONAL said that January retail sales in Hong Kong were better than expected.

"In line with our expectation, Hong Kong retail sales growth (in value) trended stronger to 10.5% in January, and was better than the consensus estimate of 8.6%," Bocom said.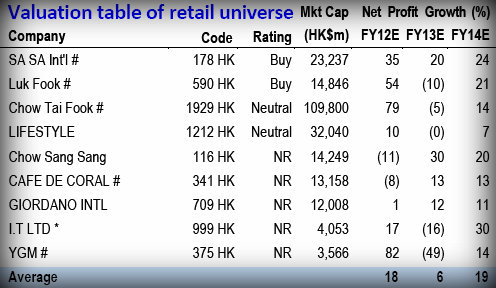 Bocom says jeweler Chow Sang Sang should have the best bottom line improvement this year in its retail coverage universe.  Source: Bocom

The research house said the major improved segments were other consumer durable goods (to +192%, vs. +68% in Dec), followed by motor vehicles (to +48%, vs. -1% in Dec), cosmetics (to +11%, vs. +3% in Dec) and jewelry & watches (to +13%, vs. +11% in Dec).

"On the other hand, department stores recorded a slowdown (to +1%, vs. +11% in Dec), followed by apparel (to -2%, vs. +6% in Dec).

"While we believe the Jan sales data were partly distorted by the Chinese New Year effect, the January growth rate showed a good start for the year, supporting our view of a moderate sector growth improvement in 2013 (vs. 9.8% in 2012)."

Sa Sa (HK: 178) remains its key pick among Hong Kong retails stocks.


---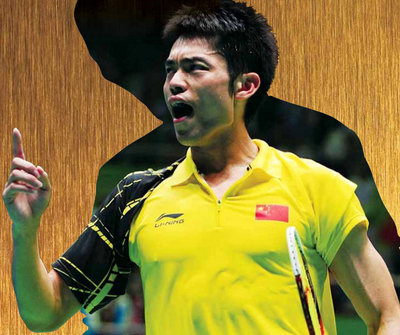 Li Ning is a top "Sell" for CLSA.  Photo: Li NingCLSA: PRC Consumer Staples Trading at 16% Discount to Discretionary

CLSA said Chinese New Year retail sales growth reported by the Ministry of Commerce did not surprise us on the upside, partly due to consumers' purchases brought forward in pre- CNY period and a surge in both outbound domestic car travel and overseas leisure trips.

"Our on-the-ground store checks have unveiled fierce competition in China's F&B sector. We continue to prefer consumer discretionary to staples in 2013," CLSA said.

Belle and Golden Eagle remain the French research house's top "Buys" while Li Ning is still its sector top "Sell."

According to the MOC, total sales of major retailers and restaurants in China grew by 14.7% during the nine-day CNY holiday, moderately lower than that in 2012 (16.2%) and 2011 (19.0%).

"However, some purchases brought forward in the pre-CNY period (on back of a later CNY in 2013 vs 2012), a surge in outbound domestic car traveling during CNY (due to government's waiver of highway tolls for the 2nd time), and increased overseas leisure trips during long holidays have somewhat distorted CNY Golden Week retail sales."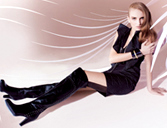 Belle is a top "Buy" with CLSA  Photo: BelleCLSA said it continues to expect accelerated SSS growth for China retailers in 2013 vs 2012.

Trouble Afoot

"In our visit to department stores in Beijing, we found that footwear brands were both clearing winter collection (with 40-50% of retail discount) and starting to sell new spring collection (with minimum discounting)," CLSA added.

It continues to see heavy discounting of sportswear brands during store checks.

"This was in line with our CRR study in 4Q12, which found no great relief of channel inventories issues in sportswear industry. We maintain our cautions view on China sportswear sector."


---
JP Morgan: XTEP Target Set at 2.3 hkd

JP Morgan said its target price on fashion sportswear play Xtep International (HK: 1368) is 2.3 hkd, based on the present value of the long term target P/E of 10x 2014E earnings (recent share price 3.02 hkd).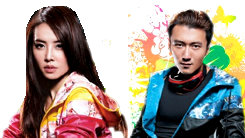 Upside risks to JP Morgan's target price on Xtep include lower-than-expected A&P expenses at the expense of long-term sustainability.  Photo: XtepIts target P/E of 10x is at a c30% discount to the international brands' long-term average of 15-16x due to their brand recognition.

Upside risks to JP Morgan's target price include lower-than-expected A&P expenses at the expense of long-term sustainability, and higher-than-expected trade fair order growth at the expense of retail inventory level.

Xtep, founded in 1999 by CEO Mr. Ding Shui Po, is engaged in the production, distribution and branding of sportswear products. In 2002, the company launched the Xtep brand and shifted from an OEM manufacturer to a branded sportswear player.


---
CPY: XTEP Inventory Control 'Almost Best in Sector'

Despite its "Sell" recommendation on Xtep International (HK: 1368), Core Pacific – Yamaichi said the sportswear firm still has one of the best managed inventories in the industry.

"Although Xtep's inventory control is almost the best in the sector, we expect both FY12F and FY13F to record yoy decline on both top-line and bottom-line. Therefore, it is justified for Xtep to trade with a discount over the historical average PER," CPY said.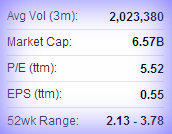 Xtep recently 3.02 hkdRival Li Ning's channel revival plan is placing significant pressure on peers.

"Li Ning intends to clear its distributors' inventories through cash subsidies. This may lead to irrational price cuts and drive down the overall ASP in the sector."

After the high expansion period, Xtep started to consolidate its retail network with a net decrease of 80 to 100 stores per year in FY12F and FY13F.

CPY has a target price of 2.24 hkd on Xtep, based on a FY13F EPS of 0.30 hkd and a target PER of 5.9x, one standard deviation below the stock's three-year historical average 12M-forward PER.

"The discount on PER mainly reflects the trough operating environment in FY13F. Although the income reform is positive to Xtep, the current operating environment for sportswear sector is still almost the toughest in the past decade."
---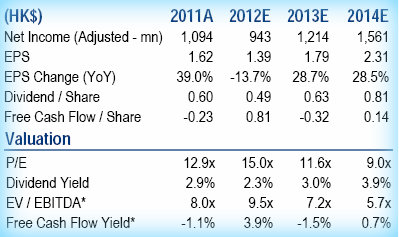 Merrill Lynch: CHOW SANG SANG Kept at 'Buy'

Merrill Lynch said it is maintaining its "Buy" call on jewelry retailer Chow Sang Sang (HK: 116).

"We remain positive despite near-term headwinds. Soft gold price and upcoming likely weak annual results could weigh on the share price, short-term.

"We however remain positive on CSS due to its solid management and potential long-term margin upside from product/segment mix improvement." Merrill Lynch said.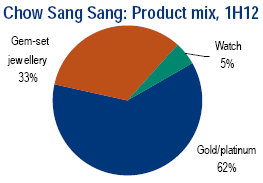 Source: CSSThe research house is trimming its 2012-14E for Chow Sang Sang by 5-6% to factor in softer margins on unfavorable gold price movement in the past three months and higher operating expenses, especially rental.

Its new target price is 23.8 hkd (from 24.4), implying 13.3x 2013E P/E (recent share price: 21.35 hkd).

"Given the easier base and improving consumer sentiment, we project 24% retail sales growth in 2013E on the back of 12-15% SSSG and 12% network expansion."

See also:

Why Retail Sector Good Bet In 2013

China Malls Vs Dept Stores

XTEP's Rating Kept At 'Buy', Sportswear On Ascent

XTEP: Overperforming In Overcrowded, Overstocked PRC Sportswear

TWO LEFT FEET: China Sneaker Play Li Ning Sees Dire Year