Photos by Ngo Yit Sung

HANKORE ENVIRONMENT TECH GROUP is a beneficiary of China's plans to invest Rmb 430 billion in urban wastewater treatment and recycling in its 12th 5-Year Plan (2011 to 2015).

HanKore's core business is in wastewater treatment, water recycling, water supply and sludge treatment.

Its 1QFY2014 (Jul to Sep) net profit more than doubled (up 149%) year-on-year to Rmb 30.4 million, thanks to increases in revenue from plant construction and recurring water tariffs.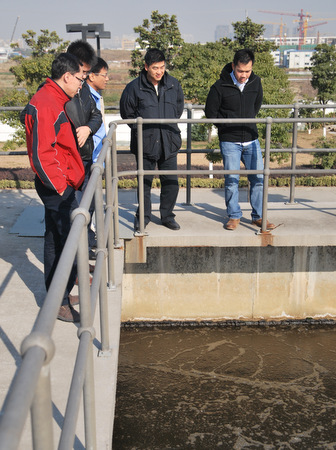 Analysts inspecting a HanKore facility with management.Last week, I had the chance to visit two of Hankore's wastewater treatment projects with 3 analysts from UOB Kayhian, OSK-DMG and CIMB-GK.

HanKore's executive director and CFO, Felix Yau, showed us the Phase 1 operations of Suzhou Jindi Wastewater Treatment Plant and Kunshan Gangdong Wastewater Treatment Plant, as well as works in progress for Phase 2.

Currently, HanKore has municipal water treatment projects with a total treatment capacity of 750,000 tons a day.

When Phase 2 is completed at the end of next year, its total capacity will increase by more than 30% to 1.1 million tons a day.

The discharge standards for several of its projects are being upgraded from Grade 1B to Grade 1A, resulting in cleaner water being discharged into the rivers.

For that, higher water tariffs are expected to be paid to HanKore by the authorities.

The tariff increase could be as much as 40% to 50%, as in the case of its Xianyang Eastern Suburbs Wastewater Treatment Plant located in Shaanxi Province.

Other than organic growth (facility upgrade and securing more BOT projects), the Group also intends to expand by acquiring TOT projects.

It has also ventured downstream into equipment design and manufacturing.

In June, it acquired Jiangsu Tongyong Environment Engineering, a manufacturer of water treatment equipment

. The acquisition strengthens its EPC capability

.





CIMB target price is 7.8cts

The analysts had a favorable impression of Hankore's operations.

Following the visit, CIMB-GK analyst Roy Chen issued a non-rated report with a target price of 7.8 cents, about 10% above its recently traded price of 7.1 cents (Mon market close).



"Riding on China's inevitable trend of increasing environmental awareness, HanKore's water treatment business is set to soar on both capacity expansion and higher tariffs from the water standard upgrades," said the analyst.



"At 12.2X price-earnings and 0.9X price-to-book, the stock has the most attractive valuation among its peers, which have an average PE of 18.5X and P/BV of 2.03X," he added.








Recent story: HANKORE, YANGZIJIANG Singled Out In Respective Industries