Time and date: 2.30 pm, Nov 28.
Venue: Fort Canning Hotel Singapore.




Shareholders this afternoon approved a resolution for CSE Global to divest 100% of its wholly-owned subsidiary, Servelec Group.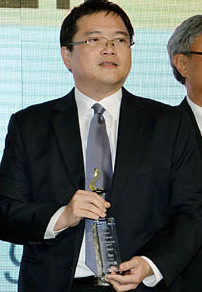 Interim MD Lim Boon Kheng at the recent SIAS Investor Choice awards event. NextInsight file photo.Interim Group MD Lim Boon Kheng gave the following key dates:

Listing of Servelec on the London stock exchange will happen on Monday, 2 Dec 2013.

The ex-date for the payment of a special dividend of 28 cents is 30 Dec.

Payment date: 13 Jan 2014, well ahead of Chinese New Year which will fall on the 31 Jan and 1 Feb..


Aside from the 28-c per share hongbao which amounts to S$144.5 million, CSE intends to utilise the balance S$75.1 million of the net proceeds from the IPO to repay its bank borrowings.

Mr Lim gave a brief rundown of key aspects of the divestment. The Powerpoint slides he used are available on the SGX website.

The Q&A session in brief:

>> Mano Sabnani asked if CSE would do more in the area of investor relations.

He said that taking out the 28-c special dividend from the current stock price of $1.005 and divide it by earnings per share of 6.6 cents, the PE is only 10X for business of CSE post-Servelec IPO.

In comparison, Servelec is being divested at about 14X PE. He asked if CSE would do more to achieve a higher PE for its stock, considering that it has an attractive financial performance. Its Return on Equity is 22%, it will be in a net cash of S$45 million post-Servelec IPO, and its orderbook is $272 million, etc.

Its business spans 16 countries, and it has 28 offices globally.

CSE chairman Lim Ming Seong said the company would do more in investor relations but added that stock valuations derived from different stock exchanges may not be comparable.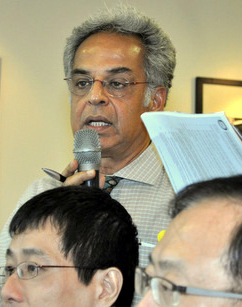 Mano Sabnani, a retired newspaper editor.
NextInsight file photo.>> Mano also asked what CSE's growth plan is post-Servelec IPO.

MD Lim said CSE seeks to grow organically and through M&A.

CSE is "very active" in the US and will expand south to Mexico and South America and is in the midst of hiring executives in the US for that.

CSE will still go back to the Middle East for business even though it had some losses there previously. It would also seek to grow in Africa.

In these countries, CSE is participating in the oil and gas sector -- and then there is the North Sea where a newly-aquired company of CSE operates in.

In the mining industry, CSE expects challenges to growth in Australia which is experiencing a downturn. However, in China, CSE will have some mining-related business, processing ore.

Additionally, CSE will seek to buy companies -- and seek to keep its track record of 70% success in its M&A in the last 15 years.

>> A shareholder asked why the S$6 m in "management payout" to Alan Stubbs when he still has a job as CEO of Servelec post-IPO.

Alan is currently the CSE Group CEO and concurrently CEO of Servelec but he will step down as CSE Group CEO and be replaced by Lim Boon Kheng.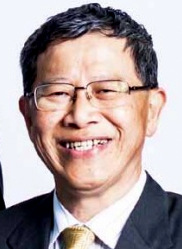 Lim Ming Seong, chairman of CSE. Photo: annual reportChairman Lim Ming Seong started by saying the company has a philosophy of sharing rewards with shareholders (via dividends) and management.

As for Servelec, its divestment will enable CSE to recognise a profit of S$90 million.

The CSE board recognised that Alan Stubbs should be rewarded for having successfully played his part in the IPO. which incidentally fetched S$10 million more than the base price the board set with investment bankers.

At this juncture, deputy chairman Tan Mok Koon added his own take. He said that in 2001, Alan Stubbs had persuaded CSE against divesting Servelec at a time when it was contributing only £100-200K in net profit.

Alan Stubbs grew the business over the years -- resulting in S$220 million in net proceeds/cash flowing to CSE from the upcoming IPO.

>> Why divest all of Servelec when it contributed a third of year-to-date earnings of CSE Global?

Chairman Lim Ming Seong said Servelec's healthcare business will require more capital investment -- through R&D or by merging with another company or acquiring another company. But the latter 2 options didn't appear attractive as other healthcare players were trading at much higher PE multiples than CSE Global.

The decision to divest was made easier because there is no business overlap between CSE and Servelec.

CSE decided against retaining a significant share in Servelec as that would likely depress the stock price of Servelec because of investor concerns of a stock overhang.

If CSE held a small stake such as 25%, any placement by Servelec for fund-raising would dilute CSE's stake. "We are not a financial investor. Any stake we hold is a strategic one -- we want to work with management to grow the business."


Recent story: CSE to pay bumper 28 + 2.5 cents dividend; Yangzijiang price target $1.50