Jackpot is a shareholder of Lion Teck Chiang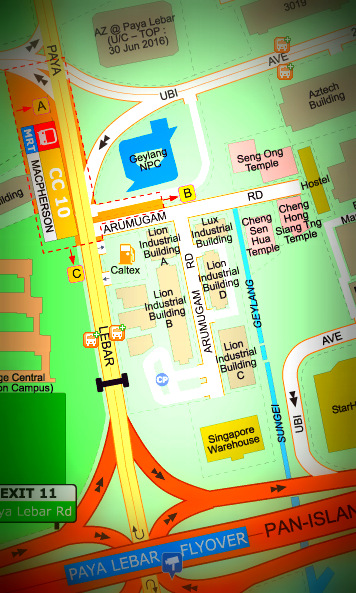 Lion Teck Chiang's investment property in Paya Lebar comprises 4 buildings on freehold land. Map: Streetdirectory.comMany investors were disappointed that the draft Master Plan 2013 did not enhance the existing site occupied by Lion Building at Paya Lebar.

The stock price had a knee-jerk reaction, falling from 85 cents to 79 cents in two days last week.

In my view, there are still many reasons to remain vested:

1. The draft Master Plan 2013 did rezone the former ITE Macpherson site (located directly opposite Lion Bldg) from education to residential use with a plot ratio of 3.5.

Another site next to Macpherson MRT Station was also zoned for residential use with a plot ratio of 3.5.

The surrounding area is undergoing rapid transformation and by 2017 when Downtown Line 3 (DTL 3) commences operation, more rezoning is likely.

2. Several industrial sites around Tai Seng MRT station were granted a plot ratio of 3.5 whereas Lion Building's remained at 2.5.

Such irregularities should be reviewed by URA in due course, especially by 2017 when the DTL 3 commences operation. By then Lion Building will have 2 MRT stations at its doorsteps.

3. The NAV of Lion Teck Chiang as at 1Q2014 = $1.53 of which Lion Building alone made up $0.735 based on book value at $400 psf ppr.

Some industrial sites in the vicinity with leasehold land tenure of 60-99 year tenure were transacted at this price, i.e. empty land without any building constructed.

So at Lion Teck Ching, you get freehold land tenure plus 4 blocks of high-rise buildings that generate recurring rental income. It's a big bargain!

4. The balance of the NAV = $1.53 - $0.735 = $0.795 is backed by properties in Singapore (comprising mainly 14 freehold strata-bungalows @ Seven Crescent) and properties in Malaysia (Melaka).

Even though the sale of the bungalows is progressing slowly because of government cooling measures, the freehold landed homes should appreciate over time. Properties in Melaka are selling fast now.

5. The near-term prospects for its core business of steel trading is very good.. Excerpts from page 2 of the Annual Report 2013 are reproduced below for easy reference:
"OUTLOOK - Steel Trading
The Group's steel business is expected to remain stable. Overall construction demand remained healthy and the Building and Construction Authority (BCA) has projected demand of between $26 - 32b for 2013, anchored by public sector projects. This strong construction demand augurs well for the next few years.
During the year under review, we completed many projects such as Carlton City Hotel, The Academia at Singapore General Hospital, addition and alternation works at Changi Airport Terminals 1 and 2, the Meyer Rise condominium and Marina Coast Expressway C482. We expect more iconic construction projects to be released such as the incoming tenders for the Changi Terminal 4, JTC's very large floating structure (VLFS) at Pulau Sebarok, various contracts for the Thomson MRT Line and the expansion of Kallang Paya Lebar (KPE) Expressway/Tampines Expressway (TPE) Interchange."

6. The Building and Construction Authority projected construction demand/output from 2012 to 2015 as follows: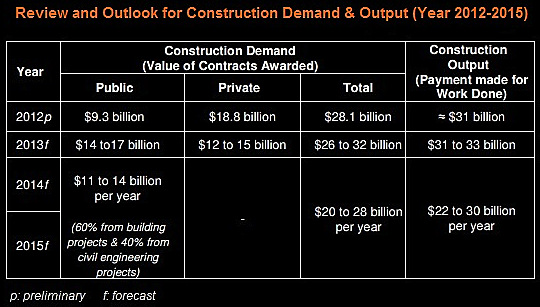 7. The longer-term construction prospect/steel demand is excellent with The new Southern Waterfront City, Cross-Island MRT Line, re-location of Paya Lebar Airbase and Changi T5 in the pipeline.

8. Among Lion Teck Chiang's Top 20 shareholders is Morph Investment Ltd which is a private equity fund that focuses on under-valued small cap companies and those having good prospects of privatisation. Its investment track record is impressive, including Courts Asia, Guthrie GTS etc.

Previous story:@ LION TECK CHIANG's AGM: Air Of Anticipation Over Master Plan 2013