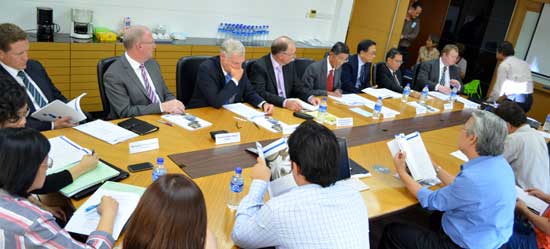 Ausgroup's AGM was held at its office premises at 36 Tuas Road, which it recently sold to improve cash reserves.



Time & date: 3pm, 17 Oct, 2013

Venue: 36 Tuas Road



Photos by Sim Kih unless otherwise indicated.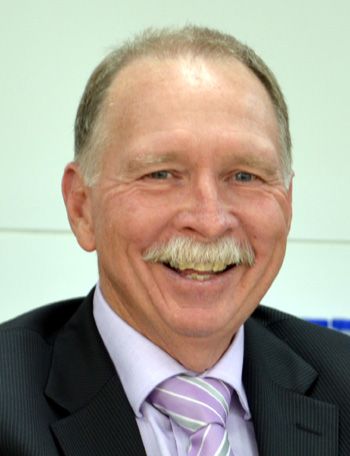 Founder Stuart Kenny is back at the helm as CEO and MD.INVESTORS SOLD down AusGroup's stock price by about 15% overnight after it said last Friday that its CEO had resigned and it expected a net loss for 1QFY2014 (July to September).
From the previous closing price of 32.5 cents, the stock opened at 27 cents the following Monday morning.  This is almost half of its trading range above 60 cents in January.
The anticipated loss is due to the following:
1. Cost overruns from two contracts that are approaching completion;
2. Delays in the commencement of new contracts; and
3. Restructuring costs.
The anticipated 1QFY2014 loss caused Ausgroup to breach certain technical covenants in its banking facility agreements.

Ausgroup is in talks with the banks to resolve its covenant issues.  In the past 6 months or so, it has substantially reduced overhead costs in an operational restructure that involved the departure of key executives on annual remuneration ranging from S$500,000 to S$1.25 million.
These departures include CEO Laurie Barlow and 4 other key executives.  Mr Barlow's remuneration in FY2013 exceeded S$1 million.
Mr Barlow was appointed on 12 March 2012 following the resignation of former CEO John Sheridan on 31 May 2011.  Mr Stuart Kenny, one of the company's founders, was acting CEO before Mr Barlow's appointment. 

Mr Kenny was reappointed CEO and managing director on 11 October.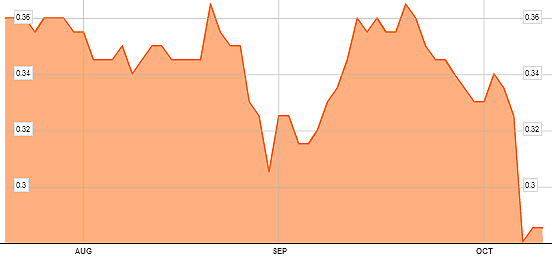 Ausgroup's stock price is down by 12% at 28.5 cents since it announced the change in CEO and profit guidance on 11 October. Bloomberg data

Below is a summary of questions raised by shareholders at the AGM and the replies provided by the management, which included Mr Kenny, non-executive chairman, Dr Chew Kia Ngee, non-independent non-executive director, Mr Barry Carson, and independent directors, Grant Pestell, Kok Pak Chow, Kelvin Lee and Damien O Reilly.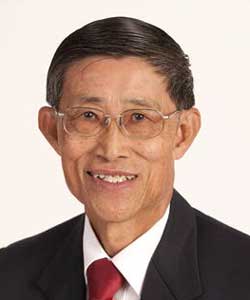 Non-executive chairman, Dr Chew Kia Ngee. Company photoQ: What are the implications of changing the CEO?  Will you have a smooth handover? 
Stuart Kenny: To run a business like Ausgroup that is people-based, you need very strong leadership.  The board took the view that we needed to take immediate strong action of some concerns that were beginning to arise and Mr Barlow decided to resign.  The projects were affected as a result. I was able to raise my hand to offer to continue to help the Group to continue to deliver the best out of the projects.
Q: Why are segment results of Integrated Services a loss of A$3.6 million compared to A$13.1 million the year before?

Stuart Kenny: In Integrated Services, we believed that customers were about to commit capital expenditure quite rapidly.  We incurred overheads at a level that would allow us to react quite quickly to new projects such as the Gorgon or Wheatstone LNG projects.  However, there were project delays to our tenders for scaffolding and insulation work, which resulted in a downturn in Ausgroup's earnings.  Our fundamentals remain strong.
The market has changed faster than the contracting sector has forecast.  There has been a shift in capital expenditure by customers from mining to LNG. Some projects have come off the radar because of the high cost of operating in Australia.  We have changed our focus from Major Projects (which is capital intensive) to developing our maintenance expertise.  This is reflected by our announcement on 16 Oct of a contract from Woodside.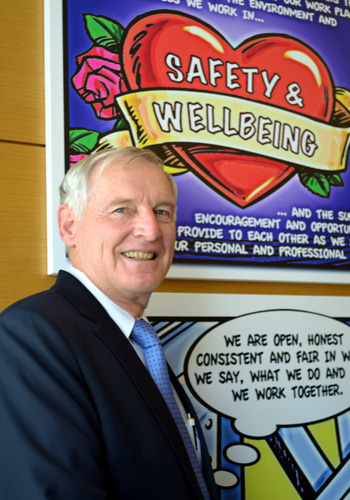 Non-executive non-independent director, Barry Carson is considered non-independent because his deemed interest of 4.3% in Ausgroup makes him a major shareholder. The company has a free float of about 93%.Q: How is Ausgroup's succession planning?
Stuart Kenny: I am very impressed with the executives at the operating level.  They are not ready to be at the senior level.  But I will be there as long as is needed.

We have a good succession plan in place.  This can be seen by Mr Gerald Hutchison stepping up immediately to be acting CFO when Anthony Hardwick fell ill in the last few weeks.
Q: How much did we actually pay in directors fees last year?
Kelvin Lee: We did not exceed the budget of A$750,000.  The actual remuneration was very close to the budget.
Barry Carson: The Australian directors fees are far higher than in Singapore. Currently, Ausgroup has been paying directors fees according to market practice in Singapore.  When it is listed in Australia, the directors' fees are likely to increase.

Q: Does listing in Australia mean overall higher staffing costs?
Barry Carson: We are already paying Australian staffing costs.  What will increase is reporting costs, because Australian disclosure requirements are much more onerous than Singapore's.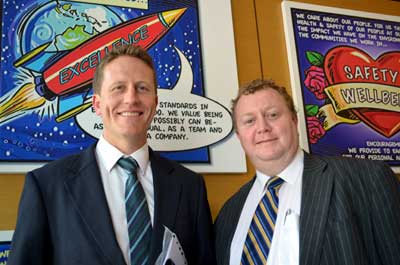 Independent director Grant Pestell (left) with acting CFO Gerald Hutchison.Q: Your cash balance of A$11.7 million is quite low for a company with revenue of about A$600 million.  How do you intend to increase cash balances?
Gerald Hutchison: We are not highly geared.  So, we can do a multi-currency loan.  Since the balance sheet date, we have received A$31 million from our dispute with Karara.

Subsequently, we have also sold a piece of land (at 36 Tuas Road in Singapore).
Dr Chew:  We are negotiating to collect an additional sum in excess of A$10 million from Karara.  The matter will be put back to the courts if there is no satisfactory conclusion.

Q: I know it is fashionable to sell property and lease back, but REITs work on a yield of 7%.  Is the sale more expensive for Ausgroup in the long term?

Gerald Hutchison: The sale aligns our capital base with our revenues.  We are leasing back at 5% + 2%.
Recent story: AUSGROUP: Holding Dividends Until Karara's Receivables Are Collected