Time & date: 2 pm, July 31.
Venue: Novotel Clarke Quay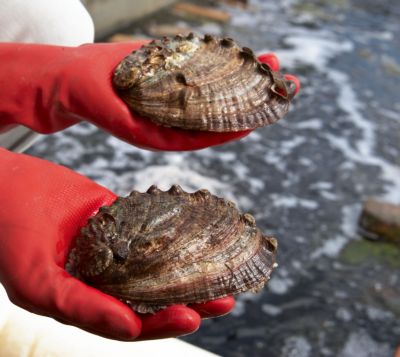 Abalones take 3 years to grow into adults but some are sold in Years 1 and 2. Photo: OceanusThere were observers, proxies and shareholders who turned up mainly to understand the extent of recovery of Oceanus' business and when it might turn around.

From above 40 cents in early 2010, Oceanus' stock price has now sunk to below 3 cents.

Not surprisingly, the depressed price has attracted some investors, such as Koh Wee Meng, the executive chairman of Fragrance Group. He is listed in the 2012 annual report as the No.9 largest shareholder with 49.2 million shares.

In 2012, Oceanus had begun to re-start its abalone population which this year would comprise two cohorts -- juveniles and 'teenaged" abalones. Thus in 2014, the teenagers would become adults, a small percentage of which could be kept longer to grow into 'mature adults".


Executive chairman Dr Ng Cher Yew. NextInsight file photoWhile it takes about three years for abalones to reach adulthood, they can be sold at various stages as there is a market for them.

Executive chairman Dr Ng Cher Yew, in explaining the business model, said that a certain percentage of each of the three cohorts would be sold each year.

Executive director Wu Yong Shou revealed that about 50% of the juveniles would be considered laggards and selected for sale. A much smaller percentage of the Year 2 cohort is sold.

In a nutshell, it takes time for Oceanus' business to improve but eventually there should be growing profits and cashflow.

In his message in the annual report, Dr Ng wrote:"The population of abalones, while of better quality, are largely very young and will only meaningfully and positively impact on the financials in late 2014 onwards when those retained abalones grow to larger sizes. We expect the financials to continue to improve."

And the key risk?

Dr Ng replied, at the AGM: "Generally, in managing biological assets and executing the business, the greatest risk is people."

Oceanus has 45 farms spread out over vast locations.

To a question on whether he feared losing his own investment in Oceanus, Dr Ng said food and agriculture are increasingly important economic sectors and a lot of funds and investments are being poured into these sectors.

Would there be another rights issue after the recent one?

Dr Ng replied: "Two things you need to understand. For the company to survive, and in a restructuring phase, we needed to raise funds. If it didn't, it would go into receivership. The cost of raising funds is dilution to us shareholders. The cost of doing nothing is not to get our value back. Hopefully, by 2014/2015, we would be stronger and the share price would go up. We are looking forward to that."

Does the company need to raise more funds? "It's still early days, but we might need a little more money. We will see as we go along."



L-R: CFO Yap Siew Khim, executive director Wu Yong Shu, independent director Chua Hung Meng, independent director Dr Ngiam Tong Tau, executive chairman Dr Ng Cher Yew.

2 directors not re-elected

Independent director Chua Hung Meng and executive director Wu Yong Shou were not re-elected to the board by an overwhelming margin.

A number of major shareholders had decided against their reappointment, given that 1.4 billion votes were cast. About 99% were against Mr Chua and 95.5% against Mr Wu.

The next day, Oceanus announced the appointment of Francis Chua Seng Kiat, 63, as an independent director. His working experience in the past 10 years was described as "Private Equity and Angel Investor".

The company also announced the appointment of Liu Yanlong, 54, as an executive director. His last job, from 1998 to 2009: "Investment Analysis Manager of a Hong Kong investment fund, Global Specific Situations Investment Corporation."
---

For background on Oceanus' woes in 2011, and what was discussed at the 2012 AGM, read:

@ OCEANUS AGM: Rare case, ex-CEO voted out of board