Otto Marine sells offshore support vessel for US$50m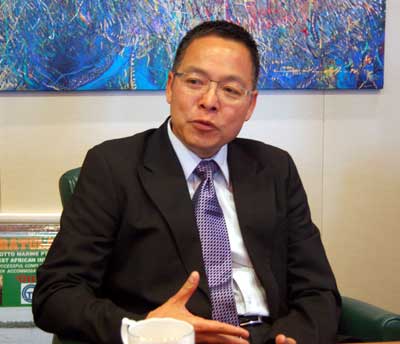 Yaw Chee Siew, Chairman and CEO of Otto Marine. NextInsight file photoOtto Marine has sold a Multi-purpose Field Support and ROV Support Vessel "Otto Explorer 3" to RY Offshore for about US$50 million.
Upon completion of the sale, the buyer will charter the vessel to the Otto's subsidiary, Go Marine Group Pty Ltd.
Otto has received a deposit of US$1 million from the buyer, and the balance is to be paid upon vessel delivery.
The vessel is being built at Otto's shipyard in Batam, Indonesia.
Otto's Chairman and Group CEO, Mr Yaw Chee Siew, owns 29% in RY Offshore.
In the past month, Otto has successively announced several new orders:
>> US$50 million order for Multi-purpose Field Support and ROV Support Vessel
>> S$6.3 million worth of fabrication orders
>> US$27.8 million orders for two AHTS vessels
Related stories:

OTTO MARINE & JES INTERNATIONAL: Strong Order Wins

OTTO MARINE: Wins First newbuild orders in 2 years
---
Armarda associate and China Telecom Satellite jointly launch Thuraya mobile satellite service


Marketing effort jointly held by Armarda unit and China Telecom Satellite.
Company photo
Armarda Group's associate China Mobile Satellite Communications Group Limited ("CMSCG") and China Telecom Satellite launched their maiden conference on 28 March 2013 to promote Thuraya mobile satellite handsets and mobile satellite airtime services.

China Telecom Satellite is a China Telecom subsidiary.

Held in Chengdu, the conference was attended by 20 key Chinese distributors of mobile devices from all over China.

"This marketing effort comes right on the heels of our partnership launch of the 1349 mobile satellite SIM cards for commercial usage," said CMSCG CEO Jimmy Zhang.

Market demand for dual mode satellite phones is projected to multiply in 2 to 3 years to about 1.330 million to 3.84 million units, according to a study from The Nielsen Company.

China's demand for dual mode satellite phones was about 320,000 to 410,000 units in 2011.

Related story: ARMARDA, GLOBAL PREMIUM HOTELS, EZION: Latest Happenings


---
UTAC former CEO Lee Joon Chung joins Broadway

Lee Joon ChungBroadway Industrial Group, a leading manufacturer of precision-machined components and engineered foam plastic solutions provider, has appointed Lee Joon Chung as CEO.

A veteran in the semiconductor and engineering industries, Mr Lee was President and CEO of United Test and Assembly Center ("UTAC") for the past 11 years.

Prior to joining UTAC, he held directorships at Semiconductor Manufacturing International (AT) Corporation and Nepes Pte Ltd.

He was also the co-founder and President of STATSChipPAC Ltd (formerly known as STATS) and spearheaded its public listings on NASDAQ and the Singapore Exchange.

Mr Lee also held various senior leadership roles in other sizeable companies such as Texas
Instruments Incorporated, Microchip Technology Inc. and National Semiconductor Corporation.

He holds a Bachelor of Science degree, majoring in Mechanical Engineering, from the University of Alberta, Canada.

Read what Forbes Magazine had to say about Mr Lee here.

Mr Wong Sheung Sze, the current Executive Chairman, will continue his role as Executive Chairman of the Group. He has managed the Group for more than 30 years.

Related story: BROADWAY INDUSTRIAL: Analysts Visit PRC Facilities