MENCAST continues acquisition path



FOLLOWING MENCAST'S proposed acquisition of the Top Great last month, the stern gear maker has inked another deal to buy another offshore services provider.

Mencast's latest acquisiton, Unidive Marine Services, provides topside rope access and subsea diving services for the marine industry, particularly in inspections, repairs and maintenance.

Unidive had generated pretax income of S$3.17million for FY2010 and has net assets of S$6.78 million.

The proposed acquisition of Unidive will be paid for by issuing S$2.425 million worth of Mencast shares and S$12.425 million in cash, totaling S$14.85 million.

Top Great provides engineering design, procurement, fabrication and installation services for structural and precision engineering systems and plants in the environmental, marine and oil & gas sectors.

These acquisitions are intended to expand its product range, increase capacity and increase its geographic reach.

For example, Mencast had in 2010 added to its product range the Mewis Duct propulsion improvement device for full-form ships such as tankers, bulk carriers and multi-purpose vessels, an innovation that saves customers up to 10% in fuel and emission costs.

It is a preferred Mewis Duct supplier to the German Becker Marine Systems, a leader for high performance rudders and maneuvering systems for ships with a 70%-share in the global stern gear equipment market.

Mencast's Becker Marine connection, coupled with Top Great's strong capabilities in welding and fabrication for offshore modules, will enable the merged entity to provide wider range of maintenance, repair and overhaul (MRO) services.

Mencast is also planning a new waterfront facility that is expected to increase production area to 3.5 ha around the end of this year. The new facility enables it to manufacture up to 80 tons for rudder assemblies and sterngear equipment for vessels of up to 50,000 dwt.

Top Great's 5-hectare yard in Batam will also add the Mencast's capacity.

CIMB has a target price of 70 cents on the stock. It recently traded at 43 cents on thin trade.
---

Mermaid Maritime associate company to list on Oslo second board
Mermaid Maritime's 49%-owned associate company, Asia Offshore Drilling (AOD), has received approval from the Oslo Stock Exchange to list on Oslo Axess, and the listing is expected to happen by July.

Oslo Axess a regulated marketplace for the shares of companies that have less than three years' history.

AOD is in the business of owning and operating high-specification jack-up drilling rigs.

The placement proceeds will range from USD 53 million to USD 105 million, with an indicative price range of USD 5 to USD 5.5 per Offer Share.

Mermaid intends to subscribe for between USD 10 million and USD 27 million in the Private Placement.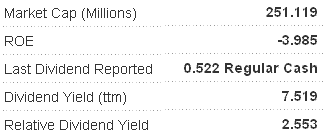 The net proceeds of the private placement will be used to:
(i) exercise one or two of AOD's fixed-price options for the construction of high-specification jack-up rigs with Keppel FELS
(ii) for project management
(iii) as working capital and for sales, general and admin expenses

SEB Enskilda AS, Pareto Securities AS and RS Platou Markets AS are the joint lead managers and joint bookrunners for a private placement of new shares in AOD with Norwegian investors and international institutional investors.



---
Dukang to sell sake made in Taiwan


Dukang's TDR in March appears to have benefits greater than fund raising and a wider shareholder base.

Three months after listing in Taiwan, it has entered into a MOU with Taiwan Tobacco & Liquor Corporation (TTL) to sell saké products produced by TTL under the Dukang brand name.

TTL is the largest alcoholic beverage producer in Taiwan and saké is a rice-based alcoholic beverage of Japanese origin, and commonly served in Japanese restaurants.

Dukang's product range currently consists of baijiu products, which are alcoholic beverage produced mainly from sorghum.

Related story: DUKANG Visit: Strong Spirits, Weak Valuation... Bargain Baijiu?