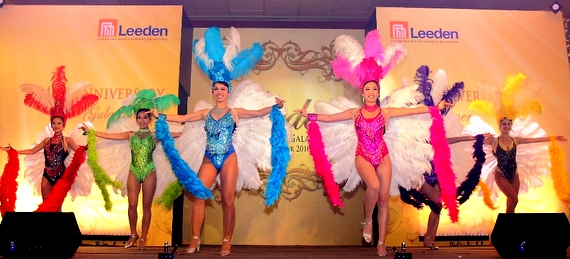 LEEDEN threw a party for 850 guests recently to celebrate its 46th anniversary, enhance ties with its principals, partners and customers - and have a good time after achieving good profit of S$5.3 m in 1H2010.

Leeden had also received prestigious recognition by being ranked No. 5 "Fastest Growing Internationalising Companies of 2010" by DP Information Group and supported by Ernst and Young Solutions LLP, IE Singapore, IDA Singapore, SPRING Singapore and
The Business Times.


One thing about Leeden's big  events is that they are often graced by beautiful models – this time was no exception as the staff and guests of Asia's integration specialist for welding, gas & safety solutions enjoyed the dinner at the Mandarin Orchard.

There was good music, good food and carmaderie among the guests, many of whom hailed from
various parts of the globe.


About 300 guests were from overseas and 250 of these were in Singapore for the Offshore South East Asia Conference & Exhibition (OSEA) at Suntec City (which was attended by over 20,000 industry professionals).

Shares of Leeden have been listed on the Singapore Exchange since 1975 - one of the most enduring listed entities in Singapore.



All photos courtesy of Leeden.

Recent stories:

STRAITS ASIA RESOURCES, LEEDEN: What analysts now say....

LEEDEN: Turnaround success with award-winning CEO