ANCHUN INTERNATIONAL's stock has done badly since IPO: As of yesterday, at 19.5 cents, it was down 30% from its IPO price of 28 cents in October this year.

It may not be justified, though.

The company yesterday reported a 190.6% jump in 3Q (ending Sept 2010) net profit to RMB23.7 million.

Revenue rose 142.5% to RMB91.6 million.

The increases were due to the company completing several contracts and recognizing the entire revenue of the projects at one go.

Mainly, Anchun manufactured chemical systems and components for the production of methanol and ammonia-based products.

These products include chemical fertilizers (a key to China's drive to increase farm output) and DME and other products which are alternative sources of energy.

This business segment, called CSC (chemical systems and components), is the biggest contributor by far to the revenue of Anchun.

At RMB89.4 million for the first three quarters of this year, CSC accounted for 82.5% of the group's revenue.

Anchun has 3 business segments in all as outlined below:


One thing to highlight about the CSC business is the good cashflow arising from the way cash is collected on contract signing and as the project progresses.

As CFO Leow Wei Chang said yesterday at a briefing for analysts: "This is a very good payment model as it is low risk in terms of inventory and trade receivables."

And the customer effectively funds Anchun's working capital.

Not surprisingly, Anchun's receivables turnover was a low 37 days as at end-Sept this year.

The revenue for the project is recognized only upon completion of the project, however. This form of recognition contributes to lumpiness in the revenue of the company.

Among Anchun's over 320 customers is China XLX, which contributed 17.8% of the group's revenue in 2009, making it the No.2 largest customer.

It solely uses Anchun's technology, whose energy-efficient and cost-saving attributes can be seen in China XLX's case.

For each tonne of urea it produces, China XLX uses 627 kg of coal and 740 kwh of electricity, which is 15-20% lower than industry averages.

Coal and electricity are a major (70%) component of the cost of goods sold by China XLX.

China XLX, which happens to own a 3.88% stake in Anchun, is embarking on capacity expansion early next year, and chances are it could turn to Anchun for its technology.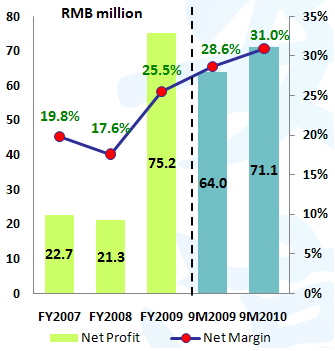 Lots of cash, no debt, and 41-cent target price
Following its IPO, Anchun has more than RMB200 m cash, and no debt. That would be about 40% of its market capitalization of S$98.5 million (based on 19.5 cent share price).

If 4Q net profit is the same as the RMB23.7 million achieved in 3Q this year, then the total net profit for the year would be RMB94.8 million. (pre-IPO orderbook is Rmb256.4m).

Using, conservatively, the post-IPO share capital of 505 million, the net profit would translate into earnings per share of 18.77 RMB cents, or 3.7 Singapore cents, or 5.3X PE.

So far only NRA Capital has published a view on Anchun's fair price. It is 41 cents, as the research house said prior to the IPO.

Growth driven by demand for energy-saving and efficient systems

Anchun's systems and technology are in demand as most of its potential clients are inefficient and pollutive, according to research.

a) About 83% of China's ammonia producers operate inefficient and pollutive plants of less than 180 kt/year. They need to upgrade their production facilities in order to survive.

b) Ditto for 85% of China's producers of methanol, which operate inefficient and pollutive plants of less than 200 kt/year.

Recent story: ANCHUN: IPO debut for market leader in fertilizer management system