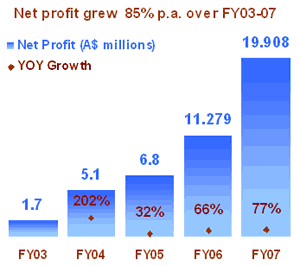 FRESH from achieving a record profit of A$19.9 million for FY '07 ended June 30, AusGroup says it now has a sizeable order book of A$233 million.

Of that amount, all except A$30-$40 million will be recognized in FY '08.

The order book includes the A$60-million contract Ausgroup very recently clinched for fabrication and installation services at the Boddington Gold Mine in Perth.

To put the A$233-million figure in some perspective, the order book at the start of FY '07 was about A$155 million. The year ended with revenue of A$281 million.

The present order book will continue to bulge, as AusGroup has tendered for A$303 million of work.

"The future is looking strong, the flow of work is strong. We are very confident about where we are headed and the opportunities available to us," said Stuart Kenny, 55, managing director of AusGroup, at a presentation to analysts on Monday evening.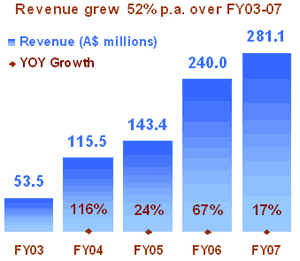 "Shareholders have enjoyed substantial growth in their investment if they got in early. If they got in late, there's significant growth still available," he added.

In August last year, AusGroup's stock traded in the 30-40 cent range but has since soared to the $1.60 level at the start of this week for a market capitalization of around S$630 million.

Describing the business performance as fantastic, CFO Anthony Hardwick noted that while revenue rose 17%, net profit soared 77%.

"It's the result of a deliberate strategy to concentrate on quality of earnings and margin growth," he said.

Net profit margin grew from 4.7% to 7.1%.

Return on equity stood at 26.3%, up from 23.9%.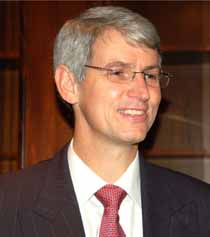 AusGroup is paying a dividend, for the first time, of 0.61 Singapore cent a share.

Anthony noted that while AusGroup remained a lean organization, its operating and administration expenses climbed 63%, in part for resources to manage future business.

AusGroup has A$16.6 million cash, which positions it very well for an aggressive capex programme this year and for borrowings in the event there is a suitable acquisition, he added.

AusGroup's wholly-owned subsidiary, Cactus Engineering, is gearing up for a jump in business by recently purchasing a 30,000 sq m site in 36, Tuas Road for S$13.5 million.

Strong future for Cactus
Stuart said the future for Cactus is particularly strong as its market – the subsea sector – looks set to continue booming. The 2006-2012 production capex for the Asia Pacific subsea sector was recently revised upwards to US$4.9 billion by analysts.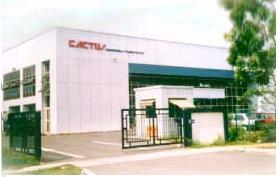 The new Tuas site will add to the existing 8,200 sq m Cactus facilities at Tuas Link 1, and enable Cactus to meet not only rising demand but also produce a wider range of products.

An example of the latter is the "telescopic joints" - used with deepwater drilling vessels - that global player Aker Kvaerner has recently contracted Cactus to help produce.

"As we expand our production capacity, new opportunities will come our way," said Stuart. Vast opportunities also beckon in the iron ore mining industry in Western Australia, where some A$35 billion has been committed or are in an advanced stage of commitment, he said.

AusGroup has won contracts in that industry and is eyeing opportunities in other mineral industries, such as gold and nickel.

In his review of the year, Stuart said that in April this year, AusGroup received the 2006 "Best Workplace Health and Safety Management System" award for having the best health and safety management system in Australia.

"We are growing, we are producing quality work and we are doing it safely as we value our employees."

Noting that AusGroup moved up its listing from Sesdaq to the mainboard in 2007, Stuart said the group will announce its financial performance on a quarterly basis.

With greater transparency comes information on short-term performance, which may not necessarily reflect the strong long-term prospects of the group, he cautioned.

"We are at the whim of engineering designs provided by others, we are at the whim of weather conditions, changes to schedules, customers slowing down their commitments, elements that are truly outside of our control," he said.

"But overall, the business opportunities for us in Australia are very strong in mining and the oil and gas sector. They are very strong here in Singapore in the subsea sector."

The following are highlights of the Q&A session between Stuart and analysts. The text has been edited for brevity.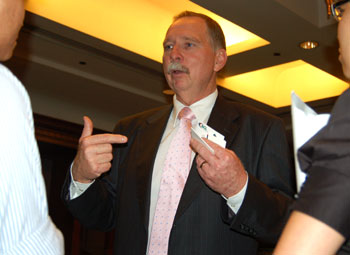 Q How much of the A$233-million order book is from the oil and gas sector?
A It's not a figure we typically break down but it's probably 75%, 80% for mining and the rest is oil and gas.

Q What's your total investment in Cactus going to be? You have a new site, and you have to set up new facilities and machines.
A Our capex programme for the next 12 months is about A$50 million, with about half of that for Cactus and the rest for Australian operations.
Q What is the volume or tonnage of production from Cactus?
A

Because of the mix of work, we don't measure by tonnage. We work in the supply chain of manufacturing components for Christmas trees.

Typically we may be involved in 24 or 30 a year but that's not necessarily a measure of anything, particularly now that we are moving along the supply chain. I think you should relate to the space that's available now which will allow volume and revenue and profitability to increase.

Q What is a Christmas tree?
A

It's the control valve that sits on the seabed on a well that will control the flow of a product, whether it's oil or gas. That's in the simplest terms.

Q Will all the order book of A$233 million be recognized in FY '08?
A

Some of that will run into 2009. Some of that relates to the Blacktip project. Probably A$30-40 million will run into FY '09.

Q On dividends, what payout measure will you use going forward?
A

That's a board decision. The board will assess that as and when we have the pleasure of assessing or revising our dividend policy.

Q In one of your presentations, you said the contract value of Boddington could be A$28 million, but now it has come out at A$60 million. Has that been a positive surprise?
A

We were not aggressive in our forecast. We knew there was a whole lot of work out there. Now, we have got the jewel in the crown. It's the first major contract and the largest in Boddington, and the most technically challenging. We will have the largest workforce on the site and we will be setting the standard for other contractors.

Q Are you expecting more contracts from Boddington?
A I think there's an opportunity for us to get a smaller one. I don't believe that the contracting strategy used by Boddington management will allow a major contract to be awarded to us and then potentially overload us with another contract. They would spread their risks but there is potential for a smaller contract to be directed our way as well.

Q For your tendered projects, what is the success rate?
A

It's 50% or higher for oil & gas. Overall, we have a 25-30% in all the work we tender.