Jewelry and gold play Chow Sang Sang gave a presentation to a packed room in Shenzhen.
Photo: Aries Consulting

CHOW SANG SANG Holdings International Ltd (HK: 116), a leading jewelry and gold play, is likely to see an even better 2014.

That's not bad considering its latest interim revenue topped 14 billion hkd.

"We should see better business and more fund inflow in the current year," said Chow Sang Sang CFO Mr. Theodore Tam.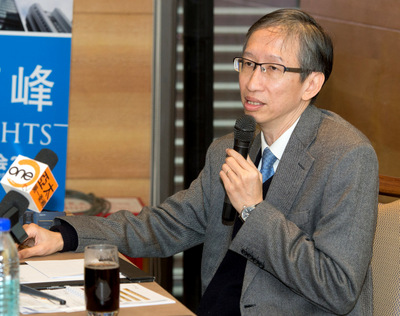 Chow Sang Sang CFO Mr. Theodore Tam said the jewelry play's directly-controlled store model helps guarantee uniformity of quality and availability across the chain. Photo: Aries ConsultingSpeaking to investors and fund managers on Friday in Shenzhen at the Aries Consulting-organized "3rd Scaling New Heights – Asia Investment Forum 2014," Mr. Tam said the jewelry retailer and physical precious metals wholesaler was especially upbeat on its top market – the PRC.

"There are many regions showing strong, sustained demand."

Chow Sang Sang is primarily engaged in the production and sale of jewelry, the sale of gold and other precious metals and the securities and futures businesses.

Its jewelry sales network covers all of Greater China (Hong Kong, the PRC, Taiwan and Macau), with the Chow Sang Sang brand of jewelry retailers well represented in both Hong Kong and the PRC.

During the first half of 2013, total turnover rose 55% year-on-year to14.1 billion hkd and net profit was up 40% at 615 million, with retail jewelry sales contributing 77% to the interim top line while physical metals/wholesale constituted 22%.

The luxury firm's geographic expansion campaign was continuing apace.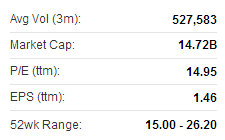 Chow Sang Sang recently 21.75 hkdAs of end-2013, the group had 393 self-operated stores across Greater China, with 45 Chow Sang Sang retail venues in Hong Kong and Macau, 35 affiliated "Emphasis Jewelry" shops in Hong Kong/Macau/Taiwan and the remainder of the Chow Sang Sang stores spread across Mainland China, covering 95 PRC cities.

"Chow Sang Sang directly owns, controls and operates all its retail stores with no franchising practiced.

"This ensures greater uniformity in terms of quality, pricing and product availability," Mr. Tam said.

He added that all Chow Sang Sang retail venues with a staff of over 7,000 operate under the authority and oversight of the group, with none being granted special or independent operating rights.



Chow Sang Sang's recent Hong Kong share performance. Source: Yahoo Finance

The jewelry and precious metals play realized that consumers wanted to be able to walk into a brick and mortar store and actually see their potential purchase with their own eyes.

Therefore, Chow Sang Sang was continuing to set up new stores when and where market opportunities presented themselves.

"We still prefer stand-alone street-level stores as opposed to shopping malls," said Mr. Tam.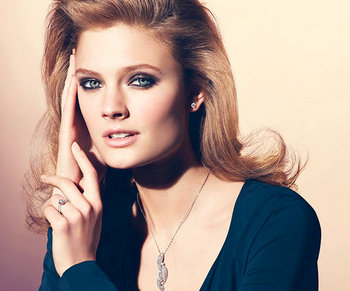 Chow Sang Sang's goal is to become the brand of choice among high-end, discriminating clientele with a taste for the finest jewelry products available.
Photo: Chow Sang SangHe said Chow Sang Sang's goal is to become the brand of choice among high-end, discriminating clientele with a taste for the finest jewelry products available.

"Compared to our peers, we rely more heavily on our self-owned model of management and development.

"This also allows us to make changes that effect the entire organization faster than our peers."

Despite the store expansion campaign, Chow Sang Sang was also staying one step ahead of the latest virtual shopping trends.

"Online sales are still not big, representing around 3% of our total revenue, so this sales format is in the early stages of development for us," he said.

He said the two shopping options – store bought versus virtual – would never compete with each other at Chow Sang Sang.

"We see our online shopping service as being complementary to our extensive retail store network."

Chow Sang Sang's official online retail site -- eshop.chowsangsang.com -- is accessible via all the major online shopping portals including TMall, JD.com, VIPShop, etc.

Being the first jewelry brand to list in Hong Kong in 1973, Chow Sang Sang is confident of continued steady growth going forward.


---

See also:

CHOW SANG SANG Target Hiked