Excerpts from analysts' reports

OSK-DMG trims target price of XMH to 41 cents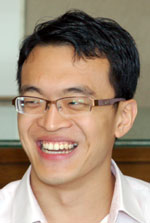 Analyst: Lee Yue Jer (left)

Contract woes lead to short-term pain. The claims are related to a contract for four propulsion units delivered to Pacific Marine & Shipbuilding Pte Ltd in June 2010, which the plaintiff alleged was defective.

XMH's total potential exposure is SGD3.47m in losses and damages. While we await management's decision on a potential appeal that may reduce or reverse the judgment, we expect the company to make a provision of this size.

As this is nearly equal to our 4Q14 profit estimate, we now expect a breakeven position for the final quarter ending April 2014.

Potential short-term negativity. The news is likely to result in short-term negativity on the stock, especially since customers are delaying receipt of their orders due to uncertainties surrounding the Indonesian elections. We do expect "business-as-normal" conditions to resume after the Indonesian elections are concluded.
Mid-term growth outlook intact. We continue to like XMH for its clear mid-term growth potential from:

i) the contributions of fast-growing subsidiary Mech-Power Generator,

ii) the new production facility, which is expected to come online in 2Q16, and

iii) potential acquisitions in the near term.

TP dips to SGD0.41 on a lower P/E. XMH is now pegged to a 12x FY15F P/E to reflect the potential negative sentiment arising from the legal case and the uncertain Indonesian market – which results in a SGD0.41 TP (vs SGD0.45 previously)

The healthy 4% dividend yield should support valuations at the current price, with potential re-rating catalysts from new contracts in new markets as well as acquisitions. Maintain BUY.
---

OSK-DMG says Enterprise of the Year award for Mencast reflects its growth potential

Analyst: Lee Yue Jer

Mencast received the Enterprise of the Year award at yesterday evening's Singapore Business Awards presentation dinner. Other preeminent companies that have won this award include Tee Yih Jia Food Manufacturing, Super and The Coffee Bean & Tea Leaf.

The win reinforces our view of Mencast as a long-term growth player in the oil & gas (O&G) industry. We maintain our BUY call and SGD0.76 TP.

Excellence in all criteria. The Enterprise of the Year Award recognises companies along four criteria: i) innovation record, ii) entrepreneurial skills, iii) growth record, and iv) financial performance.

Mencast has indeed successfully reinvented itself to encompass multiple points in the maintenance, repair and overhaul (MRO) business along the O&G value chain from just a sterngear manufacturer initially.

History as a guide. Tee Yih Jia Food Manufacturing Pte Ltd, whose executive chairman Sam Goi won the Businessman of the Year Award last night, was the first Enterprise of the Year Award winner in 1986.

Recent winners include Super (SUPER SP; BUY; TP: SGD3.99) in 2012, The Coffee Bean & Tea Leaf in 2011 and YCH Group Pte Ltd in 2010.

If history is any guide, we hope to see Mencast achieving the same prominence in the O&G industry as these others have in theirs.

Sending a strong positive signal to all stakeholders. We believe that this award sends a strong signal to all stakeholders on Mencast's sustainability and growth potential.

We continue to see clear sources of growth in each of its offshore and Engineering, Marine, and Energy divisions, notwithstanding the labour supply issues in Singapore. Its heavy investment in automation and productivity improvements should begin to bear fruit this year.

Maintain BUY with SGD0.76 TP unchanged. This award serves to reinforce our view of Mencast as a long-term growth player in the O&G industry. Our TP is based on 12x recurring FY14F P/E, which is a conservative multiple for its 80% core earnings growth potential this year.

Recent story: YANGZIJIANG, MENCAST: What analysts now say