This article was published on www.nracapital.com, and is republished with permission.



Kevin Scully, executive chairman, NRA Capital. Photo: CompanySTRACO CORPORATION, one of my yield and growth stock picks, reported a strong set of FY2013 earnings with revenue higher by 32% to S$72.84mn and net attributable profit rising by 73% to S$34.1mn (slightly lower than my full year forecasts of S$35mn).

Since my first recommendation in October 2012 when the share was S$0.255, we have seen the shares appreciate by 100% on strong and steady earnings growth.

Highlights of FY2013 results:

a) Revenue rose 32% to S$72.84mn

b) Pretax profit was higher by 67% to S$50.3mn while net attributable profit rose 73% to S$34.1mn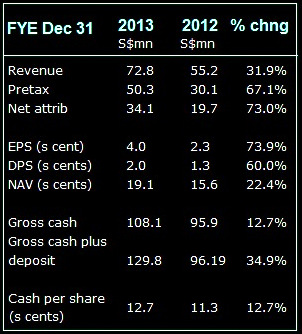 c) Included in the profit were two non-operating items: forex gains of S$2.2mn and gains on disposal of property of S$0.7mn.

d) Cash rose to S$108.1mn in 2013 up from S$95.9mn in 2012 – this excludes the S$21.7mn in other current assets which is a deposit of S$20mn.
e) EPS was S cents 4.1 in 2013 compared to S cents 2.3 in 2012

f) DPS was S cents 2 comprising a first and final of S cents 1.25 and a special dividend of S cents 0.75 in 2013 compared to a first and final of S cents 0.75 in 2012 and a special of S cents 0.5

g) NAV per share was S cents 19.1 in 2013 up from 15.6 S cents in 2012



Straco's item 10 in its results announcement points to continued and steady revenue and profit growth:

"For the whole of 2013, the Chinese economy grew a stable 7.7%; setting the stage for the government to focus on economic reforms this year and anti-corruption campaign, which augur well for China's economic and social stability in the long run.
"The Chinese government has been shifting its economic reliance away from exports and foreign trade to domestic consumption.
"This directly benefits China's tourism industry. According to the World Travel and Tourism Council, travel and tourism generated 9.3% of China's GDP in 2013. Domestic tourism is expected to continue to grow with the nation's increasing affluence and accessibility. This augurs well for the Group.
"The first China Tourism Law, which came into effect on 1st October 2013, is reshaping the domestic travel industry, and has increased the number of higher-yielding free independent travellers (FITs) to Straco's attractions since its implementation.

"It is expected that the new law will strengthen long term regulation of the travel industry."

Commentary:

Straco remains a good defensive domestic consumption play in China. Its business is driven by domestic tourism which should continue to rise in line with growing domestic affluence. It continues to grow dividends in line with profit growth because it has surplus cash.

However, this might be pared down should the company embark on a major acquisition which could deplete its cash hoard. I still like the stock and am raising my price target. For more on my profit forecasts and price target – refer to my Stock Picks Yield section.

Recent story: Investor: My 2 big misses -- STRACO and UMS