JP Morgan: ANXIN-CHINA initiated with 'Overweight' call

JP Morgan said it is beginning coverage of Anxin-China Holdings (HK: 1149) with an "Overweight" recommendation and a target price of 4.00 hkd (recent share price 2.63).




"Anxin is a dominant player in the work safety and surveillance industry and is also entering the public safety and surveillance market.

"Despite a slowing economy, safety and surveillance spending will likely see sustainable growth in both the public and private sectors," JP Morgan said.

According to the 12th Five-Year Plan, the safety and surveillance market will grow at a 20% CAGR from 2011-15.

"We believe Anxin offers defensive growth prospects with a significant sub-peer 10x P/E multiple," the research house said.

Compliance-driven demand rising in work safety/surveillance
The State Administration of Work Safety (SAWS) requires large- and mid-sized enterprises in 31 high risk industries to have at least 80% compliance rate by end-2015 in terms of building an emergency response platform.

The current overall compliance rate is just 3-4%.

"We think Anxin is a prime beneficiary of this policy as its ISD (Intelligent Surveillance, Disaster Alert and Rescue Coordination) system has 60% market share.

"In addition, we expect Anxin to maintain 80%+ ISD GPM as customers focus on quality and track record rather than price," JP Morgan added.



ISD

is a dedicated communication platform that collects, processes, transmits, analyses and finally displays sensor data in a government monitoring center. In the past, data acquired by sensors are never shared between one factory and the government, causing some issues between the government and factories. Now with the help of ISD systems, the government can directly monitor the status of a factory on a REAL-TIME basis, greatly reducing the possibility of production hazards.





ISS

refers to smart hardware/software used in the safety business. For now Anxin-China has been focusing on the development of smart video surveillance systems, based on core algorithms Anxin acquired from Israel. In current stages, Anxin is determined to turn traditional PASSIVE cameras into cutting edge ACTIVE cameras that can effectively collecting useful information.



---

Bocom: TECH SECTOR gets 'Outperform' call

Bocom International said it is maintaining its "Outperform" rating on Hong Kong-listed technology firms, mainly due to the strong performance of smartphones and other mobile devices.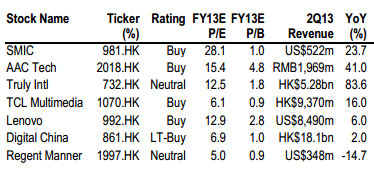 Source: Bocom"Global smartphone shipments reached 454 million units in the first half, representing 47.2% year-on-year growth (42% in 1Q and 52% in 2Q).

"The solid growth momentum continued as expected, making the smartphone value chain the most promising segment in the technology universe," Bocom said.

As Bocom has argued, the growth was mainly driven by the low-end segment and Chinese smartphone vendors, as the high-end smartphone segment was close to saturation.

On the other hand, global PC shipments posted an 11.4% decline in the second quarter, following a 13.4% decline in the first quarter.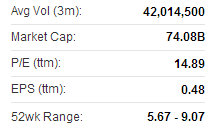 Lenovo recently 7.13 hkd"The weak momentum reflected the adverse impact of the surging popularity of smart devices.

"Lenovo continued to outperform amid challenging market conditions and has replaced HP as the market leader," Bocom added.

Smartphone value chain stands apart

The smartphone value chain is expected to notably outperform the sector, with an estimated average top-line growth of over 60% versus low single-digit growth in the PC segment and mid-teen growth in the TV segment.

"In particular, we expect Sunny Optical and AAC Tech to post 60% and 41% top-line growth, respectively," Bocom said.


---