ANXIN-CHINA HOLDINGS' (HK: 1149) substantial shareholder, Mr. Chen Hong, has acquired 5,092,000 shares in the company from the open market on February 7 and another 6,600,000 shares on February 10.

This boosted his stake in Anxin-China to 616,060,000 shares for a 20.47% stake worth about HK$1 billion.

These moves follow the purchase of 11,228,000 shares by Mr. Chen on Nov. 22 of last year.

Mr. Chen is CEO of Shenzhen Anxin and Jiangsu Hongxin at Anxin-China Holdings Ltd, whose ISD system (Intelligent Surveillance, Disaster alert and rescue coordination) has been applied to numerous industries, including coal mining, non-coal mining, dangerous chemicals, and inflammables. Anxin-China says it is currently the largest ISD system provider in China.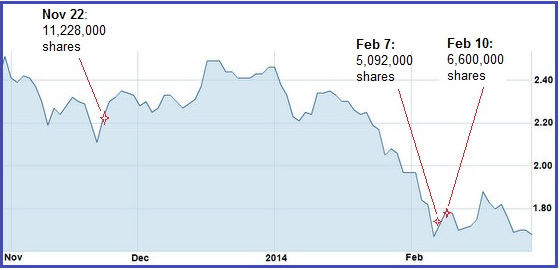 Substantial shareholder Chen Hong's recent purchases of shares of Anxin-China are indicated in the above chart. The company has a market cap of 5.06 billion hkd and its stock's 52-week trading range is 1.52 – 3.07 (recently 1.68). Chart: Yahoo Finance

These purchases demonstrate Mr Chen's confidence in the prospects of the company despite the slump in the stock price over the past six months.

The firm's Hong Kong shares are currently trading at 1.72 hkd, down significantly from nearly 3.00 hkd in September of last year.

JP Morgan said on January 30, 2014 that certain items of Anxin-China's ISD business were showing delays, but that long-term market demand still remained.

JP Morgan cut its 2013/14/15 earnings forecast on Anxin-China by 32.6%/52.3%/33.7%, respectively, to reflect the project delays and cut the rating to "Neutral" from "Overweight".

The target price was slashed to 2.00 hkd from 3.5.

However, the research house said it expects Anxin-China's ISS (Intelligent Safety Systems) business will grow sharply due to the construction pace for smart cities in China, with management saying the target operational profit margin is around 20%.


Riding Elevator to Success with HKD1.3 Bln Pickup


Anxin-China has agreed to buy the entire issued share capital of Glory Pavilion Development Ltd for 1.3 billion hkd in cash.
Glory Pavilion --
through its wholly-owned subsidiary Mutual High --
holds the entire equity interest in Altus Technologies Ltd, which is mainly engaged in the development, production and distribution of safety monitoring and security systems within elevators in the PRC.

Altus also generates income from elevator advertising.

Anxin-China is guaranteed that the acquired firm will deliver a net profit of at least 40 million hkd in full-year 2014, and at least 80 million in 2015.

The unaudited net loss of Altus Technologies in the January-June 2013 period stood at 5.94 million yuan, with a net asset value of 5.1 million yuan.


Reasons for Acquisition
Owing to the PRC government's policies being favorable to the public security industry for improving existing industrial safety conditions, Anxin-China is prepared to exploit opportunities to step up industrial safety, public safety and environmental protection surveillance.
"Anxin-China's directors take the view that the acquisition poses a valuable opportunity for the group to expand its business to the industrial safety and public safety segment.
"The profit guarantees provide an opportunity for the group to broaden its revenue base and secure stable income from the acquisition," said Anxin-China Chairman Mr. Liu Zhongkui.
Last year, Anxin-China boosted its first half revenue by 30% year-on-year to 526 million hkd, helping its bottom line surge 42% to 422 million.

See also:

ANXIN-CHINA 'Overweight'