Main reference: Story in Securities Times

THE CHINEXT BOARD, the country's SME platform often called "China's Nasdaq," still hosts many lofty P/E ratios.

But there are at least five things that could bring them all back down to earth in a hurry.

The capital raising platform for Chinese startups saw its index surpass the key 1,000 point level recently, but there are dark clouds gathering on the horizon.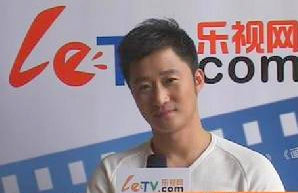 Overpriced? Beijing-based online video portal LeTV recently plunged. Photo: CompanyThe recent slower-than-expected GDP growth in China and continued sluggishness in key overseas markets has kept the overall A-share bourse from attaining any sustained uptrend.

However, the ChiNext has kept chugging along, seemingly oblivious to the overall economic picture.

Furthermore, fund inflows into Chinese equities have not exactly been robust this year.

"China's Nasdaq" is heavily weighted toward emerging industries like pharmaceuticals, renewable energies, material sciences and high tech and this should be a boost for share prices, in theory, given the new national government's frequent statements of support for such sector themes.

However, the party may soon be coming to an end, and ChiNext shares might soon be as ordinary from a P/E perspective as their A-share brethren on the main boards in Shanghai and Shenzhen.

Firstly, many of the ChiNext constituents are clearly overvalued.

The 1,012-point late-week high represents an astonishing 70% surge in just half a year.

That's phenomenally better than the benchmark Shanghai Composite Index which is currently hovering around year-end levels.

Furthermore, the average P/E ratio for the ChiNext is nearly 42 times, compared to a meager 11 times for main board A-shares in Shanghai.

Secondly, the percentage of ChiNext firms temporarily frozen out of trading activity by the bourse watchdog is much higher than the overall market rate.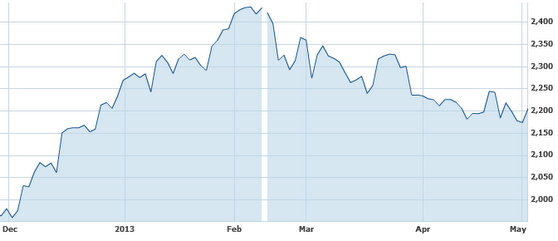 While ChiNext shares have surged 70% in six months, A-shares (above) have struggled. Source: Yahoo Finance

In addition, the startup capital-raising platform has a much higher level of executive ownership than non-ChiNext listed firms.

This makes the potential for sharp share price falls all the more likely if major shareholders suddenly cash in all their chips.

Thirdly, market chatter suggests that the securities regulator will resume domestic IPO approvals, perhaps as early as next month.

This will put pressure on already tight liquidity.

Fourthly, there hasn't been much to write home about on the financial performance side.

Since its establishment in late 2009, ChiNext-listed enterprises have shown a gradual deterioration or slower growth for both top and bottom lines.

Finally, individual stocks are drawing negative attention for investors for their perceived sharp overvaluations.

Recent examples include 10% daily downside limit falls for high-priced shares including Beijing-based online video portal LeTV.com (SZA: 300104) and OurPalm (SZA: 300315).

If more investors start panicking over individual share price excesses, this trickle of selloffs could become a much faster-moving current.

---

See also:

High Time For China IPOs?