Main reference: Story in China Securities Journal

HYBRID VEHICLE MAKER BYD (SZA: 002594; HK: 1211) had the top-selling sedan in China just three short years ago, but has since had a few flat tires – at least as far as its shares and sales are concerned.

But now the Shenzhen-based automaker is guiding for a 20-fold jump in H1 net profit.

Has BYD finally turned a corner?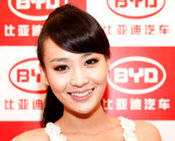 Has BYD Auto turned a corner? Photo: CompanyThe maker of fully electric and hybrid sedans, in which US billionaire investor Warren Buffett holds a 10% stake, saw its Shenzhen-listed shares add 3.1% on the final day of the trading week before the five-day May Day market hiatus.

Meanwhile, the automaker's Hong Kong-listed shares surged over 12% on Friday after the very bullish first half net profit alert mainly due to improved solar sector performance.

On the past accomplishments front, BYD also said its January-March bottom line surged 316% year-on-year to 112.4 million yuan.

The dual-listed firm, which began as a dedicated handset battery maker a few years ago, boosted its first quarter revenue by 9.8% to 12.9 billion yuan.

The strong top and bottom line results allowed shareholders of its Hong Kong-listed shares to realize an earnings per share of 0.05 yuan.

Looking ahead, following the upbeat Q1 earnings, BYD is now guiding for a January-June bottom line of 400-500 million yuan, up between 2,358% to 2,973% from the 16.3 million net profit seen in the first half last year.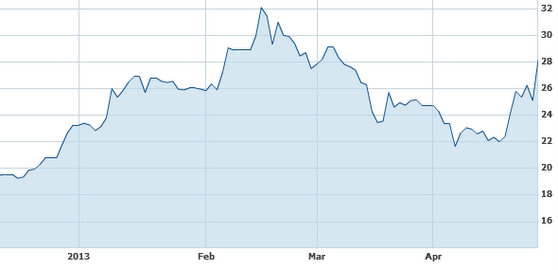 BYD's Hong Kong shares have had a rollercoaster-like 2013. Source: Yahoo Finance

The diversified manufacturer said its surprising first half performance was not only due to strong sales of its core products – hybrid and fully-electric sedans – but also the result of strong sales of smart phone technology components as the world's largest online and handset-using country continues to make the gradual shift form laptops and desktops to portable IT devices like iPads.

Thirdly, BYD said that its solar energy sector product sales were also a bright spot last quarter, and with wafer and panel prices finally returning to more feasible and profitable levels, it said that losses in the sector are becoming smaller and smaller.

Finally, the South China based tech firm said sales of its traditionally rechargeable cell phone batteries also accelerated in the January-March period.

Looking forward, BYD said it expects its vehicle sales to be the main driver for the very bullish first-half forecast.

Furthermore, it said its recently-launched smartphone technology and flat-screen display production operations should help chase demand in this increasingly important sector.

---

See also:

Pit Stop? BYD Downgraded