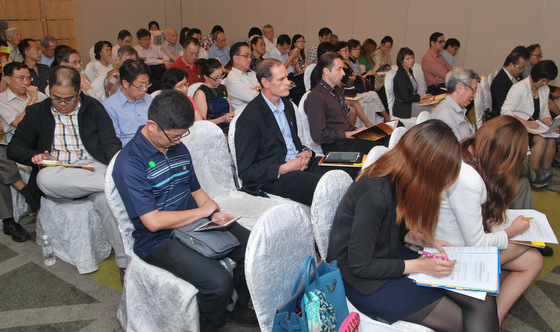 L-R: Financial controller Raymond Ho, ID Ho Teck Cheong, ID Calvin Tan, Chairman Zhou Tao, ID Jack Chia and Executive Director Zhang Dingjun.



Time & date: 2.30 pm, Oct 28.

Venue: Pan Pacific Hotel



Photos by Ngo Yit Sung

IF Dukang Distillers had RMB343m worth of inventory (grain alcohol) as at end-June 2013, how is it going to able to even come close to achieving again last FY's annual revenue of RMB2.4 billion?

Consider that some grain alcohol has to be stored for several years to produce vintage baijiu that can fetch higher prices.

That question posed by a shareholder was initially dealt with by independent director Calvin Tan, who chaired the AGM.

He said it takes 60 days to produce grain alcohol, and there are several production runs in a year.

Another shareholder asked executive chairman/CEO Zhou Tao for the percentage that packaging constituted in the RMB1.4 billion cost of goods sold in FY13.

When told it was around 70%, the second shareholder explained to fellow shareholders that packaging accounted for the lion's share of the cost of goods sold and packaging is not part of the inventories.

Since the 70% worked out to nearly RMB 1 billion, and there are other expenses that go into "cost of goods", the grain alcohol alone amounted to significantly less than RMB422m.

Thus, inventories worth RMB343 m can indeed support future revenue which is as high as last year's. However, the baijiu industry is facing a slowdown and it's highly uncertain if Dukang's revenue and profit this year can match last year's.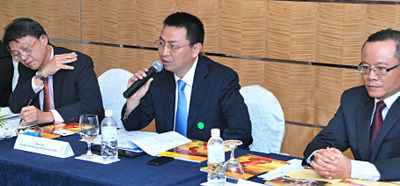 L-R: Calvin Tan (Independent Director), Zhou Tao (Executive Chairman/ CEO) and Jack Chia (Independent Director).
At the AGM, further light was shed on several key matters.

Q: Why another year without dividend payouts to shareholders when the company had RMB758 million cash as at end-FY2013?

Chairman Zhou Tao gave 3 reasons:

a. The company will be spending on capex for its newly relocated factory that produces Siwu baijiu.

b. As a result of goverment curbs on conspicious consumption and gifting at government events, the industry is seeing a slowdown in premium baijiu sales, resulting in heightened competition among baijiu producers and lower selling prices.

c. The company is in the midst of a change in controlling shareholders.

Asked to clarify the last point, Calvin Tan said that SGX approval is needed under the listing rules for a change in controlling shareholders.

As background, in August 2013, the former chairman, Gao Feng, entered into conditional sale and purchase agreements to sell his entire 44% stake to two parties. (See our report here)

Q: The company has rising cashflow and made RMB390 million in net profit. Why can't you give 20-30% as dividend? It amounts to RMB80-120 m only and will not impact cash management.

Calvin Tan said the company had discussed extensively about capital conservation. He agreed that companies making sufficient cash should indeed retain some for dividends. But he reiterated that the baijiu industry is in a downturn.

"It's one of the core considerations for the management. And there's a change of shareholders. Specific situations have made the management postpone the decision on dividends -- this is not the right time," he said.

In the annual report, the chairman had said more pointedly: "We need to preserve enough cash to tide us through the trying times ahead. At the same time, we need to expand our grain alcohol product capacity prudently..."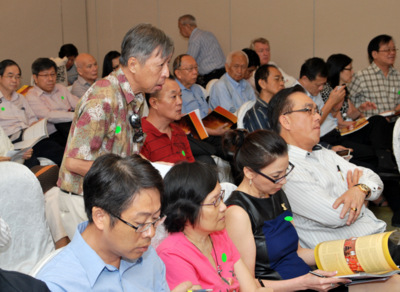 Shareholders asked for dividend payouts.Q: Can you give us a sense of the time needed for the shareholding change to happen?

The changeover may take place in 1-2 months but this is subject to the SGX, said Mr Tan.

Q: You have just relocated to Luoyang. You will have increased capex for increased production. I understand it's investing for growth. You have a huge cash amoun of RMB757 m -- how much are you spending on capex?

Financial controller Raymond Ho said RMB500 m would be used for capex including fermentation pools and infrastructure investment. Of that, RMB300 m is for land acquisition for the new production facility. The company has to also set aside RMB400-500 m cash for working capital of the group. He also said that advertising & promotion would be maintained at RMB300-400 million a year (but, of course, this is not capex).
.
Q: You are facing strong competition -- it doesn't justify spending so much on capex for higher production.

The expansion will take about 3 years to complete. We have to prepare for the future. We want our company to be consistently ahead of the industry.

Q: Last year's production of Siwu was disrupted because of the relocation and sales dropped. Have sales return to normal?

Calvin Tan said Siwu occupied the low- and middle-level of the baijiu market while, among the company's offerings, Dukang occupied the high end. In the past 5 years, the consumption trend shifted towards the high-end, which is why the production of Dukang premium sub-brands was stepped up.

Now, the consumption trend has shifted to the middle-level which is why, in the next few quarters, sales of Siwu and lower-priced Dukang sub-brands would go up but overall revenue may be lower than before.

In the annual report, the chairman had said as much: "We will downshift to aggressively promote our mid-end products and more affordably priced premium products. As a result, we may be selling more baijiu in volume but the margins will be lower."



---

Recent stories:

Fidelity's deemed stake in DUKANG DISTILLERS rises