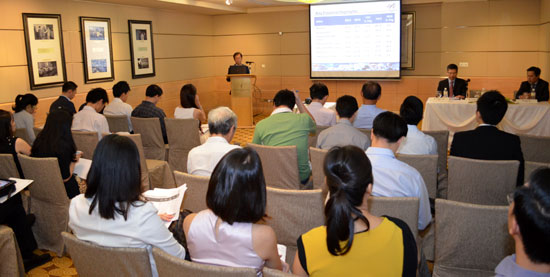 Hi-P has a strong project pipeline and expects the upcoming quarters to be even better than 2Q2013, which reversed the loss in 2Q2012.
Photos by Allison Chen

HI-P INTERNATIONAL is expecting better revenue and profit in the quarters ahead after posting 2Q2013 profit after tax of S$10.9 million, reversing a loss-making quarter a year ago.

2Q2013 sales grew 13.2% year-on-year to S$285 million on increased orders.
"The increased orders were mainly driven by wireless customers including Apple, Motorola and Blackberry," said DBS Vickers analyst Tan Ai Teng in her report dated 2 August 2013.

She maintained her 'Buy' call on Hi-P and raised her target price for the stock to 97 cents from 88 cents previously.
Her valuation is based on FY13/FY14 EPS while maintaining a target PE pegged at a historical mean of 16x.
"We believe Hi-P is expecting 2H2013 to better 1H2013 because of new wireless models such as the new Blackberry 10 line of phones, iPhone 5S/6 and Motorola X.

"Tablets-wise, there is speculation that iPad 5 and an upgraded Kindle will hit the market," said Ms Tan in her report.
Highlights of 2Q2013 results include:
> 2Q2013 profit after tax surged 58.1% quarter-on-quarter
> Bottom line turnaround due to better product mix
> Net cash position improved by 148.8% to S$85.2 million as at 30 June 2013 compared to S$34.3 million as at 31 December 2012
The company is constructing a factory in Nantong and expects FY2013 capital expenditure to be S$80 million.

"The market is volatile and we are making great effort to mitigate this volatility by developing new capabilities," said executive chairman Yao Hsiao Tung at a briefing in Fullerton Hotel on Friday morning.
More than twenty analysts and fund managers met Hi-P's management at the event.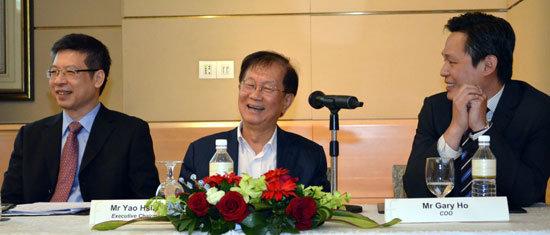 L-R: CFO Samuel Yuen, Executive Chairman Yao Hsiao Tung, COO Gary Ho
Below is a summary of questions raised at the briefing, and the replies provided by Mr Yao, chief financial officer Samuel Yuen and chief operating officer Gary Ho.

Q: Was there any forex impact on your cost of sales?

Samuel: There was some impact from the RMB appreciating against the USD in 2Q2013. We have hedged cash flow since 4Q2012. This mitigates our forex exposure.

Q: What was utilization in 2Q2013 and what will it be in 2H2013?

Samuel: Utilization was lower than 50% during 1H2013. We expect utilization to increase to over 60% in 2H2013. We are using existing machinery to handle new orders and the growth expected in 2H2013. At the same time, we are investing capital expenditure to upgrade and replace our existing machinery. We expect to start operating our Nantong plant early next year.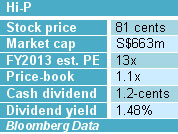 Q: Why do you need to have a new plant when utilization is only around 50% to 60%?

Mr Yao: There is very little expenditure on new equipment. The capex is mainly for building the factory and refurbishment for consolidation.

Q: How is the yield rate on your new programs?

Mr Yao: Our yield rate improvement on our learning curve for new projects is pretty sharp. Yield rate is lower at the beginning of new projects, but we are catching up very quickly.

Q: Some customers are looking to diversify their supplier base. Have you gained market share with existing customers?

Gary: We continue to be given allocation from all new projects of existing customers. We get proportionately more orders when customers increase production volume.

Mr Yao: We are getting more market share through greater allocation from the same customers. We are also trying to diversify and develop new capabilities to align with market trends.

Q: How has the credit crunch in China impacted you?

Samuel: It has not impacted us as we are in a net cash position. If a strategic supplier has cash flow problems, we try to see what we can do to help.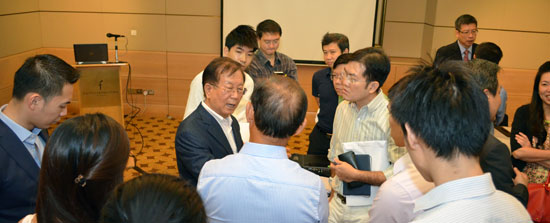 Analysts and fund managers swarm around Mr Yao after the formal Q&A session.
Q: 12% is a small free float. Yet, you are still buying back Hi-P shares. Is there any plan to go private?
Mr Yao: I am very clear we are not going private.

Samuel: 12% may seem small but there are over 100 million shares in the 12% free float.

Q: Has there been any change in customers' demand forecast pattern?

Gary: Most customers place orders a month ahead. Some place orders 3 months ahead. Every week, they provide an update on order forecast. The rolling 12-month forecast is updated weekly.

Q: How will 2H2013 cashflow look like?

Samuel: There will be more capex. There will also be higher sales and higher working capital. We are expecting a positive net cash position at year-end, but it will be slightly lower than what we have now.

Related story: HI-P INTERNATIONAL, SWIBER: What Analysts Now Say