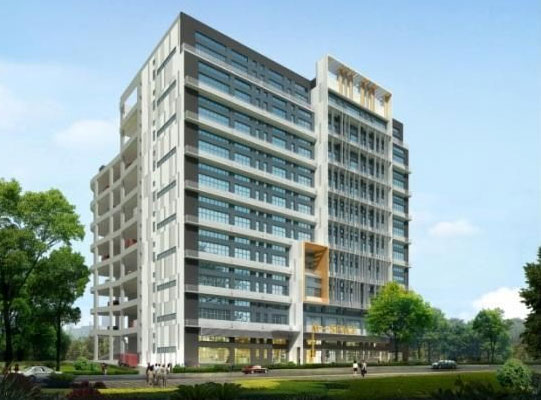 Lian Beng's industrial development, M-Space, is fully sold and expected to boost its FY2014 earnings. It is paying a 1.25-ct dividend even though FY2013 net profit is down by 22.3% year-on-year. Company photo
Excerpts from analyst reports...

OSK-DMG maintains 'Buy' on Lian Beng
Analyst: Lynette Tan
"Lian Beng Group recorded 4QFY13 profit after tax and before minority interest (PATMI) of SGD9.3m (-19.3% y-o-y), on the back of a 39.1% revenue growth. It expects to book profits from the sale of its industrial development – M Space – in FY14, which should boost its earnings growth.

Margin squeeze
"Lian Beng achieved a lower gross margin of 10.4% in 4QFY13, vs 17.6% in 4QFY12, due to higher raw material costs and lower revenue in the higher-margin property development segment. This pushed PATMI lower. It declared a dividend of SGD0.01 per share and a special dividend of SGD0.0025 per share.




Earnings to climb as M Space obtains TOP
"Lian Beng's 55%-owned industrial development M Space, which has been fully sold, is expected to obtain its temporary occupation permit (TOP) in FY14. Once the TOP is obtained, LBG would be able to recognize the sales revenue, which would boost the Group's FY14 earnings.

Healthy orderbook backed by positive outlook
"Lian Beng's current orderbook of SGD1.3bn is expected to last till FY16. Within the first half of this year, it had secured nine contracts totaling SGD950m. The speed at which the Group secured contracts is a testament to its strong capabilities. We see positive outlook for the construction sector, with rising construction activities in both the private and public sectors. This should lend support to Lian Beng's orderbook growth.

Maintain BUY, with SGD0.70 target price
"Lian Beng currently trades at 4.9x FY14 earnings. Our SGD0.70 target price is based on 6x FY14 earnings. We like Lian Beng for its strong orderbook, which will continue to be supported by the heightening construction activities in both the private and public sectors."


Related story: OKP Gets Biggest Contract Year-To-Date, LIAN BENG Sets Record Order Book
---

OSK-DMG maintains 'Neutral' on OKP
Analyst: Lynette Tan
"OKP recorded 2Q13 PATMI of SGD0.7m (-77.0% y-o-y), even as revenue was 27.5% stronger y-o-y at SGD30.1m, due to higher costs incurred on a project. Gross margins are expected to remain low until the project is completed towards end-3Q13. With our margin assumptions lowered, we adjust our estimates and arrive at a target price (TP) of SGD0.35. OKP has strong balance sheet, with net cash of SGD0.15/share.

Gross profit margin dips
"OKP achieved gross profit margin of 8.2% in 2Q13, compared with 24.3% in 2Q12. This was largely due to the lower margins at its Anguilla Park construction project. This project was at the active stages of construction, resulting in higher sub-contracting costs.

"As the project nears completion, the amount of sub-contracting is likely to taper off. Meanwhile, the increase in headcount contributed to higher staff costs, which also dragged down gross margins. We think gross margins will remain low in 3Q13, and may only start to pick up slightly from 4Q13.



Healthy balance sheet supports orderbook growth
"OKP's orderbook currently stands at SGD428.8m, of which SGD221.3m is expected to be recognized between 2H13 and 2015.

"Its strong balance sheet (net cash of SGD0.15 per share) puts it in a good position to tender for new projects and boost its orderbook.

Outlook positive but competition keen
"There is a pipeline of public sector projects that OKP can tender for. However, competition is stiff and this will likely compress margins. Management indicated that it would continue to tender for projects, focusing on the Company's core business of construction and maintenance activities.

Lower FY13 earnings estimate and target price
"Given the significantly lower 1H13 gross margins, we also lower our FY margin assumptions. We keep our FY13 revenue estimate of SGD129.3m, but lower our PATMI to SGD4.9m. Pegging its earnings to 6.5x P/E (ex-cash), we arrive at a lower TP of SGD0.35 (from SGD0.47)."

Related story: AUSGROUP, ERATAT LIFESTYLE, OKP HOLDINGS: What Analysts Now Say...
---

DBS Vickers maintains 'Hold' rating on Broadway

Analyst: Tan Ai Teng

DBS Vickers has maintained its 'Hold' rating on Broadway 2Q13 net profit of S$160,000 and target price of 30 cents after earnings of the manufacturer of foam components came in below its forecast.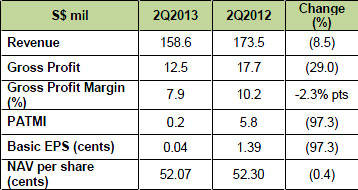 Slipped back to operating losses
"Excluding forex and one-off items, Broadway would have reported S$2.3m in losses, compared to S$3.6m profit in 2Q12 and breakeven in 1Q13.

"Results fell short of our S$2m profit estimate despite higher than expected sales of S$158.6m (-9% y-o-y, +9% q-o-q). Key variance was higher than expected sales and marketing expenses. Gross margin of 8% is a shade lower than our projection of 8.8% due to less favourable Foam Plastic customer mix.

HDD stabilised but Foam Plastics turned volatile
"While HDD sales seem to have stabilised at around S$98m (+17% q-o-q, c.62% of group sales), the division continued to bleed losses at the EBIT level due to higher expenses. Overall margins were also weaker, affected by less profitable customer mix at Foam Plastics. Non-HDD component (c.12% of group sales) was the only growth spot, driven by new handphone customers and semicon suppliers.

Recovery pushed back to 4Q, more restructuring to optimise operations
"HDD sales are expected to show a modest increase in 2H13 but margin improvements would be limited because operations are sub-optimal. Foam Plastics should improve given new product launches in late 3Q. But, overall recovery is still pushed back to 4Q13.

No change to S$0.30 TP, pegged to 0.6x P/BV, maintain Hold
"We cut FY13/FY14F earnings by 44-48% to reflect higher expenses and lower margin assumptions. Share price would be capped given the weak operational performance but is unlikely to drop significantly from current levels of 0.6xP/BV. Maintain Hold."


Related story: OTTO MARINE, ARMARDA, BROADWAY: Latest Happenings...