Click on the above 56-second video for an idea of the where and who of the Roxy-Pacific results briefing. To increase the video quality, mouse over the 'Change quality' icon at the bottom of the video and click on the desired resolution.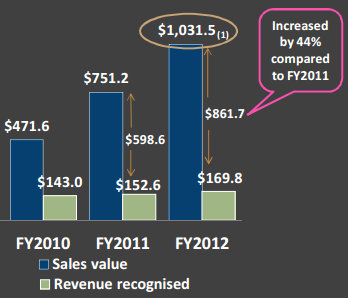 HOW MANY businesses can look to the next four years and be certain of a sizeable revenue from its core business?

Roxy-Pacific Holdings can -- it has S$861.7 million of properties already pre-sold.

These properties are being progressively built and the sales revenue will be recognised in Roxy's financial statements this year till 2016 according to the percentage of completion (for residential projects) and upon TOP (for commercial projects).

To put the S$861.7 million in perspective, it is equivalent to more than 6X the $138.7 million revenue achieved by Roxy's property development business in FY2012.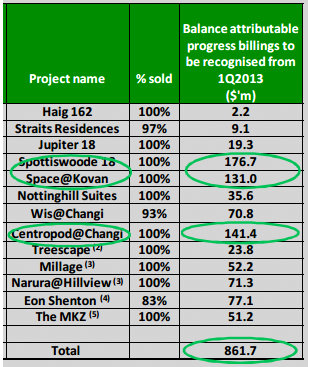 The S$861.7 million in 'progress billings' is up 44% compared to the end-2011 figure of S$598.6 million.

In turn, the end-2011 progress billings was up 82% compared to end-2010 (see chart above).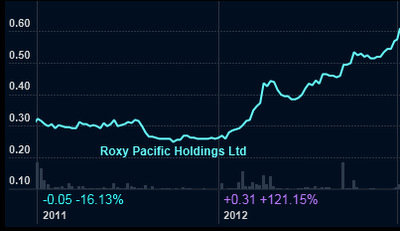 Chart. FT.comThe surging progress billings and the earnings visibility they offered played a no small role in powering up Roxy's stock price 121% last year (see chart below).

Roxy's sales come with strong double-digit gross profit margins, by the way.

The folks at Roxy-Pacific will not just put up their feet for the next four years.

In fact, they have five land sites to sell, and are working on rolling out property launches there in the next few months.

In another business segment, hotel ownership, Roxy expects its Grand Mercure Roxy Hotel to continue to benefit from growth in leisure and business travel to Singapore.

In a nutshell, here is a business that will hold strong for the next four years and in fact, chances are, will add even more punch to its performance.

Meanwhile, in various announcements, there are a lot of details of its FY2012 results, including a 13% rise in net profit to $58.3 million and a 20% rise in dividend to 1.594 cent a share.

Check out Roxy's Powerpoint materials and press release and financial statements.

In the space below is our value-add -- a report on some of the Qs & As at the results briefing held yesterday.

Q: What's your view on the outlook for the property market after the Government's 7th round of measures to cool the market?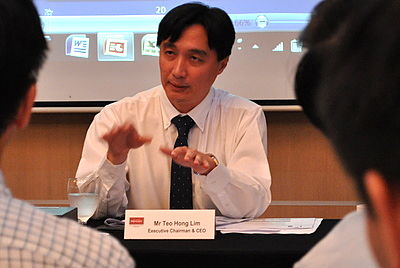 Teo Hong Lim, CEO (right): We don't really know the impact as there has been only one project which tested the market -- Q Bay. The real test will come in the next few weeks with a few major launches such as the Urban Vista. In my opinion, buying interest in properties is very strong because people are tyring to beat the measly returns from bank accounts.

Q: What's the difference in buying pattern for your projects before and after the cooling measures?

Teo Hong Lim: All the residential projects that we have launched, except for a JV in Eon Shenton, we have sold 100%. Our strategy is to always consider affordability as an important factor. We price correctly. Eon is 90% sold -- and the units that are left are the penthouses. So far, our timing for commercial has also been good. Wis@ Changi is about 90% sold. Centropod is fully sold.

Q: Tell us about your strategy going forward. Are you still focusing on Singapore?

Teo Hong Lim: Let's talk first about the landbank we have now. We believe in doing things differently, achieving some differentiation. Last 1-2 years, we went for commercial projects, retail freehold, office freehold -- we deemed them as new markets. We have been able to source for freehold sites quite well.

One of the areas we targeted was Pasir Panjang. In the last 5-6 months, there were 2 launches. A month ago, a small plot of 10,000 sq ft was sold at about 20% higher than what we paid for our two plots there.

In the Sophia Road and Wilkie Road area, we are also probably the only holders for land to be launched.

In Lorong Lew Lian, we have the biggest plot -- 90,000 sq ft of freehold land. In Kovan, there are some sites but not many.

Our focus is on freehold land, where we can set our pricing.

In Pasir Ris and Punggol, if a competitor cuts price or tenders for land at a lower price than you, it's very transparent to the market. There, there are hundreds of units coming up.

We don't want to bid aggressively for Punggol or Pasir Ris sites and be subject to competitive pricing. As for the future, we have to continue to select the location and timing.

For overseas, it is an area we will do some review. We have partners who are already overseas, and may work with them.

Q: Regarding your current landbank, when will you launch the projects?

Teo Hong Lim: We always sell when we are ready. You go to our sites now and you will see the construction of show flats. We will likely launch at the beginning of 2Q. Pricing-wise, I don't forsee a need for us to sell at lower prices.

Q: What is the outlook for the hotel business in terms of the supply and demand dynamics?

Chris Teo, executive director: Supply is picking up. We feel there is a bit of pressure on rates, particularly corporate rates. The volume of traffic should be pretty consistent.

Teo Hong Lim: Let me share some info that you may not be aware of. Second-timers still have an advantage in terms of remission and refund of ABSD (additional buyer stamp duty).

If you are staying in a HDB flat and buy an uncompleted property, you can apply not to pay the ABSD provided you sell the HDB within 6 months of the TOP of the new property. (See IRAS webpage)

If you stay in a private property and buy an uncompleted property, you have to pay the ABSD first. When the project gets its TOP and you sell the private property, you can get a refund of the ABSD.

People are not aware of this. It applies to married couples and was released only sometime last year, not at the point of the implementation of the ABSD.

This is in favour of uncompleted projects and the strongest market now are the first-timers and second-timers. Our focus is on them.


---

Recent stories:

Billionaire Koh Wee Meng amasses ROXY-PACIFIC shares, now subst shareholder

ROXY-PACIFIC: Why its stock is up 94% in year to date