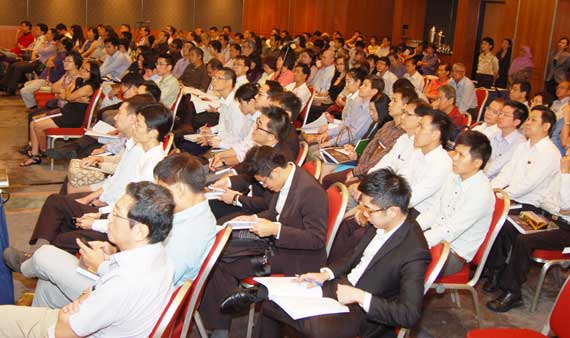 With skyrocketing gold prices, the mining sector, once viewed as highly risky, is now drawing investors by the droves. CNMC Goldmine's IPO launch drew more than 150 investors, and its shares were fully placed out with no retail tranche. Photo by Sim Kih

WITH GOLD prices rocketing sky high, CNMC Goldmine is one happy company that sells for more than US$1,600 what it produces for US$500.

That is a windfall considering that five years ago in Dec 2006 when its main operating subsidiary was set up, gold was trading at only about US$600 an ounce. That's pretty close to its current production cost, which ranges from US$450 to US$550.

And with the sovereign debt crisis unresolved in the west, and the inflationary impact that America's quantitative easing had on Asian economies, some economists believe that commodity prices are likely to remain high.
In an exclusive interview with NextInsight, CNMC's CEO Chris Lim shared what investors in mining stocks should look out for.

In a nutshell, mining companies need to have credibility, commercial viability and environmental friendliness, he said.

Having worked in the mining industry for over ten years, including exploration and production at marble and granite quarries in China, Mr Lim is a hands-on man in business.

"I look at the JORC-compliant reserve and resource report, whether the mine is already in production, and the mining company's rapport with the local community and government agencies," he said.
Credible independent technical report

A month before CNMC commenced production, Behre Dolbear Australia (BDA) had estimated it had 183,500 ounces of gold, 1.3 million ounces of silver, 9,200 tons of lead and 8,900 tons of zinc.

At that time, gold was trading at about US$1,200 an ounce and Jones Lang LaSalle valued CNMC's gold reserves at US$70 million to US$95 million.

Mr Lim explained it is important to use a credible independent geology consultant like BDA, which is the Aussie subsidiary of Behre Dolbear & Co, an independent top-tier global mining consultant.

"Its geology report is accepted by all the established stock exchanges, including Singapore's and they have provided independent geology reports for many IPOs," he said.

BDA reviewed CNMC's project resources and reserves in compliance with industry standards in Australia, or what is known as the JORC-code (Code of the Joint Ore Reserves Committee of the Australasian institute of Mining and Metallurgy, Australian Institute of Geoscientists and Minerals Council of Australia).

And the reason for using Aussie guidelines is, Australia is one of the world's largest producers of gold, iron ore and coal and has a highly developed mining industry.

Even Catalist rules for the listing of early stage mineral, oil & gas companies were also adapted from the Australian stock exchange.


Commercial Viability

Secondly, Chris prefers to invest only when the mine starts production.

"It takes at least one or two years after exploration commences before production can take place," he said.

CNMC commenced production in Jul 2010 and has produced 37 gold pours, 2,434 ounces of refined gold and 821 ounces of refined silver since.

Its gold pours, 83% to 92% pure, are offtaken by The Perth Mint at spot rate. Its other customer, TCS Trading, is a licensed purchaser of gold in Kelantan.

"Gold pours are near-commodities and very easy to sell," said Mr Lim.

Environmental Friendliness

"A third thing to check is the mining company's rapport with the local community," he said.

Production can be obstructed if the mining company is found to cause too much destruction to the environment.

This could range from air and noise pollution, soil erosion to contamination of natural water sources.

It is important to have rapport with the local government agencies like the Department of Environment and the Department of Geoscience, he said.

That is why CNMC has numerous community development and welfare projects to support education and community, social and business development in Kelantan such as distribution of food necessities as well as work safety initiatives.

CNMC's market capitalization when it starts trading this Fri will be S$161.9 million based on its IPO price of 40 cents.