Excerpts from recent analyst reports…

Credit Suisse maintains 'Outperform' on Genting with target price of S$2.65

Analyst: Loke Foong Wai

Credit Suisse has maintained its 'Outperform' call on Genting with target price at S$2.65, citing positive GDP growth in Singapore and neighboring Asian economies through 2011-12, positive impact from rising tourist arrivals to Singapore and an active property market that could be positive for VIP casino revenues.

Rising wealth trends in Singapore

Singapore has the highest percentage of millionaires globally. Credit Suisse believes that GENS could be a potential beneficiary of rising wealth trends in Singapore.

Singapore's millionaire households increased to 15.5% of total households in 2010 from 11.4% in 2009, well ahead of the Switzerland (9.9%) and the oil-rich Arabian Gulf states.

Singapore also had the fastest-growing number of millionaire households, with 170,000, up nearly a third from 2009, according to a recent survey by the Boston Consulting Group.


Rising tourist arrivals

1Q11 tourist arrivals to Singapore were up 15.7% year-on-year (YoY). Tourists from Indonesia, China, Malaysia, Australia and India make up 53% of total arrivals.

The highest growth came from Hong Kong, the Philippines and Thailand, with visitor arrivals from Hong Kong up 42% YoY, Philippines up 39% YoY and Thailand up 38% YoY.


Wealthy foreign buyers of Singapore homes

DTZ found that the ratio of mainland Chinese (both foreigners and PRs) among non-Singaporean buyers reached a new high of 24% in 1Q11.

This is the first quarter when they are the top foreign purchasers of residential properties in Singapore.

The proportion of private homes bought by foreigners jumped to 16% in 1Q11, the highest quarterly percentage ever recorded since 1Q95.

Credit Suisse believes these property investors will find it hard to resist Singapore's VIP gaming tables.


---

Kim Eng maintains 'buy' on CWT with $1.90 target price

Analyst: James Koh

CWT announced the sale-leaseback of Jinshan Chemical Warehouse to Cache REIT last week.

Kim Eng Research noted that this asset has a balance sheet value of S$6.7m against a sale price of S$13.5m, a difference of 101%.

"The move is another solid piece of evidence that supports our argument that there is substantial value yet to be unlocked from CWT's balance sheet," wrote analyst James Koh.

"Our warehouse portfolio value assumption of $380m (vs PPE balance sheet value of $260m) looks unaggressive. Maintain BUY."


---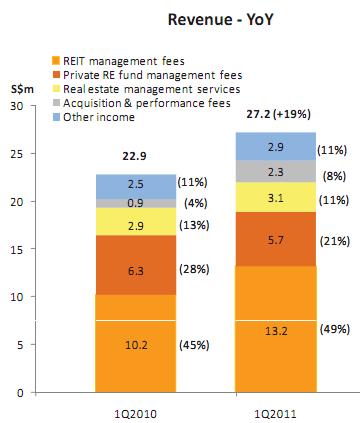 MacQuarie maintains 'Outperform' call on ARA Asset Management; upgrades valuation by 13.5% to S$1.97

Analysts: Brandon Lee, Elaine Cheong, Soon Tuck Yin

ARA Asset Management is one of the largest REIT managers in Asia ex-Japan with assets under management of about S$16.8 billion.

It currently manages six REITs listed in three countries namely, Fortune REIT dual-listed in Singapore and Hong Kong, Suntec REIT and Cache Logistics Trust listed in Singapore, Prosperity REIT listed in Hong Kong, Hui Xian REIT listed in Hong Kong and AmFIRST REIT listed in Malaysia.

It also manages several private funds investing in real estate in Asia.

Macquarie recently upgraded its sum-of-parts valuation for ARA by 13.5% to S$1.97 to account for additional recurrent fee income from September 2014 when its flagship private real estate fund ARA Asia Dragon Fund (ADF I) reaches the end of its fund life.

ADF has investments in completed and development projects in the residential, retail and office sectors in Singapore, Malaysia, Hong Kong and various major cities of China – Shanghai, Nanjing, Dalian and Tianjin.

"We like ARA's business model, which is scaleable and offers high ROEs in excess of 30% and high ROICs in excess of 50%. Despite its recent 1-for-10 bonus issue, ARA has guided for an unchanged DPS of 4.8 cents in FY11, which implies 10% uplift in dividends paid out and offers a 3% yield."