Recently, Genting Singapore, a supposedly recovery play, closed at a near eight-month low price. It caught my attention especially after Las Vegas Sands (LVS) reported positive results on 19 Jul 2023.

LVS (which owns Marina Bay Sands in Singapore) indicated that there is scope for further improvement, as China tourists have not come back in full force yet.

While the details (such as VIP volume growth and win percentage) may differ markedly, chances are Genting Singapore may report a similar set of results (at least in the right direction).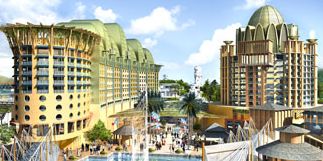 Resorts World Sentosa, including its casino, is wholly owned by Genting Singapore.While the general uptrend in LVS and Macau gaming stocks such as Sands China, Galaxy Entertainment, Wynn Macau and MGM China, Genting Singapore has been on a downtrend.

However, it is encouraging that Genting Singapore has formed a potential bullish reversal hammer on the chart on 4 Aug.

In addition, Genting Singapore's position as the only alternative casino in Singapore leading to a likely eventual tourism recovery play, backed by net cash per share of $0.27 (approximately 29% of its market capitalisation), further piques my interest.


Why Genting Singapore catches my attention
a) Analysts are generally positive with average target price $1.14

20 analysts cover Genting Singapore with 10 buys and 10 holds. Average target price is around $1.14.

Coupled with the estimated dividend yield of around 4.0%, total potential return is approximately 28%.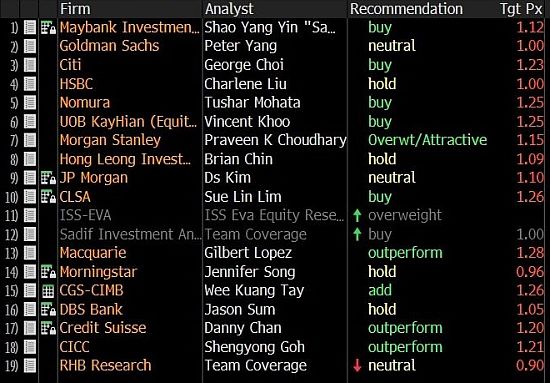 Source: Bloomberg

CGS-CIMB Securities, in their 19 Jul 2023 report, wrote that besides DBS, Comfort Delgro, Yangzijiang Shipbuilding, investors can consider buying Genting Singapore ahead of results.

It also said investors can consider capitalising on the share price weakness to accumulate Genting Singapore as it is a beneficiary on the recovery of Chinese tourists into Singapore. CGS CIMB postulates that a potential share price catalyst can come from positive comments from Genting Singapore's management during the upcoming results.

b) Chart – tentative bullish reversal hammer appears! (click here for more)


c) Muted expectations
Personally, I believe market expectations are not high for Genting Singapore heading into 2QFY23F results. This can be observed on three fronts.


• Firstly, Genting Singapore has fallen approximately 23% from an intraday high of $1.19 on 4 Apr to close $0.920 yesterday. At $0.920, this is the lowest close since 14 Dec 2022 which is almost an eight-month low price.


•

Secondly, I suspect market is pricing in "a not super stellar 2Q", as it is common knowledge that China tourists have not come back in droves yet. Notwithstanding this, anecdotal evidence seems to indicate this trend is likely to improve from 2HFY23F onwards. Furthermore, based on CGS CIMB report, China has become the top 3 source of tourists in Singapore for the month of June, up from top 10 in the first five months of 2023.


•

Thirdly, Genting Singapore disappointed the market after it announced 1QFY23 results in May and this was swiftly accompanied by an almost 7% slump in its share price. Thus, I believe there may be some concern and wariness ahead of its 2QFY23F results, slated for release on 10 Aug Thurs after-market hours.


All in, suffice to say that not much expectations have been priced in for its 2Q results. If Genting Singapore's management can voice optimism in 2H, this may serve as a potential positive share price catalyst.


d) Valuations are attractive


Genting Singapore's valuations seem attractive. Based on Bloomberg, it trades at 18.8x FY23F PE and 15.3x FY24F PE.

FY23F and FY24F dividend yields are at 4.0% and 4.5% respectively.

Based on a UOB Kayhian report dated 15 May 2023 (click HERE), Genting Singapore sits on a net cash per share amounting to $0.270 which comprises approximately 29% of its market capitalisation.
Risks
The below list is not exhaustive. These are just some pertinent risks which come to my mind. It is advisable to refer to Genting Singapore's analyst reports (Click HERE) for a complete appreciation of risks involved in trading / investing in Genting Singapore.

a) Buying ahead of results is risky
This is a standard risk. Buying ahead of results is risky. Even if company reports better than expected results and guidance, there is no guarantee that the share price will definitely move higher.

However, if company reports poorer than expected results and guidance, odds are extremely high that the price may weaken post results. Case in point is Genting Singapore's 7% drop in its share price immediately after its disappointing 1QFY23 results.

b) Chart requires follow through buying as confirmation (Click here for more)


c) Large volume sell offs may be a result of a change in positioning by the institutions
Volume has picked up amid the slide in Genting Singapore's share price. Two out of the past three days have seen above 30-day average volume of shares changed hands.

Such large volume transactions may be a result of a change in positioning by the institutions. If this is really the case, we do not know how many shares they are prepared to sell at current eight-month low prices.

d) May have other reasons which caused this fall
There may be reasons known to some people in the market but unknown to me which cause the decline in Genting Singapore's share price.

e) Risk of catching a falling knife
Notwithstanding the above positive interesting points, it is entirely possible that stocks can always go lower. This is why some market watchers advise against catching a stock which is falling. It is especially dangerous for small mid cap stocks. Furthermore, selling ahead of results sometimes is an ominous sign.


Personally, for large cap stocks, the above risk may be mitigated to some extent, as it is usually widely covered by analysts and there should theoretically be fewer blind spots. Nevertheless, I hasten to add that this depends on one's strategy and risk profile.

Based on my pure personal observation of price action and chart, Genting Singapore should see good near-term support around $0.890 – 0.900.

f) Volatile share price especially around results period
Based on past pure observation, Genting Singapore does react to a large extent on results. It reported 1QFY23 results on 12 May 2023, after market hours. It dropped $0.08 or approximately 7% on the day (15 May) post results.
Conclusion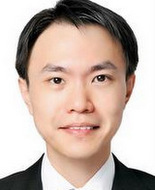 Ernest Lim, CFA, CA (Singapore)Despite the risks mentioned above, I am comfortable to accumulate Genting Singapore for a trading play.

Genting Singapore is trading at eight-month low price; backed by net cash per share $0.270 (comprising of 29% of its market capitalisation), and likely to be an eventual beneficiary of a tourism play supported by 4.0% FY23F estimated dividend yield.

Genting Singapore is going to report results on 10 Aug Thurs after-market hours. Let's see how it goes.
For a more complete picture, it is advisable to refer to Genting Singapore's analyst reports (Click HERE) and SGX website (Click HERE).
Readers have to assess their own % invested, risk profile, investment horizon and make your own informed decisions. Everybody is different hence you need to understand and assess yourself. The above is for general information only. For specific advice catering to your specific situation, do consult your financial advisor or banker for more information
Readers who wish to be notified of my write-ups and / or informative emails, can consider signing up at http://ernest15percent.com. However, this reader's mailing list has a one or two-day lag time as I will (naturally) send information (more information, more emails with more details) to my clients first. For readers who wish to enquire on being my client, they can consider leaving their contacts here http://ernest15percent.com/index.php/about-me/
P.S: I am just vested in Genting Singapore and have informed my clients yesterday.
Disclaimer
Please refer to the disclaimer HERE