INVESTORS ARE concerned about the impact of Japan's power shortage on the supply of consumer electronics components, but at Hi-P's 1Q2011 results briefing this week, the management clarified that they were not yet affected and explained the extent of its exposure.

A global provider of electro-mechanics manufacturing solutions, Hi-P specialises in precision plastic molding and is one of the major casing makers globally for mobile phones.

It also produces plastic housing for electric razors and electric toothbrushes.

It posted 1Q2011 net earnings of S$17.9 million on 3 May, reversing its net loss of S$14 million in 1Q2010.

Revenues grew 65.6% to 243.3 million, mainly due to new projects.

After the 1Q results, Credit Suisse, UOB Kayhian and Lim & Tan maintained their 'Outperform' and 'Buy' calls on the stock while DBS Vickers downgraded Hi-P to a 'Hold'.

Credit Suisse analyst Chua Su Tye expects Hi-P's sales momentum to improve for the rest of the year on strong demand from its key smartphone/tablet customers.

He believes Hi-P's valuation (Thur stock closing price: S$1.12) of less than 10X PE is undemanding, and likes its strong balance sheet which has hardly any gearing and net cash of S$247 million.

UOB Kayhian analyst Jonathan Koh likes Hi-P for its vertical integration and expertise in mechanical components.

He cited growth in shipment of smartphones and tablets for blue-chip customers Research In Motion and Apple, new product launches from Apple, and securing EMS projects from Research In Motion and Motorola as share rice catalysts.
| | | | | |
| --- | --- | --- | --- | --- |
| Date | Broker | Call | Target Price | Upside |
| 4 May | Credit Suisse | Outperform | S$1.40 | 25% |
| 4 May | DBS Vickers | Hold | S$1.28 | 14% |
| 4 May | UOB Kayhian | Buy | S$1.49 | 33% |
| 4 May | Lim & Tan | Buy | - |   |
Lim & Tan analyst Linus Loo believes that consensus 2011 profit forecast of about S$100 million is within reach given the company's historically stronger 2H performance.

Even though the company was not experiencing supply chain issues, DBS Vickers analyst Tan Ai Teng was still concerned about the lingering uncertainty, partly in view of possibly weak sell through or delayed launches by Research In Motion.

Gross margin has already improved significantly to 16.3% from 4.4%, as the company has benefited from economies of scale, effective cost control and better product mix. Ms Tan expects to re-rate earnings in the subsequent quarters should the company post stronger than expected sales or margin.

Below are some questions raised by investors at the meeting and the management's replies:

Q: How are you affected by Japan's nuclear fallout?

We don't source from Japan, but our customers do. We may be indirectly affected if customers are unable to get part of their components and their assembly process is held up. The Japanese suppliers themselves are not able to foresee if they will be affected.
Q: Where do you source for machinery?

We go for the top-of-the-range equipment available in the industry, mainly European. Some equipment is from Japan. There is no major disruption in the supply Japanese tolling and molding equipment but the supply of CNC may be tight.
Q: What is your capital expenditure this year, and how much of this is for capacity expansion?

Our capital expenditure will exceed S$100 million. About 50% is for capacity expansion.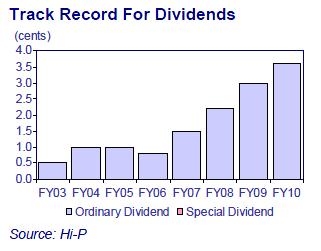 Q: What's the mix of currencies you have in your cash balances and what's the rationale for this mix?
We have about 50% in RMB, 30% in SGD, slightly more than 10% in USD and the balance in Euro and Thai Baht. Most of our operating subsidiaries are in China, but we also need to pay some staff salaries in Singapore as well as have SGD for the dividend payout.

Q: Why are you doing more assembly work?

Our strategy is to move up the value chain, and not restrict ourselves to component manufacturing. Some people may perceive component manufacturing have higher-value add, but this also requires high capital investment. The ratio of profit from assembly to capital investment is higher.


Related story: HI-P: Record profit in 4Q10, this year will be even 'better than 2010'