IN CHINA, baijiu is an indispensable beverage served at feasts to celebrate important occasions. And China's rising disposable income has fueled its baijiu market by an impressive CAGR of 31% since 2005 to over 10 million tons a year.

Riding on this trend, Dukang Distillers has successfully evolved from being a mass-market player for baijiu to tap on the higher end market for Chinese heavy liquor.

After successfully acquiring Luoyang Dukang in May 2010 and breaking out of the mid-to-low end product space, Dukang Distillers has come up with a new feather in its cap - its Jiuzu Dukang range.

Launched in April this year, a bottle of Jiuzu Dukang manufactured from its top-of-the-range alcohol grain retails in excess of Rmb 1,000.

"Baijiu is a product that is unaffected by economic down-cycles. The Group is confident of growing faster than the baijiu market," said Dukang CEO Zhou Tao during yesterday's teleconference with investors to review its 2Q2012 results.
The Group has two product trademarks - Dukang, which targets the mid to high-end market, and Siwu, which targets the mass market.

Its products are sold through distributors to hospitality establishments, supermarkets and specialty stores selling tobacco and alcohol products in the PRC.

The liquor distiller posted a 55.2% year-on-year increase in net profit to Rmb 94.4 million in 2Q2012 (ended 31 December 2011), riding on the strong demand for products under Luoyang Dukang and profit margin improvements.

Group revenue grew 22.0% to Rmb 539.9 million on the back of higher sales volume and average selling prices.

Gross profit margin rose by 3.7 percentage points to 37.9% due to margin improvements across all product series.

In order to capture the growing demand for baijiu, the Group recently added another 50% of capacity by reviving 1,470 unused fermentation pools for the production of Luoyang Dukang grain alcohol.

In 2Q2012, its 2,968 fermentation pools with a total production capacity of 7,610 tonnes of grain alcohol were almost fully utilized. After a 60-day fermentation period, the grain alcohol is aged between 7 to 24 months before it is ready for sale.

The Group had cash reserves of RMB 799.3 million as at 31 Dec.

Below is a summary of questions raised by investors during the telecon and Mr Zhou's replies.


Capacity Utilization
Q: Can you double your revenue given your sharp increase in utilization?

We believe we can achieve close to full utilization in the year ahead. However, utilization of fermentation pools does not translate directly into sales.

This is because normal grain alcohol requires storage of six months before being manufactured into baijiu. Premium grade grain alcohol requires at least 2 years of fermentation storage.

Q: Your utilization has increased two-fold, but inventory levels did not increase accordingly. Inventory turnover also reached 108 days (from 58 in previous period). Will this trend continue?

During our cyclical sales peak season in 2Q and 3Q, we drew upon grain alcohol reserves produced several years ago.

This is why inventories did not increase with utilization of fermentation pools. A second reason why there is no direct relation between utilization and inventory levels is because our inventory includes packaging and other raw materials in addition to grain alcohol.

We are expecting to increase our production of grain alcohol because longer fermentation storage period is required for the premium grade liquor market that we are expanding on. Thus, our inventory turnover period will increase accordingly.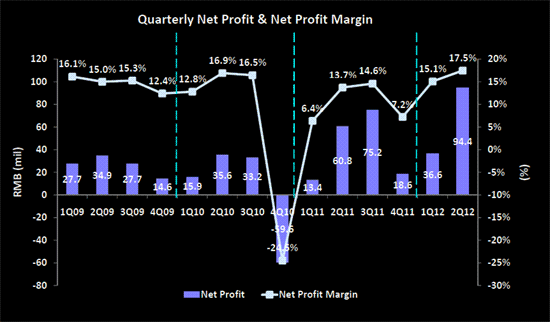 Cost of production

Q: Why was there a swing in prepayments?

The cost of raw materials has been rising in China over the past few years, especially in agricultural produce.

We have used prepayments to lock in cost prices for our raw materials, after seeking the advice of market experts. So far, this strategy has worked well for us.

We expect our cost of raw materials to continue to rise in 2012 and we intend to continue using prepayments to lock in cost prices this year. Whether we use prepayments to lock in prices after this year depends on whether prices of raw materials continue to trend upward.

Q: Are your competitors facing the same prepayment trend?

Not many baijiu players do this, but many other companies in China use prepayment to lock in prices. Some use futures contracts. It is not easy to lock in prices directly with the commodity supplier.

Q: Why did you opt to put down prepayments instead of hedging?

The commodities market in China is limited. For example, there are no sorghum futures contracts. There are wheat futures, but its trading volume is limited. Secondly, the physical commodity market is cheaper than the futures contract prices.
Q: How much higher are raw material prices compared to last year?

In 2011, raw material prices increased by less than 10% in China. However, prices for our key raw materials (sorghum and wheat) increased by more than 10%. We expect the prices of agricultural products to increase by 5% or more this year.

Q: Do you intend to increase your product selling prices to mitigate the increase in prices of raw materials?

We are studying the market in terms of bandwidth for cost hikes and whether this is something distributors and consumers can accept.

Q: Why did admin expenses increase?

There are two reasons: There is a 1.5% commission on sales of products carrying the Dukang trademark. Secondly, admin expenses increased proportionally to our output expansion.

Q: What do you expect to spend on capex for FY2013?

There is no visibility of capex because we have not secured the land use rights for our capacity expansion.

Q: How have packaging costs increased for you?

Baijiu is a beverage consumed to demonstrate the social status of the host of a feast. Thus, packaging is a very important part of the product. Packaging comprises 60% to 70% of our cost of goods sold and we expect packaging costs to continue to increase.


Distribution

Q: Why would the distributors carry Dukang instead of high-end baijiu like Maotai or Wuliangye?

Top grade baijiu presents a pricing barrier to entry for both the consumer and the distributor. Distributors for top grade baijiu need to fork out a minimum inventory deposit of Rmb 10 million in cash, compared to only several million for Dukang.

Secondly, we enjoy brand appeal with Henan liquor consumers who enjoy using a local provincial beverage.

After all, without Dukang, there will be no evolution of baijiu into the Maotai or Wuliangye brands. Dukang is one of Henan's top one or two brands.

Q: Why did gross margins for Siwu Premium increase even though its average selling prices fell?

During the quarter under review, we sold more of a lower-priced product line with equally good margins. Also, we managed to secure some cost savings during our May Luoyang Dukang Trade Fair and by consolidating/streamlining our Siwu's distributors.


Related stories:

WORLD PRECISION, CHINA MINZHONG, DUKANG: What Analysts Now Say...

DUKANG Visit: Strong Spirits, Weak Valuation... Bargain Baijiu?