This year marks the 10th year since Thakral Group decided, in 2013, to exit the consumer electronics and IT businesses and move into the distribution of prestige beauty devices, skin & hair care, and then fragrances.

Along the way, it added real estate as a core business, which currently comprises a growing investment portfolio in Australia, Japan and Singapore.

Thakral has gained traction in its remaking, and the lastest set of results continues the growth trajectory.

For 1H2023, Thakral reported:
• Revenue of S$104.2 million (+62% y-o-y)
• Attributable net profit of S$7.4 million (+99% y-o-y).
• 2-c a share interim dividend (unchanged)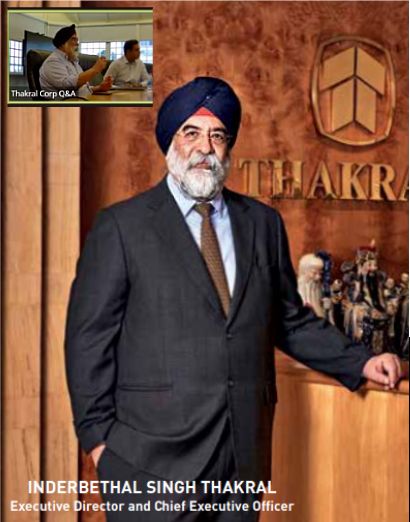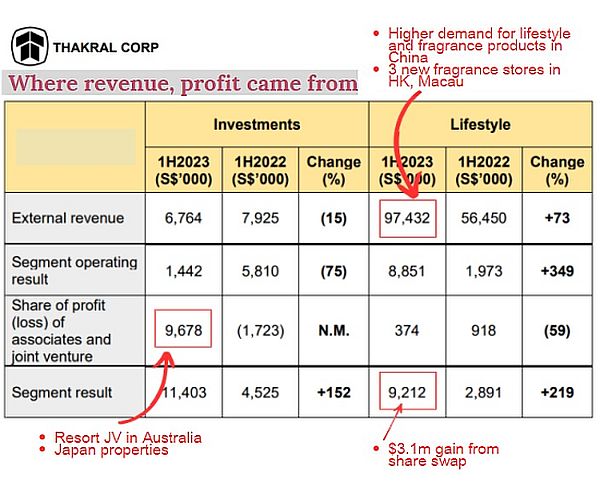 94% of the total sales contribution came from the Lifestyle business which mainly constituted the sales of fragrance and lifestyle products to Greater China and DJI drones, digital action cameras, gimbals and their accessories to South Asia.

Investment business more than doubled its segmental profit to S$11.4 million following stronger operating profits at GemLife, a leading over-50s lifestyle resorts developer and operator in Australia.


Its investments in Australia include the GemLife brand in a joint venture with the Puljich family.

In 1H2023, demand for GemLife's homes remained strong with over 600 contracts and deposits currently on hand, said Thakral.

Over the past six months, GemLife's portfolio of occupied homes grew by 134 homes to 1,222 homes. The number of occupied homes has increased by 30% on a yoy basis, improving its recurring revenue base going forward.

The Group's portfolio of commercial real estate properties in Japan recorded a steady flow of rental income as markets remained steady with stable average rents over the past half-year.


Chart: Yahoo!


The Group completed a swap of its shares in the Currentbody-Thakral JV for a direct investment in CurrentBody's ultimate parent entity in the UK.

This enables the Group to participate in the future growth of Currentbody's global businesses instead of China alone. The swap enabled the Group to recognise a gain of S$3.1 million.


• Lifestyle segment: The post-COVID recovery momentum in China is slowing down while India's 2023/2024 GDP forecast has been lowered from 6.6% to 6.3%.

These are near-term headwinds for the Group.

Thakral plans to expand its product portfolio via distributorship agreements with more fragrance brand owners.

Additionally, it is expanding its product range for drones to cover enterprise sectors including agriculture.

Thakral's Group CEO and Executive Director, Inderbethal Singh Thakral said: "We are cognisant of the macroeconomic headwinds in China and India which could impact our Lifestyle business in the near term. However, the long-term growth potential of the business remains sound."

• Investments segment:
The Australian housing market has largely been steady thanks to a confluence of factors including the housing shortfall, net overseas migration, and tight rental market conditions.


"We are confident about GemLife's growth potential and its sustainability in Australia. GemLife operates in a niche over-50s property segment that is benefitting from both increasing demand and an undersupply of homes, a scenario that is expected to persist for years. Hence, the group has built its potential pipeline to over 7,000 homes across the nation."
-- CEO

Inderbethal Singh Thakral
In Australia, the population of over-65s is expected to increase from 4.4 million to 6.6 million by 2041.

With national land lease community occupancy at 100%, there is a huge supply gap in the sector which GemLife could capitalise on.

By the end of 2023, GemLife expects to welcome the first settlements in two more resorts located in Tweed Waters and Gold Coast, adding to the 7 resorts it currently operates.


Thakral's 1H2023 presentation deck is here.