• Chinese consumer spending is on a comeback this year, which will uplift the performance of many sectors such as hotels, airlines and F&B.



•

Our attention was most recently caught by Haidilao International's profit alert for its 1H2023 results.
WHY SALES SURGED
"… mainly due to
(i) the increase in customer flow and the improved operating performance of Haidilao restaurants as a result of the lifting of the COVID-19 pandemic control measures; and

(ii) the increase in the number of restaurants as compared to the same period in 2022 following the re-opening of certain previously suspended restaurants."

-- Haidilao

It is expecting no less than RMB2.2 billion net profit versus RMB72 m in 1H2022. The market seems to have anticipated some profit upturn, with the stock up 38% year-to-date and trading at a PE in the mid-20s for FY2023F.

• The largest hotpot chain in China, Haidilao also has numerous outlets in HK, Taiwan, and Macau. Outside of these regions, the business has been spun-off into an entity listed in Dec 2022 on the HKSE called Super-Hi.
• A while back, OCBC Investment Research had a fair value target of HK$28.20 for the stock while CGS-CIMB, HK$28.40.
Read UOB KH's take on the counter below...


Excerpts from UOB KH report
Analysts: Ng Jo Yee & Stella Guo

Haidilao International Holding (6862 HK)
1H23 Profit Alert: Surprise In Net Profit Margin


Haidilao's share price surged 12.17% yesterday in reaction to the surprise earnings guidance for 1H23, on top of the better market sentiment with the government boosting local consumption.

The company expects net profit margin to arrive at 11.7% (+11.2ppt yoy) in 1H23, higher than consensus estimate of 7.5% for 2023.

We turn more upbeat on the company as we see improving internal operating efficiency, with the Woodpecker plan bearing fruit earlier than expected.

Upgrade to BUY. Target price: HK$26.00.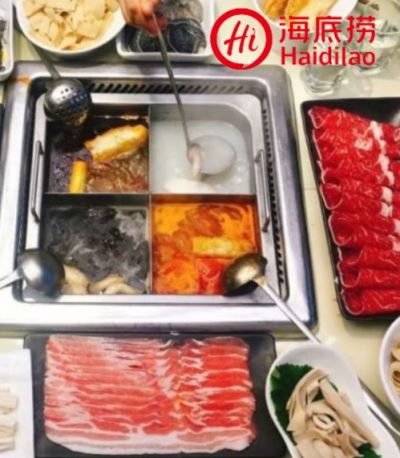 WHAT'S NEW
• Haidilao International Holding Ltd (Haidilao) published its 1H23 profit alert announcement on 30 Jul 23.

STOCK IMPACT
• Revenue up >23.7% yoy in 1H23. In 1H23, revenue from ongoing operations (in the Mainland China, Hong Kong, Macau, and Taiwan regions) was not less than Rmb18.8b, up by >23.7% yoy.


HAIDILAO

Share price:
HK$21.85

Target:
HK$26.00
Revenue was in line with our and consensus estimates, accounting for 44% of consensus estimate for 2023.

• Profitability stronger than anticipated. Net profit was not less than Rmb2.2b in 1H23 (vs 1H22's Rmb72m), exceeding our and consensus' expectations and accounting for 69% of consensus' full-year estimate.

The implied net profit margin of 11.7% (+11.2ppt yoy) in 1H23 was higher than consensus' estimate of 7.5% for 2023, mainly attributable to the increase in table turnover rate and enhanced restaurant operation efficiency as internal management and operations improved.


"The implied net profit margin of 11.7% (+11.2ppt yoy) in 1H23 was higher than consensus' estimate of 7.5% for 2023."
• The overall table turnover rate in 1H23 is estimated at ~3.5x, which is much higher than its table turnover threshold for store profit to break even at 2-3x per day (vs ~3x pre-pandemic).

Haidilao's same-store table turnover rate grew at >25% yoy in Jun 23 and 30% yoy in May 23, higher than its overall table turnover growth rate of 20% in Jun 23 and 25% in May 23.

• Continuing to focus on improving profitability in 2023. In 1H23, we estimate that Haidilao opened mid-single-digit new Haidilao stores (vs 4 as of end-1Q23), which we are quite comfortable with as the company is focusing on improving profitability in 2023 via digitalisation, product standardisation and management process enhancement.

EARNINGS REVISION/RISK

• Earnings revision. We trim our revenue forecasts for 2023/24 by 3%/10% given the slowing table turnover growth mom. However, we raise our earnings estimates for 2023/24 by 52%/28% due to better operating leverage and staff cost efficiency.

• Risks are: a) slowing table turnover growth, and b) higher-than-expected staff cost expense.



• Upgrade to BUY and lift target price to HK$26.00. We turn positive on the company's prospects with its improved operating efficiency and recovery in table turnover rate, as well as calculated store openings which have mostly brought in incremental earnings to the company.

Our target price of HK$26.00 implies 32.5x 2023F PE and 27.0x 2024F PE.


Full report here