• Singapore Airlines, like all other airlines, suffered an operational meltdown during Covid but, boy, have they all bounced back with a vengeance, including their stock prices. Lucky are those shareholders who subscribed to SIA rights share at $3 each back in 2020 when SIA faced an unprecedented liquidity crisis.
• SIA, that beloved airline of global passengers, has just reported a whopping net profit of S$734m for the first quarter (ended June) of its fiscal year 2014. (This follows from FY2023's all-time high of S$2.2 billion net profit).


• Profits are one thing, valuations are another.

SIA will face higher fuel costs, lower interest income, etc in the near term.



•

Analysts are not enamoured with the stock currently trading at around $7.50, which they consider "expensive".

UOB KH has a target price of $6.82; CGS-CIMB $6.78; Phillip Securities $6.80. OCBC says fair value is $7.81. For an idea of how things are shaping up, read excerpts of UOB KH's report below....

Excerpts from UOB KH report
Analyst: Roy Chen, CFA

• Overall strong earnings expected for this year…
1QFY24 was a strong start.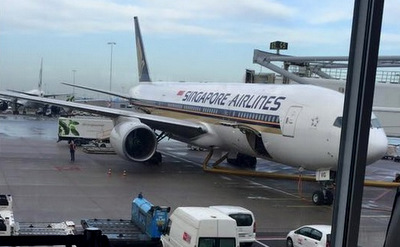 With the upbeat demand amid still-tight industry-wide capacity supply, SIA's reported earnings for the next two quarters are likely to stay stronger than the same period in pre-pandemic years.

We expect SIA to turn in a stellar performance in FY24, with its FY24 net profit level (excluding the Vistara disposal gain of S$1.11b) largely comparable to that of FY23.

• …but quarterly earnings likely to have peaked in the past quarter. Despite the strong seasonality for the upcoming 2QFY24, we expect SIA's 2QFY24 reported earnings to be no stronger than 1QFY24, as:


» The several favourable factors that pushed 1QFY24 to a record level, are likely absent (eg forex gains), weaker (fuel hedge gains) or even work the other way round (jet fuel price fluctuations) in 2QFY24;

» SIA's lower cash pile of S$13.8b end-1QFY24 (end-FY23 S$16.3b), drained down mainly by the partial redemption of its outstanding Mandatory Convertible Bonds (MCBs) during the past quarter, would lead to qoq lower net interest income in 2QFY24.

» further weakness is expected for SIA's cargo performance.
HIGHER FUEL COSTS
"We note that there has been a sizeable 22% upswing in jet fuel prices since Jul 23; this is in contrast to the 19% qoq decline of jet fuel prices in 1QFY24.
"


-- UOB KH
• Based on our estimates, the positive impacts from further pax capacity/load recovery (with a flattish or mildly higher pax yields) in 2QFY24 would not be sufficient to offset the negative qoq impacts from the abovementioned unfavourable factors.

• Upswing in jet fuel price since Jul 23. We note that there has been a sizeable 22% upswing in jet fuel prices since Jul 23; this is in contrast to the 19% qoq decline of jet fuel prices in 1QFY24.

Our current projection has factored in the assumption that jet fuel prices would stay at the current level for the rest of the year.

• Good dividend likely to sustain in FY24 but not beyond. Given the overall strong FY24 earnings estimates, we expect SIA to sustain the 38 S cents full-year dividend in FY24, leading to a 5% yield based on current price.

However, we expect dividend to come down in FY25 onwards, in line with our projected earnings decline as SIA's pax yields and load factors moderate to more normalised levels driven by competition.

EARNINGS REVISION/RISKS
• No change.
• Key risks:

a) Weaker-than-expected macroeconomic environment dampening air travel and air cargo demand,
b) rising competition, and
c) unfavourable fluctuation of jet fuel prices.
SIA

Share price:
$7.58

Target:
$6.82
• Maintain SELL with a lower target price of S$6.82. Our updated target price is based on a peg of 1.35x FY24F P/B (1.5SD above its historical mean), lowered from the previous 1.44x (2SD above historical mean), as we expect some de-rating of valuation multiple on account of the likely qoq slower quarterly earnings.

Our target price reference table is shown in the side bar to guide for possible future de-rating should earnings decelerate further.

» Full report here.
» CGS-CIMB report here
» Phillip Securities report here