AEM Holdings' stock price has stayed pretty firm for some time in the face of several broker "sell" calls throughout 1H2023.

Fund buying has played a role (see:

AEM:

Funds buy, analysts say sell. What gives?).


AEM

Share price:
$3.88

Target:
$4.20
Perhaps other long-term patient investors too.

They saw what HSBC has just articulated in a June 30 report: Potentially, there's a 2HFY2023 recovery in chip-testing demand for AEM.

HSBC has a 'buy' call on the stock and a target price of $4.20, translating into about 8% upside.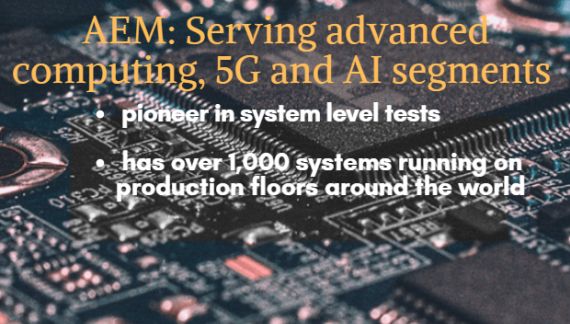 That target price is based on 15x FY2023 earnings, which implies that HSBC is forecasting earnings of S$86 million.


Stock price

$3.88

52-week range

$2.70-$4.71

Market cap

S$1.2 b

PE

(ttm)

9.5

Dividend yield

2.7%

P/B

2.5

Shares outstanding

308.9 m

Source: Yahoo!
It's a sharp 32% fall from the record S$127.3 million in 2022, reflecting the global downturn in the semiconductor industry in general and a slowdown in its key customer's business.

1Q2023 was a relatively slow quarter for AEM: It reported S$15.6 million in net profit (-61.8% y-o-y).

With half the year gone by, there are green shoots of recovery for the semiconductor industry. (See: Semicon industry: Signs of green shoots for 2H23 recovery. What stocks to pick up?)

Now, HSBC analyst Wern Juan Chng has stepped up and put out a positive note on AEM, saying it will benefit from:

• PC restocking in the global supply chain,


•

normalisation of AEM's key customer (Intel Corp) shipments, and


•

new customer contributions in 1QFY2024.

Intel is likely to ramp up production of its new products in the last quarter this year, reckons the analyst.
That means AEM could raise its revenue guidance in the third quarter, he says.

If so, that is just weeks away.

Recall the perspective of the CEO of AEM back in Feb 2023: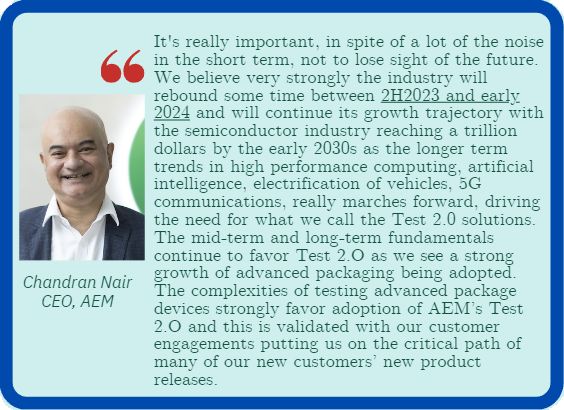 Longer-term, AEM is viewed by HSBC as a preferred counter among Asean tech stocks riding on the artificial intelligence 'mega forces' investment theme.

Rising adoption of AI is driving greater complexity in chips used by not just personal computers but also other product categories such as data centres and smartphones.

This is where AEM's industry-leading Test 2.0 will put it in good stead to broaden its addressable market.