Ever since late Feb 2023 when AEM Holdings gave a less-than-rosy outlook for its 2023 prospects, some analysts have been issuing 'sell' calls on the stock, which then contributed to its downturn (see chart below).

AEM had said: "Given the limited visibility and anticipated volatility within the industry, Management is providing a target revenue guidance for FY2023 of S$500 million that may be revised as second half visibility becomes clearer."

To be sure, $500 million is quite a comedown from the S$851 million revenue achieved in 2022.

Well, it is surprising then that some big-name funds have seized the opportunity to buy the stock on weakness (more on this later).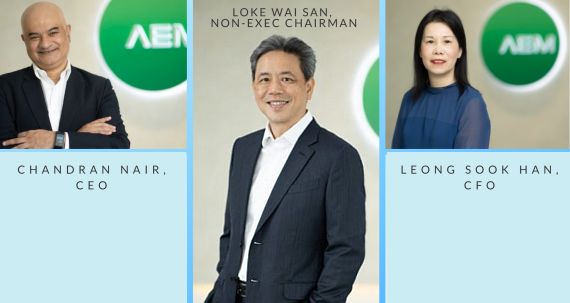 AEM's 1Q 2023 results met analysts' negative expectations of the company's near-term performance, which is closely tied to the fortunes of its key customer, Intel Corp, and the broader semiconductor industry cycle.

AEM's 1Q2023 highlights, which showed large declines after a record year 2022:

• Revenue of S$152.7 million (-42% y-o-y);


•

Net profit of S$15.6 million (-62% y-o-y).
The chart below shows the volatility of the stock, amidst which some big-name funds have added to their positions in AEM: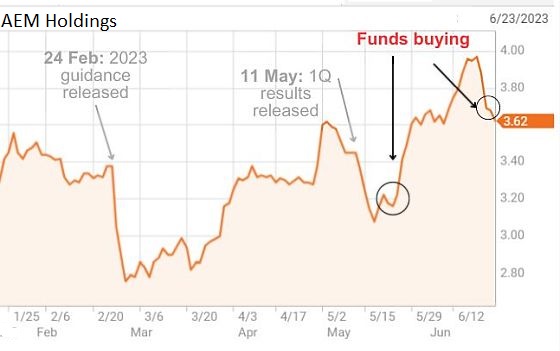 Some details of the purchases by funds post-1Q23 results are in the table below.


Date

Buyer

No. of shares

Price

Value

Cumulative purchase (stake)

21-June- 2023

Employees Provident Fund Board1

680,300

$3.75

$2,550,989

31,042,700
(10.05%)

21-Jun-2023

abrdn plc2

128,200

$3.75

$480,669

27,874,300
(9.024%)

22-May-2023

Fidelity Funds3

150,400

$3.22

$484,724

17,284,500
(5.6%)

19-May-2023

abrdn Asia4

104,400

$3.20

$333,892

15,460,100
(5.005)

9-May-2023

Pandanus Associates5

297,600

$3.46

$1,030,424

15,530,100
(5.03%)

Source: Company announcements

1 Employees Provident Fund Board is deemed to be interested in 31,042,700 ordinary shares in the capital of the Company registered under Standard Chartered Bank (Singapore) Limited.

2 abrdn plc is the parent company of abrdn Holdings which, in turn, is the parent company of its subsidiaries who act as the investment managers for various clients/funds and have the power to exercise, or control the exercise of, a right to vote attached to the securities and has the power to dispose of, or control the disposal of, the securities. The registered holder(s) of the securities is the client's or fund's custodian.

3 FIL Limited is deemed to have interests in the securities of AEM HOLDINGS LTD. because such securities are held by funds and/or accounts managed by one or more of FIL Limited's direct and indirect subsidiaries, which are fund managers.

4 abrdn Asia Limited is able to exercise or control the exercise of 5.0052% of the total votes attached to the shares in AEM Holdings Ltd.

5 Pandanus Associates Inc. is deemed interested in the shares held by Pandanus Partners L.P. which in turn is deemed interested in the shares held by FIL Limited.

The latest analyst report to caution against any bullish sentiment (AEM stock price climbed above $4 last week) came from UOB KH analyst John Cheong. (see his 20 June report here)

Attributing the stock's strength to investors chasing AI-related stocks, he said "consensus earnings estimate for AEM appears too optimistic. Downgrade to SELL with an unchanged target price of S$2.87."

(In contrast, holding a longer-term view, CGS-CIMB has a $3.86 target price)


We can reason that unlike punters, chart followers and momentum traders, big-name funds don't just jump on the AI bandwagon.

Probably they are looking past the near-term weakness of AEM's business to the longer term owing to the well-established fundamental superiority of AEM's products.


Next generation
"AEM's System Level Test (SLT) offerings are now gaining customers' confidence, and we think that some of these customers could offer growth opportunities as their next generation products are high volume products that would require SLT."

-- CGS-CIMB (12 May 2023)

AEM has proven itself convincingly, transforming from a

sub-$50 million

company at end-2016 to a

$1.2-billion

global player currently. That's more than 20X.

Its revenue CAGR from 2016 to 2022 on practically just 1 customer was 52%, an amazing growth rate selling to Intel, one of the world's biggest semiconductor chip manufacturers.

New customers are being targeted.

Sell-side broker reports sometimes, or often, lean towards a 6-12 month view, and are less suited to investors with a long-term horizon and who are insensitive to short-term uncertainties and volatility of the market.