When Heeton Holdings' chief executive Ivan Hoh first took over the company's reins, he was gunning for change, ready to expand the company's property portfolio.
But then Covid-19 hit, and Hoh found his plans abruptly halted.
The global lockdowns and travel restrictions badly affected all 13 of Heeton's hotels in Europe and Asia, mostly in UK. Heeton reported a net loss before tax of S$26 million in FY2020, the first time the company swung into a loss in recent years.
Together with the support of his UK team, Hoh had to switch tactics, fast.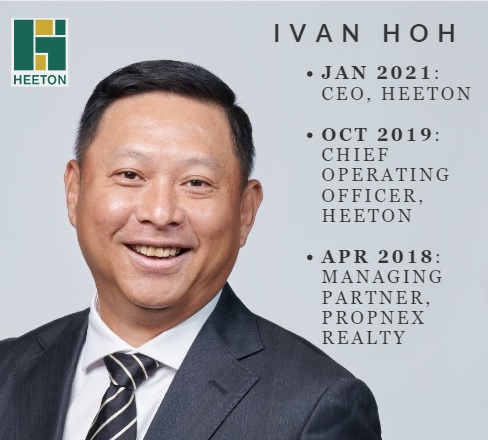 The crisis "forced hotels to rethink their traditional approach" to many aspects of the business — from investing in contactless services, introducing new health and safety measures, and flexible booking policies such as free cancellation or rebooking, to exploring new revenue streams, says Hoh.
For instance, features like online check-in, digital room keys and mobile ordering for room service became a must-have to provide a safer and more convenient experience for guests.
The company introduced enhanced cleaning protocols, social distancing measures and the installation of Plexiglas barriers. It also toyed with the idea of converting its spaces into day-use rooms, co-working spaces and event spaces to generate revenue.
Heeton stock price

25.0 c

52-wk range

23 – 31 c

PE (ttm)

59

Market cap

S$126.8 m

Shares outstanding

487.7 m

Dividend
yield

1.5%

1-yr return

-14%

P/B

0.3

Source: Yahoo!
Adaptability was key, says Hoh.
"Our immediate priority was to ensure that the ship was kept afloat during one of the most unpredictable crises the world had ever seen," says Hoh.
They introduced tough management policies, such as a tiered salary cut for about a year. Top management saw their salary cut by 15 to 25 percent, while the rest of the staff saw a 5 percent cut.
Wages and promotions were frozen and they also made the "painful decision" to retrench some staff in Singapore, UK and Thailand, says Hoh.
To help staff tide through the period, the company also invested in new training and development programmes. The company also implemented an asset rationalisation plan where it reorganised its assets to improve operating efficiencies and boost the bottom line, and divested assets.
"This was not easy given the level of uncertainty during the pandemic, but we needed to be firm and decisive," says Hoh.
Thanks to these measures and the support from the local government, the company was able to ride out the worst of the pandemic.
Its investment properties, specifically Sun Plaza and Tampines Mart in Singapore, continued to provide "respectable yields" throughout, says Hoh.
Revenue contributed from property investment was S$10.5 million in FY22, an increase of 8.4% compared to the previous year.
To Hoh, the pandemic drilled home some key learnings: the importance of being prepared for the worst, the need to be agile and react quickly, to cultivate resilience, and to never shy away from making difficult decisions.
Fascinated by real estate
In business, making difficult decisions is par for the course, says Hoh.
Hoh has had his fair share of knocks, having gone through the 1997 Asian Financial Crisis, the 2003 SARS epidemic, the 2007 Global Financial Crisis and most recently the Covid-19 pandemic.
A veteran in both the local and overseas property scenes, Hoh has spent some three decades in the industry, yet finds that it still hasn't lost its allure.
Hoh first cut his teeth in the real estate brokering business in 1992. In 2008, he co-founded PropNex International, now a subsidiary of the listed company PropNex Holdings. He later took on multiple appointments as managing director of PropNex International, managing director of PropNex Investment to managing partner of PropNex Realty.
Before joining Heeton, Hoh held various roles at agencies and real estate development consultancies including Knight Frank, HSR and OrangeTee.
In June 2020, Hoh was appointed the executive director of the Heeton Group. He later took on the mantle of chief executive officer, where he oversees the group's businesses and implements the overall directions, strategies and plans.
The 53-year-old describes the property development industry as one of the most "complex and rewarding" sectors for entrepreneurs and investors.
"It still fascinates me to see a piece of land transform into a magnificent building or development," he says.
Singapore's real estate scene is popular for a variety of reasons, explains Hoh. Because of the limited supply of land in the city-state, the high demand has led to capital appreciation in the property market, making it an attractive investment option.
In addition, Singapore has a well-established and efficient property market with transparent regulations, processes and transaction systems, making it easy for investors to buy, sell or lease properties, he says.
Investing in overseas assets and proptech
Succeeding in such a demanding industry requires "a strong work ethic and the ability to persevere through challenges," says Hoh.
Industry players will have to pull out all the stops to survive in an increasingly competitive landscape.
Developers are facing enormous margin pressure to secure tenders, and have to deal with rising development costs and continuing economic uncertainty.
To help mitigate these risks, Heeton is looking to embark on more joint ventures and partnerships.
Looking ahead, Heeton will continue to be largely committed to their three core businesses which are hospitality, property development and investment in the medium to longer term, says Hoh.
In an increasingly crowded market, Hoh says the company is also open to exploring other real estate segments. These include industrial developments, build-to-rent concepts, commercial properties, and even dormitories, while still maintaining its foothold in residential developments in Singapore.
As for its overseas business, the current focus is to maintain its hotel assets, but going forward, it plans to invest in more hotels to trade after managing them for a few years.
The company is already looking to ride the post-Covid-19 resurgent tourism and leisure wave, by exploring opportunities in Europe or Asia "which show great promise," adds Hoh.
For instance, Japan has a strong tourism industry that draws plenty of business and leisure travellers, a low interest rate environment and a favourable exchange rate.
Hotels in Japan typically have high occupancy rates due to high demand for accommodation which can provide investors with a steady stream of income. The Japanese government has also implemented policies to support hotel owners with renovation and upgrading programmes, and introduced measures such as the Tourism Nation Promotion Basic Plan to support its tourism industry.
Rising property values in major cities like Tokyo can also "provide investors with the potential for capital appreciation over time," he says.
At the same time, the company is keeping an eye out for new trends which offer new investment opportunities, like the property technology (proptech) space.
With features like virtual property tours, automation to streamline processes, and technology that helps to slash energy consumption, proptech is expected to be a game-changer in the real estate industry.
"Overall, proptech is an exciting space to go into because it has the potential to disrupt and transform the real estate industry, create new business opportunities and benefit from both industry professionals and consumers," he says.
Learning from experience
Hoh reminisces about the times back when he was an entrepreneur and ran his own business.
Building one's own successful businesses from ground zero is no easy feat, he says. That was what drove him to take up his role at Heeton, and going ahead his passion is to learn about new and emergent business trends and explore new opportunities.
Few things keep him awake at night; Hoh doesn't believe in worrying too much as it is counter-productive.
"A healthy mental and physical well-being brings you further in terms of problem-solving and achievements in your personal and career life. Stress only leads to more stress," he explains.


In his downtime, Hoh makes it a point to spend quality time with his family. He is thankful for a supportive and understanding wife. He has two children, a 17-year-old daughter and a 12-year-old son.
The avid golfer gets his exercise by walking the course on weekends. He also likes to get involved with his children's interests. For instance, his son is a tournament-level gamer, so Hoh eagerly supports his son's passion and cheers him on whenever he can.
With Hoh's decades of experience, he distils one lesson he would like to share with his children and others.
"I would like them to appreciate the acronym L.I.F.E. – which means to learn intelligently from experience… Isn't that what life is all about? We learn through our experience, adopting what is good and avoiding what is bad, as we grow."

About Heeton
Established in 1976 and listed on Singapore Stock Exchange in September 2003, Heeton Holdings Limited is a real estate company focused on property development, investment and management, and hospitality.
The company website is https://www.heeton.com
This article was first published on the SGX website.

Text: Toh Ee Ming
Photo: Company file