A severe drought along with China's implementation of Covid-19 lockdowns affected the sales of kiwi fruit of China Shenshan Orchard last year.
The lifting of the pandemic measures in late 2022, and hopefully normal weather this year, would see bustling orchard activities.
As its plantation area is one of the largest in China, Singapore-listed China Shenshan will contribute to China's not well-known status as the world's largest producer of kiwi fruit, surpassing New Zealand by far.

As background, China Shenshan was the former Dukang Distillers -- and had entirely disposed of its baijiu business in 2021 in exchange for the business of planting, cultivating and sale of kiwifruits carried out by the Xingnong Group.

A summary of FY22 results before we get to the Q&A content arising from a virtual briefing by management this week:

Stock price

18 c

52-wk range

15 – 45 c

PE

3

Market cap

$14.4 m

Shares outstanding

79.8 m

Dividend
yield

--

Float

29.8%

P/B

0.07

Source: Yahoo!
• Revenue decreased by 23.5% to RMB85.0 million due to severe drought conditions that affected its annual harvest.

• Other income increased significantly to RMB8.1 million, mainly due to an increase in unconditional grants from government-related agencies, in support of agricultural activities in China.

• Profit after tax decreased by 57.5% from RMB57.4 million for financial period 2021 to RMB24.4 million.

It's interesting to note that, via a vehicle called Easy Direct International, employees of China Shenshan currently hold a 16.49% stake in the company.

Announcements of several large purchases by Easy Direct through married deals (at 27 cents a share) were filed on the Singapore Exchange website in Dec 2022.

Through Easy Direct, Mr David Zhao Chichun (Executive Director of the Company) and Mr Hu Chao (Executive Director and CEO of the Company) each acquired 5,265,060 Shares (representing approximately 6.60% of total number of issued shares).

The remaining 2,632,529 shares (3.30% of total number of issued shares) were earlier acquired by other employees.

Here is the Q&A, edited for brevity and clarity: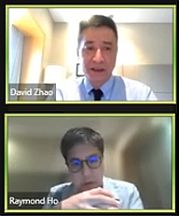 Q: As a result of the heatwave during the 2022 harvest season, what happened to the fruits? Would the surviving trees be less productive in future?

David Zhao (executive director): The production of kiwi fruits decreased as the fruits need suitable temperatures for growth. The number of trees that died is not a lot and we can expect the same production volume in the future from the remaining trees.

Q: How do you grow your harvest size, increase land and increase yield?
David Zhao: An important way is to use a licensing model to let small farmers to cooperate with us using our kiwi fruit varieties. We just need to purchase the harvest. By doing so we can expand our production volume without a lot of additional land.


Q: What's the selling price trend for your product? What do you expect the average selling price in 2023?

David Zhao: We have seen stable prices over the past decade. We expect the price in 2023 will remain almost the same.

Raymond Ho (Financial Controller): I want to add the price range these few years remained quite stable at 27 to 32 RMB per kilogram. Last year, because of Covid measures there was some impact on the demand for kiwi fruits and we had to offer a little bit of discount.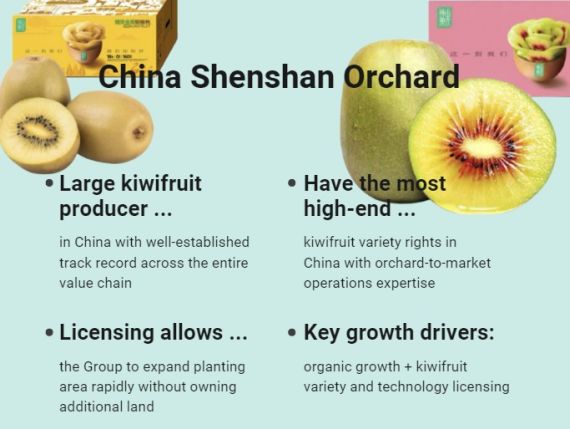 Q: Do you sell your products in advance to distributors?

David Zhao: We cannot sell in advance. We start selling from September until end of the year. We have three or four months of selling and the rest of the time we plant, we manage the orchards. (note: Thus, the Group will not record any revenue in the first half of its financial year.)


Q: What is the cash cost of the production per ton?
Kiwi fruit on the rise

"The kiwifruit industry in the PRC has been growing rapidly in recent years and is expected to continue its growth trajectory in the future. This is largely driven by the rising disposable income of the consumers as well as growing domestic consumer demand for premium-quality kiwifruits."

-- China Shenshan
Raymond Ho: Labor, transportation and planting actually do not account for much in the cost of sales. Transportation, for example, during 2022 almost 95% was borne by the customers. (see additional note below)*


Q: Can you give clarity on how your company might exit the SGX watch list and the timelines?

David Zhao: There are two conditions to exit the watch list. One, profitability, and 100% is met already as in the past three years our company has been profitable. Two, to remain on the mainboard, our company has to have a market value of no less than S$40 million.

We have not met that condition, which mostly depends on the market. But we are making plans to boost our company's attention to the public. During the last two years we encountered Covid and the planned PR events had to be cancelled.


Q: What are the greatest risks you see for your business? How do you mitigate those risks?

David Zhao: The risk to agriculture companies can be many -- it can be climate change, it can be some natural disaster. We have improved our infrastructure such as the watering and fertilizer integrated systems that can greatly mitigate the risks. The risks are not from the market as the market is very stable and predictable.

The Powerpoint deck is here.

* As per company's announcement on 5 May 2023:
"The Group used to bear the cost of transportation of the kiwifruits from the Group's orchards to its customers which allowed the Group to command higher selling prices of the kiwifruits from its customers. However, starting from 2022, customers are required to arrange for their own transportation of the kiwifruits from the Group's orchards as the Group dedicates its resources to focus on improving its business operations, instead of dedicating its resources to transportation logistics."