Company Overview
Stock price

39.0 c

52-wk range

7 – 57 c

PE

2.1

Market cap

$31.1 m

30 Day Avg Volume (S$)

33,066

Shares outstanding

79.8 m

Dividend
yield

--

Float

54.7%

P/B

0.2

Source: Bloomberg
China Shenshan Orchard Holdings is a horticultural marketing company in the business of planting, cultivating and selling of kiwifruits in China. The Group holds forest use rights for 8 strategically located orchards. Leveraging on experienced inhouse research and development team, external technology advisory and research partners, the Group aims to become the leading kiwifruit producer. Link to Stock Screener company page.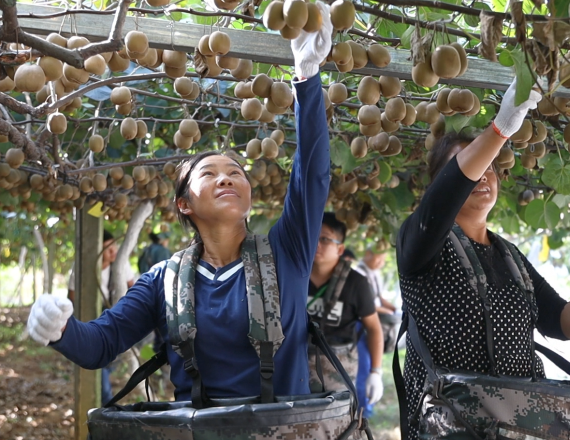 1. Could you elaborate on the products as well as services provided by China Shenshan Orchard?

▪ China Shenshan Orchard is a horticultural marketing company in the business of planting, cultivating and sale of kiwifruits in China. The Group holds forest use rights for 8 strategically located orchards, spanning a total land area of approximately 6.5 million sqm, which is believed to be one of the largest domestic kiwifruit orchards concentrated in the Chibi City, Hubei, China.

▪ The Group currently distributes its products via distributors, wholesalers, corporates, and e-commerce platforms.

2. Describe China Shenshan Orchard's financial performance.

▪ The Group completed the acquisition of its kiwifruit business and disposal of baijiu business in Jul 2021 and achieved profit after income tax of RMB70.1 million from its kiwifruit business for 6M2021 ending 31 Dec 2021.

▪ Revenue grew from RMB49.5 million in 2017 to RMB111.2 million in 6M2021, representing a compound annual growth rate (CAGR) of 17.6%, while net profit has been growing at a CAGR of 29.2% during the same period.

The Group has also been maintaining a stable adjusted gross profit margin of 90% to 95% over the period.

▪ As part of the government's policies, the Group is entitled to full exemption of enterprise income tax on profits derived from the kiwifruit business, which is a qualifying agricultural business.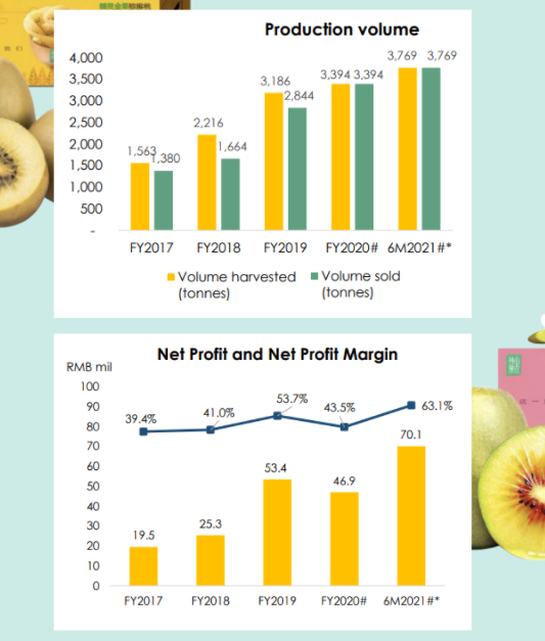 3. What is the competitive edge for China Shenshan Orchard vs its peers?

▪ Being the largest kiwifruit producer in China, the Group has a well-established track record with more than 10 years of experience in kiwifruit planting and cultivation in China. The Group also has strong research and development (R&D) capabilities where its in-house technology department is complemented by a team of external technology advisory and research partners.

▪ The Group currently holds 83 trademarks and 56 patents for grafting and harvesting methods and devices (e.g. fertilisation mechanism and windproof device for kiwifruit planting, artificial pollination device and cutting device for grafting branches of fruit trees, etc.)

▪ The Group has also developed its own kiwifruit varieties and has been granted 6 premium kiwifruit variety rights. It is currently the company with the most premium kiwifruit variety rights in China. The use of advanced technology, automated systems, proprietary kiwifruit cultivars and breeds have allowed the Group
to differentiate itself from other industry players and stand out from domestic competitors.

4. Can you elaborate on the harvesting or lifecycle of kiwifruits?

▪ The growing season for kiwifruits typically lasts up to 240 days a year while the harvest season takes place from Aug to Sep each year. Sales of harvested kiwifruit will typically occur thereafter, within the same calendar year.

▪ Kiwifruit vines typically begin cropping in the 3rd to 4th year of cultivation, reaching full yield potential in the 4th year, and can continue producing for the next 40 to 80 years. The average age of the Group's plants is approximately 4.4 years.

5. As the harvesting of kiwifruits is seasonal, how can the Group maintain profits during offpeak seasons?

▪ The Group is looking for opportunities to venture into the management of kiwifruit plantation and cultivation operationsin third-party kiwifruit plantations during off-season.

▪ On 5 Jul 2021, the Company's wholly-owned subsidiary, Chibi Shenshan Xingnong Agriculture Technology (Chibi Shenshan) entered into a memorandum of understanding (MOU) with Chibi Green Industry Development Investment for the joint development of a land area spanning up to or 3.33 km2 located in Chibi
City for kiwifruit planting and cultivation.

▪ This joint development and cooperation covers a 30-year period commencing from 1 Jan 2022, with a total investment amount of approximately RMB150 million. Chibi Shenshan is responsible for the construction and development of the kiwifruit plantation, day-to-day management, operations over planting and cultivation of the kiwifruit plantation.

6. Could you elaborate on the future direction for the Group's business segments?
▪ The Group intends to scale up its business this year via commercialisation of its kiwifruit varieties and its expertise in kiwifruit planting to third-party kiwifruit growers.

▪ This will eventually generate additional revenue stream and spur the next phase of growth for the Group while allowing the Group to expand the planting area of its self-developed kiwifruit varieties without purchasing additional land.

▪ The Group will also continue to focus on strengthening its presence in China's domestic market and expanding its market share in the premium kiwifruit market segment. This includes continued investments in R&D to cultivate premium grade varieties, modernise and digitalise the Group's agriculture infrastructure and core processes.

7. What do you think are some key drivers or trends in the business segments you operate?

▪ Demand for kiwifruits in China has been growing over the years, largely driven by rising disposable income and growing domestic demand for premium-quality fruits with various health benefits. China's kiwifruit apparent consumption has grown at a CAGR of 16.3% from 2.09 million tonnes in 2014 to 2.66 million tonnes
in 20182. China is also a major importer of kiwifruits, ranking second globally in 2020.

▪ The Group believes that the kiwifruits industry in China, which grew at a CAGR of 6.2% between 2013 to 20181, offers huge growth potential. China has the world's largest kiwifruits planting area (72% of the world's planting area) and production volume (55% of the world's total kiwifruit production).

8. Could you elaborate on how China Shenshan Orchard is intending to tackle the strategy of commercialising kiwifruit varieties and technology?

▪ The Group will license standardised kiwifruit variety to farmers free of charge in the first 5 years and commit to purchase qualified kiwifruits from them at a higher price upon harvest, ensuring profits for these farmers.

▪ The Group will also provide these farmers standardised planting and production guidelines as well as crop protection plans. We also have a professional technical team to provide consultancy services to the farmers to ensure quality consistency.

▪ Besides targeting individual farmers, the Group is also planning to enter into agreements with township governments for the provision of kiwifruit variety and technology licensing.

9. What are some of the key ESG factors that are material to China Shenshan Orchard? How do you address these factors?

▪ Sustainability is integral to the success of our kiwifruit business. We believe that kiwifruits have ample vitamins, minerals and fibre, which have health benefits for consumers and help them move towards a plantbased and earth-friendly diet.

▪ Leveraging technology and experience, we can improve the yields of our orchards while reducing environmental impacts. There is also a positive social dimension in that we provide employment, skills training and economic benefits to the local communities where our orchards and operations are based.

▪ Food Quality and Safety – The Group takes great care in ensuring that the kiwifruits it grows and sells is of the highest quality possible. This safeguards customers' health and satisfaction, protects our brand in the market, and generates steady income to sustain the business in the long term.

▪ Human Resource – People are the Group's most precious assets, and crucial in ensuring that the entire value chain runs smoothly, in our innovation process and keep us ahead of our competition. We comply with relevant labour, social insurance and housing fund laws and regulations in China.

▪ Environmental Conservation – The Group aims to minimise environmental impact and protect natural assets so that our orchards continue to be productive, and our workers and communities can enjoy a clean and healthy environment.


10.Why should investors take a closer look at China Shenshan Orchard?
▪ The Group has successfully transformed into a profitable, pure-play kiwifruits producer. The Group is the largest kiwifruit producer in China with well-established track record across the entire value chain and is wellpositioned to tap on the fast-growing kiwifruits industry in China.

▪ We believe that the Group's profitability will be further enhanced by the growth of our kiwifruit plantation as well as contributions from the kiwifruit variety and technology licensing business.

10 in 10 – 10 Questions in 10 Minutes with SGX-listed companies
Designed to be a short read, 10 in 10 provides insights into SGX-listed companies through a series of 10 Q&As with management. Through these Q&As, management will discuss current business objectives, key revenue drivers as well as the industry landscape. Expect to find wide-ranging topics that go beyond usual company financials.

This report, originally published on the SGX website, contains factual commentary from the company's management and is based on publicly announced information from the company.
For more, visit sgx.com/research.
For more company information, visit https://www.ddhlimited.com/
Click here for China Shenshan Orchard's latest financial results.