regulatory filing on Friday.

Diaz Faisal Hendropriyono, 44,

was until recently Special Staff to Indonesian

President Jokowi, a role he had held since May 2016.



Mr Diaz's father, General (Retired) Abdullah M. Hendropriyono, was the first head of Indonesia's

State Intelligence Agency

(BIN).


A promiment Indonesian public figure and businessman has joined the board of directors of Singapore-listed TOTM Technologies as an independent director, said TOTM in a

Mr Diaz's appointment enhances the profile of TOTM, following its acquisition of the remaining 49.0% of InterBIO, making it a wholly-owned subsidiary.


INDONESIA & BEYOND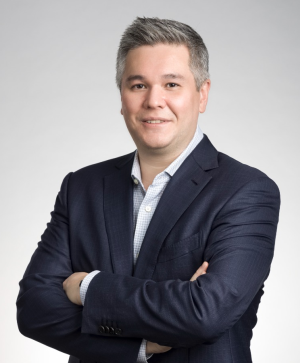 "This is just the beginning of greater things to come as we continue to scale the Group's business sustainably in Indonesia while building up a robust project pipeline in the Middle East, Africa (MENA) and Asia Pacific."

-- Pierre Prunier
CEO, TOTM Technologies
(Source: 1HFY23 results press release)
Operating out of Indonesia where it has the distinction of having built the country's biometric ID system, InterBIO's stated mission is: To continually support Indonesia and its citizens to build the best-in-class biometric E-KTP national system in the world and to facilitate easy access for Indonesians to connect to multiple services with accurate, secure and proven technology.

Formerly known as Yinda Infocomm, TOTM had jettisoned its previous struggling business, renewed its board, and acquired an interest in InterBIO as an initial foundation to expand into the digital and biometric space -- not just in Indonesia but beyond.

Its recent 1HFY23 (ended Nov 2022) revenue profile reflects its Indonesia-centric business to date.

InterBIO provided technical support to Indonesia's Ministry of Home Affairs and maintained Indonesia's national biometric system.


• For those 6 months, TOTM recognised revenue of S$2.4 m (15% of revenue) for these services while other Indonesian government agency projects contributed S$14.3 m (85% of revenue).

• TOTM's half-time net loss narrowed from S$4.6 m a year earlier to S$4.3 m with legal and professional fees, largely one-off, totaling $2.1 m.

• The Group's net cash balance stood at S$15.1 m as at end-Nov 2022 following a series of capital raising and investments and partnerships with players in the digital space.
TOTM stock price

11.7 c

52-week
range

8 – 19.3 c

PE (ttm)

--

Market cap

S$157 m

Price-to- book

2.5

Dividend
yield (ttm)

--

1-year return

- 37%

Source: Yahoo!
TOTM's revenue is still small but its outlook is optimistic given its aggressive aggregation of technologies and partners in the past year. (See: TOTM TECHNOLOGIES: Is it an emerging AEM and global player?)

Key to its near-term future is the recently approved US$250m financing from the World Bank to Indonesia to, among other things, spur the use of biometric identification in government and commercial sectors.

Referring to the World Bank financing, a recent analyst report by SAC Capital looking at the impact on TOTM said:

"One of the goals of this financing is to expand the issuing of legal identification papers which include electronic national ID cards (e-KTP) and national ID numbers (NIK) in underdeveloped regions. TOTM Technologies, equipped with NIST-rated software, is currently involved in both.

"Another goal would be the development of the identification and e-KYC platform for government agencies, and 5400 public and private institutions. At present, organizations have tapped into Indonesia's Ministry of Home Affairs (MOHA) data and executed more than 7b real-time verification requests.

"TOTM has engaged with medium to large customers such as Gojek (c.50% of the ride-hailing market share in Indonesia) and DBS where they utilize TOTM's e-KYC solution for the onboarding of customers."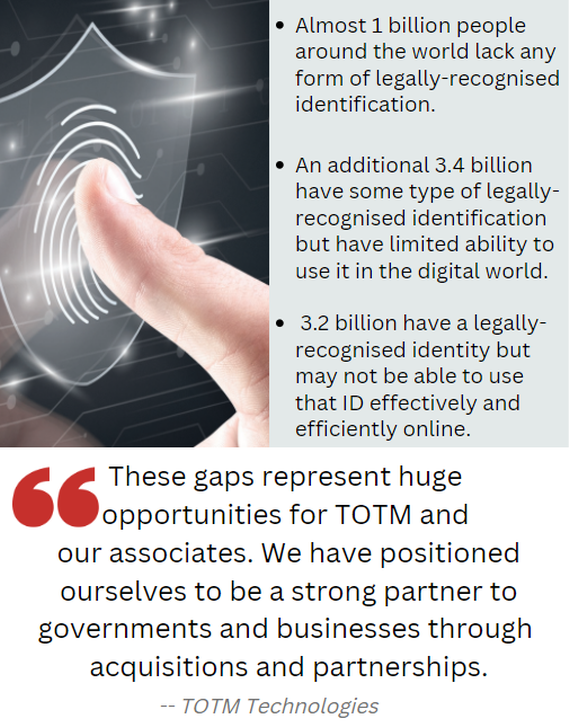 Aside from his political profile, Mr Diaz brings with him top industry experience:

PT M Cash Integrasi, a Jakarta-listed tech-infrastructure company (market cap: S$500 million) that offers various digital products and services, clean energy vehicles (2W and 3W EV), digital cloud advertising, SaaS, among others.

• He is non-executive Commissioner, since May 2022, at PT SiCepat Ekspress, which provides services for last-mile delivery, warehousing and fulfillment, and middle-mile logistics.

• He is non-executive Commissioner, since July 2022, at
• He also currently has a presence in the Indonesian oil & gas space as a non-executive board member of Pertamina Gas, Indonesia's largest gas piping service provider.



• Between 2015 and 2018, Mr Diaz served as non-executive Board member in Telkomsel, Indonesia's largest cellular telecoms carrier.





See also: TOTM TECHNOLOGIES: Is it an emerging AEM and global player?