On page 144 of the recently released FY22 annual report of TOTM Technologies is a list of the top 20 shareholders.

The No.2 spot is occupied by Rahul Ganpat Parthe with 60,149,693 shares representing a 6.81% stake in TOTM.

How he came to be a shareholder can be traced back to TOTM's filings on the SGX -- that's the easy part. But a greater appreciation of who he is and the value he brings to TOTM require some digging.

Fortunately, the man was in town recently and investors had a chance to get to know him at a dinner courtesy of TOTM.




It's fair to say Rahul is one of several names that are central to the future success of TOTM.

Two others are PreSight.AI Ltd and Incode Technologies as these are big-league players in their own right and they have recently inked relationships with TOTM:

• Presight is headquartered in Abu Dhabi, UAE. It's a privately-held company that is part of G42, a cybersecurity and AI group with links to the country's royalty and sovereign fund.

Presight has developed transformative products/solutions which enable its customers to gain a competitive advantage by integrating AI and Machine Learning in their digital transformation.

• Incode is a US-based next-generation identity verification and authentication platform for global enterprises.

Its Series B round of funding last year raised US$220 million from the likes of Softbank and General Atlantic, implying a valuation of US$1.2 billion for the company.
Through a google search one can find ample information on these two heavy hitters which have joined forces with TOTM -- despite the latter's small market cap of S$113 million and FY22 (ended May) revenue of S$11 million.

All three companies have come together to do big things in the fields of biometrics, identity and digitalisation for governments/populations and global enterprises.

As TOTM's FY22 results statement said: "The Group is currently in discussions with potential parties to provide turnkey solutions for national identity and digital identity systems as well as working towards launching the Group's digital onboarding business."

Looking at

• the advanced technologies TOTM and its partners have assembled


•

the big dollars represented by their target customers, and


•

the endless transactions that digital ID systems like Singapore's SingPass enable and for which a small usage fee is paid each time by enterprises and/or users,
you may get the feeling that TOTM is an emerging AEM, with disruptive powers.

(For those not familiar with AEM, the Singapore listed company grew rapidly from sub-S$100 m market cap to over S$1 billion in just a couple of years. Its core offerings are cutting-edge systems for chip-testing for Intel Corp and it is expanding its reach to the rest of the top-tier semiconductor space).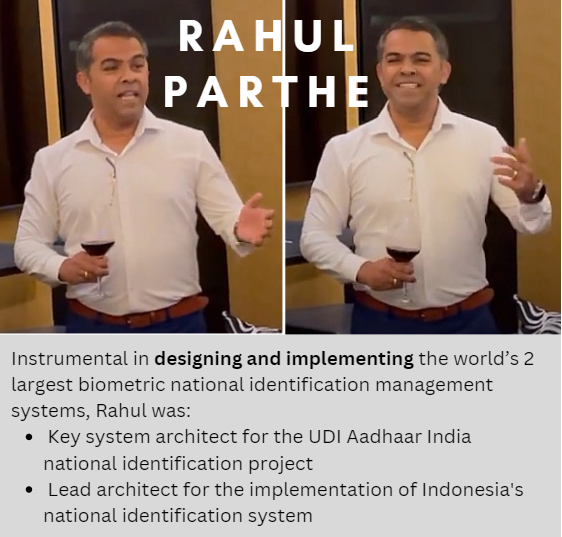 The above graphic gives a snapshot of Rahul's background, which lends an aura of expertise to TOTM which is still relatively unknown to investors of Singapore stocks after it transformed itself only over a year ago.

The story of TOTM's new core business and its probable trajectory going forward can be told with a brief look at Rahul's life story.

Growing up in India, he excelled in studies and later focused on engineering, overcoming hardships that life dealt him.

"I had a very humble beginning. I come from a lower middle class background. My father was a civil servant and my mom ran a very small convenience store. We had to struggle to get the littlest of things and I think that's what built a strong foundation for me and the habit of striving hard."

He ranked first in his engineering diploma cohort in Maharashtra, a state with a population exceeding 100 million. He also ranked first in Pune University, majoring in Electronics Engineering.

His passion for robotics and computer vision took him to the US to pursue his master's degree. The unfortunate event of 9/11 in the US inspired him to change his focus from robotics to the field of biometrics and identity management. Through his research assistantship in West Virginia University, he was able to support his education and pursue his passion.

Rejecting a job at Microsoft, driven by his passion, he worked for a smaller company in biometrics for several years as a software engineer focusing on face, finger, and iris recognition systems.

He became involved in large-scale identification applications for the US Department of Defence, federal agencies, and agencies in foreign countries.

That laid the foundation for the big step change in his career: He became the lead solutions architect for BSP in India's Aadhaar project -- the world's largest biometric ID system which went on to enroll 1.2 billion citizens. World Bank Chief Economist Paul Romer described Aadhaar as "the most sophisticated ID programme in the world".

With those credentials and experience, he went on to be the lead solutions architect for Indonesia's national ID project, which now has enrolled over 200 million citizens.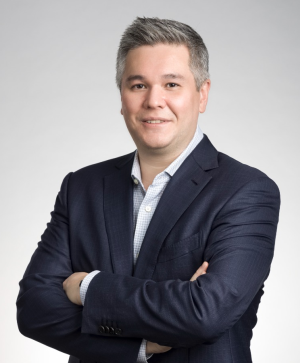 "Indonesian businesses are showing great interest in identity verification and management solutions, especially with the acceleration of digitalization due to the pandemic."

-- Pierre Prunier,
CEO and Executive Director,
TOTM Technologies
PT International Biometrics, of which Rahul is the CEO-founder and Chief Technology Officer, is the entity that has been maintaining, and continues to maintain, the Indonesian national ID system for the Indonesian government.

Concurrently, the company is starting to venture into partnerships and services whereby commercial enterprises can, for a small fee per customer transaction, use the database to onboard and authenticate customers.

Transaction volumes in a population can run into hundreds of millions and more a year.


Rahul & new chapter for TOTM
TOTM Stock price

12.8 c

52-week
range

12 –
23 c

PE (ttm)

--

Market cap

S$113 m

Price-to- book

1.9

Dividend
yield (ttm)

--

1-year return

- 40%

Source: Yahoo!
In 2021, the path of Rahul, who is in his 40s, and PT International Biometrics converged with TOTM's.

TOTM (formerly Yinda Infocomm) acquired a 51% stake in International Biometrics (InterBIO), which owns 99% of PT International Biometrics for US$35 million in cash and shares, which was how Rahul came to be a shareholder of TOTM.

This week, TOTM has proposed to acquire the remaining 49% of InterBIO, subject to shareholder approval.

InterBIO's stated mission: To continually support Indonesia and its citizens to build the best-in-class biometric E-KTP national system in the world and to facilitate easy access for Indonesians to connect to multiple services with accurate, secure and proven technology.

In September 2022, TOTM secured a US$4.9 million project to supply biometric identification and surveillance systems to a law enforcement agency in Indonesia.

Slated for completion by end 2022, this project will contribute positively to TOTM's performance in FY2023.

For perspective, the project value is about 50% of the recurring revenue of S$11 million that TOTM achieved in FY22.


Strong partners: Presight.ai & Incode
Aside from InterBIO, 2021 has been a year of investments (made possible by multiple fund raising exercises) in related technology partners -- PT Pattra Aksa Jaya, GenesisPro, CDI and TECH5.

Promising and vast as the Indonesian market is, TOTM has ambitions to penetrate more distant regions.

In June 2022, TOTM announced a strategic teaming agreement with Presight AI Ltd to develop and deploy the two parties' proprietary technologies in high-performance biometrics and artificial intelligence in the Middle East, Africa and Southeast Asia.

Many countries in these regions are where digitalisation and biometric ID systems have yet to take root.

For another region -- Asia Pacific -- TOTM formed a strategic partnership in Sept 2022 with Incode Technologies, Inc. a Fintech Power 50 company that is a global powerhouse in privacy-centric identity solutions.


Incode Omni
• Used by the world's largest financial institutions, governments, marketplaces, hotels and hospitals



• Clients are

global brands such as Jumeirah Hotels, Rappi, and Citi.



•

Customizes user experience at scale while drastically reducing security and fraud risk.



•

Incorporates unique passive liveness technology, word class facial recognition, and advanced deep learning techniques.
This partnership will offer the Incode Omni platform (see sidebar) to the Indonesian corporate market and beyond. Incode is eyeing enterprise customers in diverse sectors such as finance and healthcare in the Asia Pacific region, expanding its presence beyond the West.

Being heavy hitters, Presight and Incode must have been drawn to the technology expertise and geographical presence of InterBIO and TOTM, and the connection with Rahul.

TOTM's web of connectivity includes TECH5, which Rahul co-founded in 2018 and is chairman of, focusing on R&D in the biometrics field.

TOTM is a 16.27% shareholder of TECH5, which has granted certain licensing, distribution and reseller rights covering Southeast Asia, China, Japan and worldwide to TOTM.

With partnerships cemented, the next phase of development -- without which a strong market re-rate of its stock is not likely -- is where TOTM clinches projects and delivers its products and services to markets with unmet digitalisation and identity needs, as illustrated below: