Excerpts from interivew by iFAST TV with Thio Siew Hua. Link to full video link at bottom of article.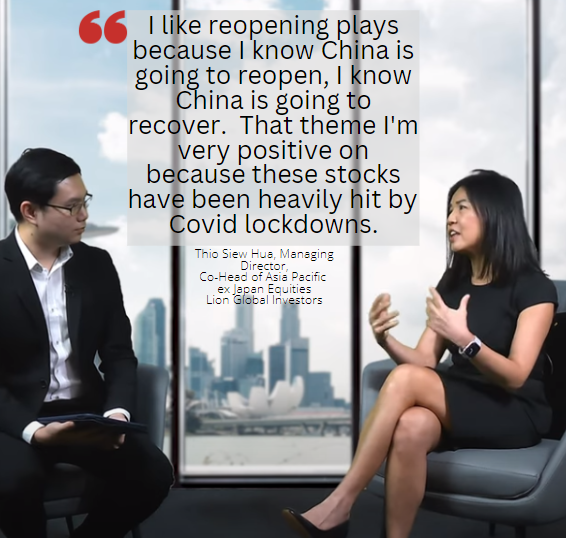 Q: With much uncertainty hanging over Chinese equity, how have you been navigating this uncertain environment for Chinese equities?

A: It's been a challenging time and we have generally been positioned in areas where we feel that there are policy headwinds ---- so in renewables, in the EV space, the EV supply chain where there are very strong policy tailwinds supporting these sectors.

The other area I like is the reopening plays because I know China is going to reopen, I know China is going to recover. I don't know whether it's tomorrow, I don't know whether it's one month later or three months later but I know it's going to happen, so I am big on reopening plays whether it's tourism related or leisure related. That theme I'm very positive on because these stocks have been heavily hit by the Covid lockdowns in the second quarter and I know that there is light at the end of the tunnel.


The second area that I like is basically economic recovery plays. Now we talked about regulatory risk and how big tech in China has been hit heavily by this regulatory risk. Going forward if you look at big tech, the valuations are actually quite compelling and maybe there's no more scope to enlarge their ecosystem but I do see that they will be beneficiaries of a cyclical recovery in China. Given where the valuations are I think actually they look quite compelling as a play on the Chinese recovery.

Q: How do you see China's economy moving forward?
A: The property sector is a big question mark and it's very important because it accounts for something like 15 to 20 percent of the Chinese economy and they have tried to prop up the property sector, they have eased interest rates for homeowners, they have lifted the housing purchase restrictions, they have tried to ensure funding, enough liquidity, goes to the developers.

More recently they've also undertaken to complete the unfinished projects by developers who are in trouble. So I think that quite a bit has been done to the sector but confidence is not there.

They need to come up with a much more affirmative backstop to the sector because if there's no confidence people are not going to come and buy. But once I know the government is underwriting this and my house will be completed and things are going to recover, then I as a potential home buyer will come back to the market. So I do think that although they have done quite a bit, a lot more needs to be done in order to stabilize the sector and bring confidence back to the sector.


Q: For the rest of 2022 and for investors who have already been invested in Asia ex-Japan equities, are there any catalyst that you see on the horizon that could spark a rebound for Asian equities as we head into the later part of 2022?

A: I think it's all about China, actually not just about China but two things -- US rates, China. US rates really depends on where inflation is headed, whether it comes down quick enough, whether the data is supportive of a Fed pivot.


We've already seen inflation easing. So I think there is some light at the end of the tunnel for the rate cycle in the US.

China -- when will it recover? Are they going to do more? These are the questions…. The point is from where we from where we are now China is going to recover. I'm not sure about the slope -- whether it's going to be steep or less steep but I know that from here on things are going to look better. How much better it really depends on the policy.