Last Wednesday (28 Sept 2022), hardly anyone would have taken notice of a 67-year-old man enjoying a big plate of chicken rice in Amoy Street food centre at the edge of the central business district.

KoGuan Leo, age 67 but looking noticeably younger than his age, isn't exactly widely known in Singapore, where he lives.



On that day, he tweeted on Twitter that he was eating to celebrate being listed on Forbes 400 list -- https://www.forbes.com/forbes-400/

That list is of the 400 wealthiest Americans, with the cut-off level being US$2.7 billion.

Leo is at No. 112 with a net worth of US$7.2 billion -- which is more than that of luminaries like Geore Soros and PayPal co-founder Peter Thiel.


Leo features also in Singapore's 50 Richest: https://www.forbes.com/lists/singapore-billionaires/?sh=6876888d6736 appearing at the No.7 spot below Kwek Leng Beng & family but above Wee Cho Yaw.

His wealth derives from his accumulation of Tesla shares, owning 22.7 million shares and 1.23 million options.

"I didn't become Billionaire through Tesla, so far I have invested in Tesla more than $2 billion," he tweeted.

It's not a small audience: he has 25.9K followers for his tweets on topics ranging from Tesla stock to physics and esoteric stuff you probably have not heard of.

He is the third largest individual shareholder of Tesla after CEO Elon Musk and Oracle founder Larry Ellison.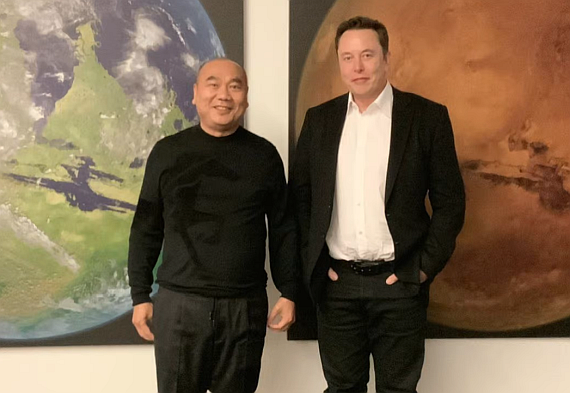 KoGuan Leo posted this photo on Twitter of himself with Tesla founder Elon Musk in 2019.

There are conflicting reports of his place of birth -- Singapore and Indonesia have been cited -- but he is now an American citizen.

He calls Singapore home, living in a 3-storey penthouse he bought for S$62-million from Dyson tycoon James Dyson in 2020, as reported by Singapore's Business Times.

The most expensive penthouse in Singapore, according to Business Insider, it is located in Wallich Residence, which was named World Silver Winner in the Residential (High Rise) category at the 2022 FIABCI World Prix d'Excellence Awards.

Wallich Residence occupies the 39th to 64th levels of Singapore's tallest building, Guoco Tower in Tanjong Pagar.

From his ultra-luxury perch, Leo would come down and take a 5-minute walk to have his fill of one of everybody's favourite meals, chicken rice, at Amoy Street food centre.