KSH Holdings (S$0.345, unchanged) continues to replenish its depleting landbank with 3 enbloc acquisitions since Dec'21.

The acquired developments are located at Peace Centre/Peace Mansion, Euro-Asia Apartments and Park View Mansions.

With KSH's current 4 Singapore developments to be fully completed by early FY24, the 3 new land bank additions will replenish KSH's future development pipeline from FY24 onwards.

KSH holds a 10.0% stake in the S$650mln enbloc acquisition of Peace Centre/Peace Mansion made in Dec'21.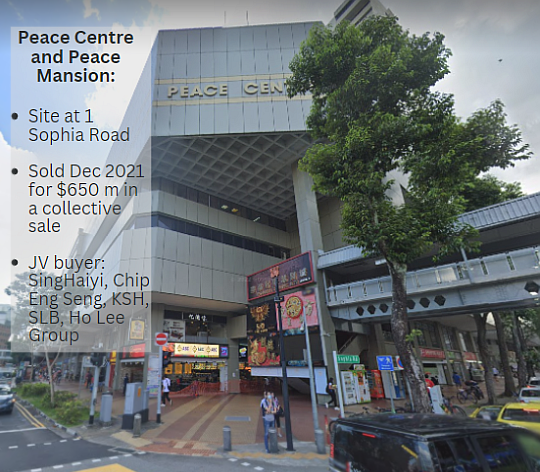 For the Euro-Asia Apartments in Serangoon, KSH holds a 49.0% stake in the S$222.18mln purchase in Jul'22. KSH holds a 20.0% stake in the S$260mln enbloc acquisition of Park View Mansions announced Jul'22.
"KSH's effective stake in the 3 enbloc developments in Singapore stands at about 200 potential units. We anticipate the company to hunt for more landbank sites and add another ~200 units to its stake, maintaining its development pipeline."
Subject to obtaining the necessary approvals, the company targets to launch the 3 new developments sometime early FY24. We estimate the new enbloc developments to generate average prices of S$2,500 psf while keeping costs between S$2,000 – S$2,200 psf.

Headwinds include the rising uncertain costs over the next 2-3 years in a high-inflationary environment. However, despite property cooling measures in Dec'21
amidst the ever hawkish Fed, we note that the private residential property market continues to show improvements in terms of price, rentals and take up rates.


Despite the Singapore government cautioning that prudence is warranted as a result of increasing interest rates in the coming years, Singapore's household debt still remains healthy, with TDSR in 2021 standing at 43%. Outside Singapore, Singapore continues to be seen as an attractive investment hub given recent world developments such as the rising US China tensions, appreciating SG dollar and Russia-Ukraine war, etc.

As such, we believe that upcoming launches will continue to see healthy demand.

With costs expected to remain high over the forecast horizon, management will continue to remain selective in the upcoming government land sales (GLS)/en bloc tenders.

We estimates about S$6.0mln in profits from the 596 units sold in the Phase 1 Stage 1 Gaobeidian project to be recognized in FY23 with construction to complete within the next 2 months. While there still remains quarantine restrictions between Gaobeidian and Beijing where most of the demand for the Gaobeidian project comes from, we project the remaining 216 units from Phase 1 Stage 1 to be progressively sold, contributing another S$2.2mln in earnings for FY24.

Going forward, KSH and its JV partners have soft-launched Phase 2 Stage 1's 1,368 units and with construction commencing, we target Phase 2 Stage 1 to complete sometime in FY24-FY25.

The construction segment stands to benefit as the construction sector continues its recovery with the return of foreign workers.

Construction output YTD-to-July stands at 54% of BCA's S$29-32mln forecast. We see additional demand coming from public projects including the S$10bln Changi Airport T5 project expected to start in about 2 years and well as the expansion of the Integrated Resorts.

Notwithstanding higher input costs and rising inflation, we expect KSH's construction segment margins to remain healthy. KSH's 57:43 order book split between private and public sectors places the company in a good position for future contract wins.


At 34.5 cents, KSH is capitalized at S$194.4 million and trades at Mar'22 PE of 8.0x.

We forecast FY23 earnings to grow 21% to S$29.3mln with the resumption of construction and development projects in Singapore and the expected earnings to be recognized from the JV development project in Gaobeidian, PRC, translating to a forward PE of 6.6x.

Dividend yield of 5.8%, 0.6x price to book and net cash of S$23.2 million are attractive.

Given its undemanding valuations and strong prospects in 2022, we recommend an "Accumulate" rating with a SOTP-based target price of 46 cents, representing a potential 33.3% upside.