Excerpts from UOB KH report

Analyst: Llelleythan Tan

ComfortDelGro Corporation (CD SP)
Exclusion From The STI; Recovery Remains On Track

CD has been replaced from the STI with Emperador, in line with expectations. Rail ridership remained on track in Aug 22 as most COVID-19 measures have been removed.


COMFORTDELGRO

Share price:
$1.40

Target:
$1.63
Taxi passenger demand continues to grow despite a shortage of taxi drivers.

CD is expected to face lower profitability as bus service revenue drops from the Downtown Line's transition.

We opine that there is some upside at current price levels. Maintain BUY with a lower SOTP-based target price of S$1.63.


WHATS NEW
• Rail ridership recovery on track. For Aug 22, ComfortDelGro Corporation's (CD) rail ridership improved (+55.8% yoy, +5.0% mom), accounting for 86.2% of pre-pandemic levels (Aug 19). This is in line with expectations as we expect continued ridership growth given that most COVID-19 measures have been eased. This is also an improvement from Jul 22 when rail ridership only formed 79.9% of pre-pandemic levels.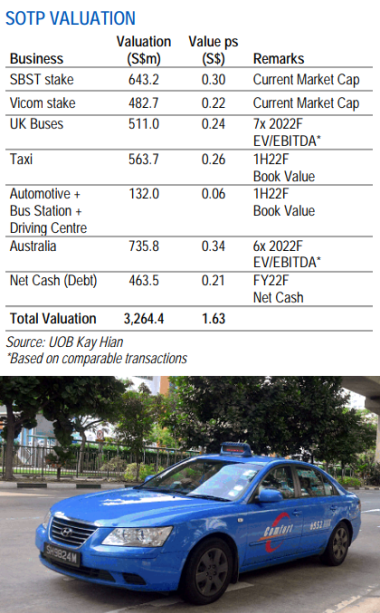 With record-high taxi and ridehailing surcharges, we also expect more commuters to shift to trains. We maintain our view that rail ridership will return to near pre-pandemic levels by 1Q23.

• Lower bus service revenue. As a recap, the Downtown Line (DTL) transitioned to the New Rail Financing Framework Version 2 (NRFF V2) as of Jan 22. Under NRFF V2, profits from the DTL would be capped at 5.0% EBIT margin, with the Land Transport Authority (LTA) sharing 85% of the spoils if exceeded, while 50% of any losses below 3.5% EBIT margin would be co-shared, limited to the annual licence charge.

As DTL has been operating at a loss, this has resulted in annual cost savings of around S$20m, based on our estimates.

SBS Transit has also extended five existing bus contracts by three years at a lower service rate, losing around S$34m operating profit per year starting 1 Sep 22. We have incorporated the lower service revenue into our estimates and reckon that the strong recovery in rail ridership and savings from the transition to NRFF V2 would help mitigate some of this loss.

• Exclusion from the STI. Effective on 16 Sep 22 after market close, CD has been replaced in the STI with Emperador. This was within expectations as CD had been consistently ranked last amongst the STI constituents by market cap and 49th among all eligible securities on the Singapore Exchange.

Although we expect short-term downward pressure on CD's share price performance, CD's fundamentals remain intact with the strong recovery in both rail ridership and taxi passenger demand poised to continue.

With the removal of this overhang, we opine that CD's expected earnings recovery would help underpin better share price performance moving forward.

STOCK IMPACT
• Taxi: Possible removal of taxi rental rebate. Singapore is facing a sharp spike in demand for point-to-point (P2P) trips, driven by the relaxation of most COVID-19 restrictions in 2Q22.

Management noted that taxi bookings levels are still growing past pre-COVID 19 levels and have not reached a plateau, boosting taxi drivers' earnings above pre-pandemic levels. Taxi fleet utilisation has started to gradually improve in 2Q22 as taxi drivers return to the industry.

The current 15% discount on taxi rentals is expected to last till end-Sep 22, whereby a further extension will be decided within the next two weeks.

• Even with a structural decline in the number of taxi drivers, we are of the view that the discount on taxi rentals would be reduced and last till end-4Q22 or removed entirely from 1Oct 22 onwards, given the recent fall in petrol prices (15-20% from peak) and pent-up P2P passenger demand.

Through our channel checks, stiff competition from other ride-hailing operators such as Grab and Go-Jek has caused many taxi drivers to make the jump across.
Elevated surge pricing caused by a lack of drivers have made these platforms more attractive despite higher commission rates.

Also, with daily rentals being almost double that of Grab and Go-Jek, we lean more towards the position that CD would reduce its taxi rental rebates rather than removing them entirely, keeping its daily rental rates competitive for taxi drivers.

EARNINGS REVISION/RISK
• No change to earnings.


VALUATION/RECOMMENDATION


We change to using a SOTP valuation from a PE-based valuation. Our new target price implies 16x 2022F PE, similar to its five-year average mean PE. In our view, backed by improving fundamentals, CD remains poised to see a gradual recovery in ridership levels in the medium term as key markets recover and international travel resumes.• Maintain BUY with a lower 2022 SOTP-based target price of S$1.63 (S$1.73 previously).

SHARE PRICE CATALYST
• Earnings-accretive overseas acquisitions, bus tender contract wins.

Full report here