The Trendlines Group is an Israel- and Singapore-based company focused on building value through innovation-based medical and agrifood technologies.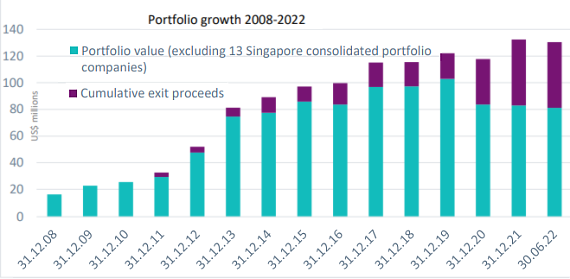 Source: Company

In 1H2022, within The Trendlines Group, 18 portfolio companies raised a total of US$20.7 million, including Series A of US$14.5 million for Phytolon Ltd.


Stock price

9.6 c

52-week
range

8.8 – 11.6 cts

PE (ttm)

9.6

Market cap

S$82 m

Shares outstanding

855 m

Dividend
yield (ttm)

--

1-year return

-5%

Source: Yahoo!
A key achievement, in January 2022, was Trendlines signing an agreement with a group of existing and new investors who will invest a total of S$20.27 million (US$15.0 million), in eight quarterly tranches, at a per share price of S$ 0.12, a premium of about 12% about the prevailing market price then.

This investment will be used to strengthen Trendlines existing portfolio of companies.

The Group reported a US$11.9 million loss in 1H2022 (1H2021: US$4.1 million profit), mainly due to the write-off of portfolio company Stimatix G.I. Ltd. amounting to US$7.9 million.

In a Q&A session with investors following the release of the results last week, an investor asked: What lessons can be learned from the Stimatix experience?

Co-Chairman and Co-CEO Todd Dollinger replied:



"When we sold the company to B. Braun, we put it in the hands of a trusted company and with the great hope that they would really bring it forward in a major way to help people and to profit all, including us as we expected to receive substantial royalties in the future.

"Unfortunately they did not perform on the marketing side. It is well known in the industry that when you're dealing with earnouts as part of your compensation, there are many risks attached. We had the right expectations at the time but unfortunately those expectations were not achieved through the lack of performance of our partner. This leads us to be far more critical in entering into such agreements for the future.""It was a company that was created both because of what we saw as tremendous financial opportunity and very very much in service to our mission of Improving The Human Condition.
For more on Stimatix write-off, see Trendlines' press release dated 14 July 2022.

Another investor question related to the recent Special General Meeting that passed a resolution enabling the board to have up to 11 members. Why such a large board?

Todd Dollinger:

"First of all, our controlling shareholder Vincent Tchenguiz has been a magnificent supporter of the Trendlines Group, and upon completion of the financing that's in process, he will own 29% of The Trendlines Group. He has
invested in many of our portfolio companies and venture funds.

"He requested
to have representation on the board. Our response was we'd be happy to have you appoint two members.

"To maintain independence for the board, we need the appointment of two additional members, a total of four members, so there we go from 7 to 11.

"Is it a large board? Absolutely but we're proud of the fact that we've made great use of our board. We have board members today in Israel and in Singapore and we will add a board member in the U.S and the UK. We will increase the representation of women on our board.

"These board members have been strong contributors for us and the people that will be joining the board we know will be strong contributors in the future."
Co-Chairman and Co-CEO Steve Rhodes:

"We're talking to very high quality people about joining the board and in fact we'll be coming out with an announcement quite soon about a new addition, someone of very high quality which I think will be recognized by many people in Singapore."
That person is Professor Low Teck Seng, 67, currently CEO of the National Research Foundation, Singapore.


Professor Low Teck SengHe was previously the Managing Director of A*STAR (2010 – 2012) as well as the Dean of the Faculty of Engineering in the National University of Singapore (1998 – 2000).

Prof Low was awarded the National Science and Technology Medal in 2004, the highest honor bestowed on an individual who has made distinguished, sustained, and exceptional contributions, and played a strategic role in the development of Singapore through the promotion and management of R&D.

• Above quotes attributed to Trendlines CEOs have been edited for brevity.
• For more Q&A content and Trendlines' 1H2022 presentation, watch video recording here.