Excerpts from UOB KH report

Alpha Picks:
Add Sembcorp Industries And BRC Asia,
Remove Keppel Corp And MM2
Our Alpha Picks outperformed the STI in Jul 22, increasing by 5.4% on a market cap weighted basis vs the market's 3.5% increase.

For Aug 22, we add Sembcorp Industries as we believe it will continue to re-rate on the back of its green energy expansion and BRC Asia to ride on the upturn in the construction industry.

We have taken out Keppel Corp following a positive share price rally after 1H22 results. We have also removed MM2 due to a lack of near-term catalysts.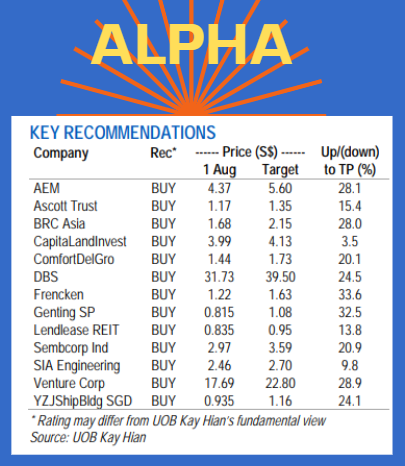 AEM Holdings – BUY (analyst: John Cheong)
• System-in-Package design shift to revolutionise semiconductor manufacturing. Key customer Intel Corporation's (Intel) March IDM 2.0 strategy is a major bet that future demand and profitability lie in the packaging of modular dies (or chips), known as tiles, which can squeeze more compute within a single package.

Driving towards that goal, Intel intends to build new fabrication plants (fabs) for these new tiled chips, and is expected to outsource the production of certain modules. Existing capacity has also been earmarked for the foundry services market.

• Sustained demand for AEM's total portfolio. Intel's decision to maintain old fabs and build new ones means that AEM will enjoy:

a) steady demand for its consumables and services,
b) recurring but cyclical demand for equipment upgrades at Intel's old fabs, and
c) demand for new equipment to test the new tiled chip products.

That said, AEM provides mainly backend test equipment, where demand typically comes 6-9 months following the installation of front-end equipment at the new fabs. Additionally, management expects engagements with 10 of the top 20 global semiconductor companies to result in meaningful revenue contributions in 2H22 and beyond.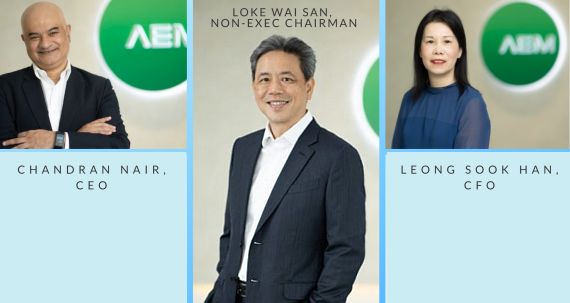 • Acquisition of CEI to lead to cost savings. We further estimate AEM to generate meaningful cost savings at the gross level of S$5.6m-9.0m a year, by in-sourcing some of its production activities to CEI Limited (CEI).

At the entity level, CEI is expected to also contribute S$4.0m a year of incremental net profit to the overall group. We believe our estimates are conservative as we have not factored in further upside from capacity expansion in CEI's box-build business.


• Maintain BUY. We value the company at S$5.60/share, implying 15.6x 2022F earnings.

Our valuation is at a premium to the Singapore peer average forward PE of 10.1x.

More direct competitors listed in the US and Japan trade at an average of 18.8x forward earnings.

Share Price Catalyst
• Events: a) Higher-than-expected revenue growth rates, b) better-than-expected cost management, and c) earlier-than-expected integration synergies with CEI.
• Timeline: 6+ months.

Full report here.