Excerpts from DBS report

Analysts: Woon Bing YONG & Paul YONG, CFA

Could taxis stage a reversal?

What's New
• Latest relaxation measures spur 20.8% decline in taxi availability, economics of renting taxis improving


ComfortDelGro

Share price:

$1.47

Target:




$1.95
• Recovering taxi numbers in New York prove that taxis can survive and compete against ride-hailing peers

• Any turnaround in CDG taxi fleet could boost earnings further and potentially rerate stock from current levels of 4.1% (-2 S.D. from mean) to 5.3x forward EV/EBITDA (-1S.D. from mean)

• Reiterate BUY with unchanged TP of S$1.95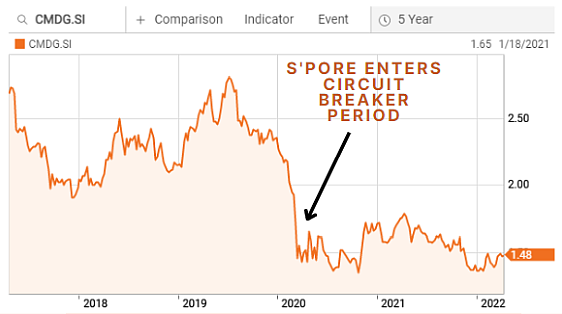 Chart: Reuters
Investment Thesis
Major reopening beneficiary as mobility gradually trends towards normalisation. The group's key markets (the UK, Singapore, and Australia) are moving towards living with COVID-19, underpinned by vaccines and COVID-19 therapeutics.

Indeed, mobility trends in Singapore have already begun to normalise amidst the ongoing reopening.

As such, we are forecasting CDG's FY22F net profit to rise c.26% y-o-y as CDG's key segments see increased ridership and demand.

Public listings of ride hailing companies could pave the way for less intense competition. With Grab listed via a SPAC in the US and GoTo's IPO happening next week, CDG's ridehailing competitors may be subject to increased scrutiny, which could reduce aggressive competition and improve the economics of renting taxis.

In turn, CDG's rental taxi fleet could reverse its declining trend.

Evolving into a sustainability play. CDG has embarked on multiple initiatives to turn its business segments green.

The group has invested in green projects that include the provision of EV charging infrastructure and a greening of its bus and taxi fleet, which could potentially pave the way for inclusion in ESG indices.

Valuation:


Reiterate BUY with an SOTP-based TP of S$1.95. Our TP is based on our target prices for SBS Transit and VICOM, and a 6.5x FY22F EV/EBITDA for CDG's remaining businesses (including CDG Australia).



Where we differ:


Consensus earnings for FY22F vary widely. We expect sequential quarterly improvements in FY22F, led by recovery and the pick-up of transit mobility.


Key Risks to Our View:
High COVID-19 hospitalisations and deaths leading to reinstatement of pandemic restrictions, intense competition from ride-hailing competitors leading to large contractions in taxi fleet and loss of bus contracts.